Want to learn more about the island of Malta? Here you will find my ultimate Malta guide with facts about Malta, restaurant recommendations, sights to see and more!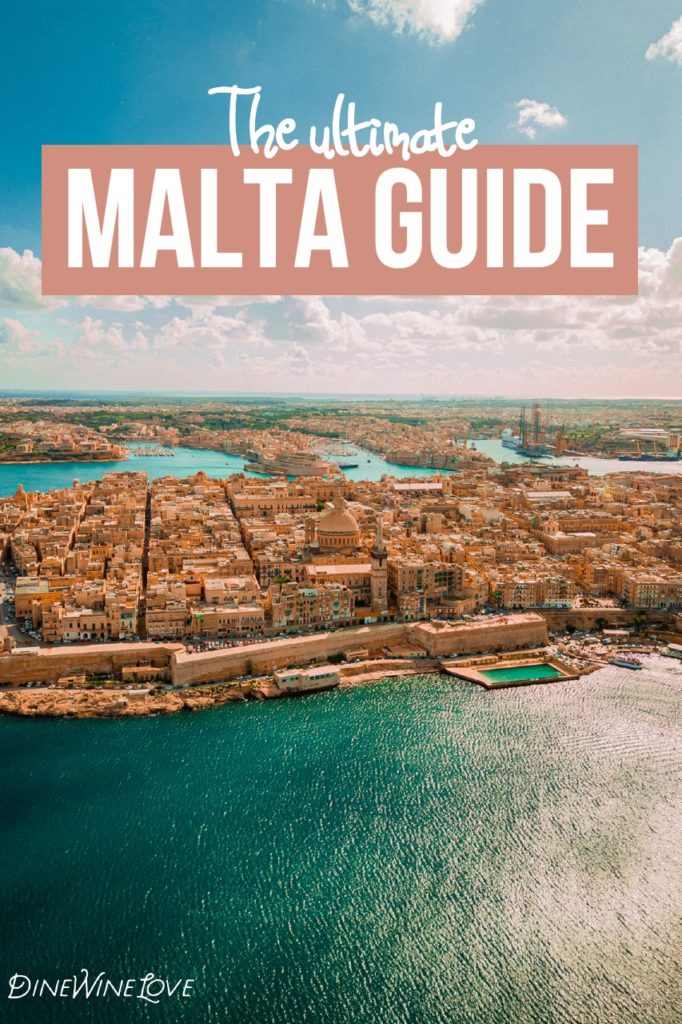 Basic facts about Malta
Capital: Valletta
Currency: Euros
Language: Maltese and English
Religion: Catholicism
Time zone: UTC+1 (Central European Time)
Driving side: Left
The Republic of Malta is an archipelago in the Mediterranean Sea, consisting of 18 islands in total. The three major islands are Malta, Gozo, and Comino. Malta is a Mediterranean country located south of Italy, east of Tunisia, and north of Libya.
Malta is very small in size, covering an area of only 316 km2. In fact, the country is the world's 10th smallest in areal and 5th most densely populated country in the world. The capital of Malta, Valletta, is also the smallest capital in the EU – covering an area of only 0.8 km2.
Although the country is small, it has a lot to offer. And in many ways, the small size makes it a perfect spot to visit and explore. There is only one airport (Malta International Airport located in Luqa) and every city is nearby. You can actually drive across the island of Malta (from south to north) in less than an hour.
Fun facts about Malta
If you want to share some Malta facts knowledge, you can lead with any of the below interesting facts about Malta!
People from Malta are called Maltese (like the dog) and the national language is Maltese. Maltese can in many ways be seen as a mix of Italian and Arabic, descending from Sicilian Arabic, though you won't understand much if you know either. Luckily, English is also an official language of Malta and right about everyone you meet speaks English.
Malta was a British colony from 1813 to 1964 and you can find British characteristics all over the islands. As an example, you drive on the left side of the road in Malta. There are a lot of British pubs and restaurants around the island, and also a lot of British tourists and residents.
Today Malta is a part of the EU (since 2004) and the local currency is Euros. Although most places will accept card payments, there are still some shops/restaurants/taxis etc that only accept cash – especially for lower amounts. Therefore, it is advised to have some cash on hand.
Maltese cuisine: What is traditional Maltese food?
Let's move on to some facts about Malta food and cuisine.
Although Malta is located just 80 km south of Italy, Maltese cuisine is unique from Italian food. The cuisine really reflects the history of the republic, with a huge influence from Italian and British food as well as other, European countries.
What is often identified as the national dish in Malta is fenek – stewed rabbit. In general, you will normally find different rabbit dishes at local restaurants. In addition, there is a lot of fish dishes, including the local catch of the day such as tuna.
For snacks, you'll find Maltese pastizzerias all over the island. These are kiosk-like take away joints where you can buy the traditional pastizzi, other pastry dishes with and without meat, and pizza slices. At a pastizzeria you can get a very cheap and local meal.
Pastizzi is a savoury pastry traditionally filled with peas or ricotta cheese. This is a must-try when you are in Malta. You should also try the Ġbejniet cheese, ftira sandwich, Maltese sausage, and local wine and beer, of course.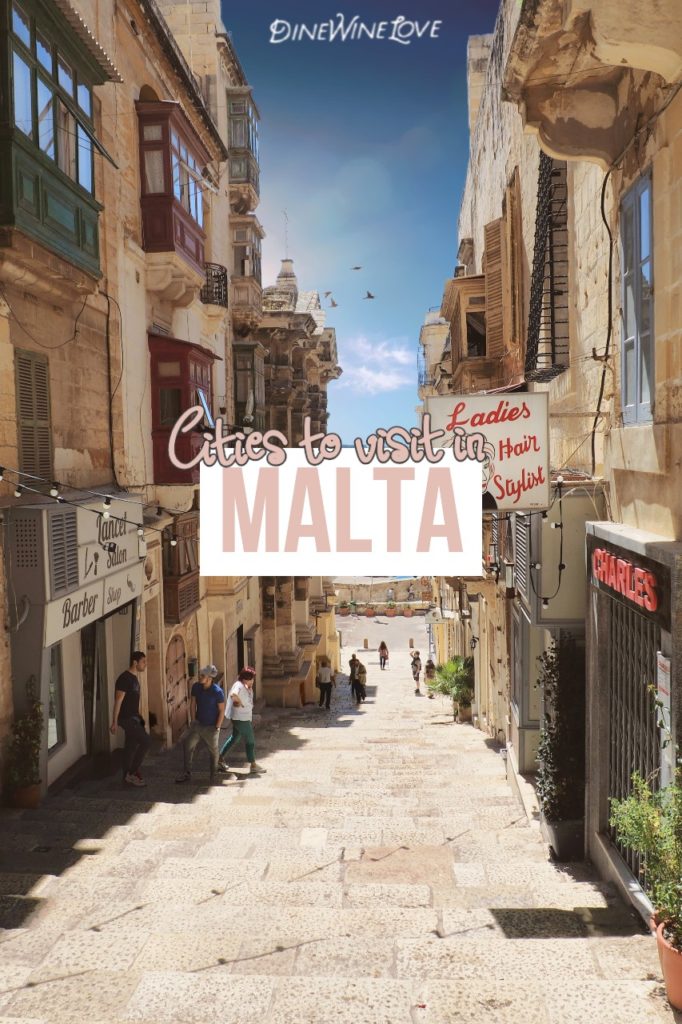 Where to go in Malta? Cities to visit!
As Malta is such a small country, you can cover most of the islands if you have a few days to spare. If you are travelling to Malta on a holiday, I definitely recommend renting a car so that you can drive around and explore on your own.
Here are some cities I recommend visiting:
Luqa
If you arrive by plane, you will land in Luqa as Malta only has one airport. There is not really much to explore here, but due to the airport, it is a really significant city on the island.
Valletta
The capital of Malta and easily my favourite city in Malta. Valletta is a beautiful city with lots to offer when it comes to culture, architecture, history, and entertainment. If you are visiting Malta as a tourist, I would recommend booking a hotel or flat in Valletta.
Sliema
Sliema is located on the northeast coast of Malta. It is a commercial and residential area for tourists and residents, with lots of shops and restaurants to choose from. Here you can take a stroll along the sea or sit down at a restaurant, bar or café in the sun. There are two shopping malls (The Plaza and The Point) as well as many other shops to explore.
St Julians
St Julians is similar to Sliema as it is a commercial and residential area, and the city is especially popular for summer tourists. You can go for food or shopping here too, but the main activity linked to this town is definitely the busy nightlife. Head to the famous bar street of Paceville if you are looking for a cheap and crazy night out, or check out any of the many great bars in the area.
Gzira
Located in between St Julians and Sliema, you'll find the quieter town of Gzira. It is not as busy with tourists and nightlife, but there is still a lot to explore. In addition to restaurants, bars, and some local shops, there are quieter streets where you can go for a walk and see some authentic, Maltese houses.
Marsaxlokk
Marsaxlokk is a small fishing village located southeast in Malta. This traditional town is a popular tourist spot with the harbour and fishing market. Here you can enjoy a day in the sun and eat the local catch of the day at any of the restaurants located along the sea.
Mdina
Mdina is a beautiful small town located within its original walls in the town of Rabat. The town itself actually has a population of only 300 people, but contiguous with the town of Rabat the population is more than 11,000. Mdina is more than 4,000 years old and is today referred to as "the silent city". Within the city walls, there is a calm atmosphere unlike any other place in Malta.
St. Paul's Bay
St. Paul's Bay is the largest town in the Northern Region of Malta. Traditionally, this was a fisherman's village like Marsaxlokk. But today, it is a far more developed and popular tourist area. Even though it is a common tourist destination, St. Paul's Bay is a calmer area than Sliema and St Julians. In other words, it's a good fit for families. You'll find a lot of restaurants along the coastline.
Bugibba
Bugibba is a neighbouring village of St. Paul's Bay and yet another popular tourist destination. Not as quiet as its neighbour but still calmer than the central areas, Bugibba is a great spot for tourists and residents alike. You'll also find many great restaurants here, in addition to the Malta National Aquarium and popular beach club Cafe Del Mar.
Gozo
Gozo is the second populated island of the Maltese archipelago. You can get there by driving/bus and then taking the ferry. Depending on where you start the journey, it can take about an hour or so with driving and boat.
Gozo is a really small island you can drive around and explore. Generally, life is a bit calmer in Gozo compared to the island of Malta. There are open roads, green fields, and great restaurants to check out in the different villages.
Victoria
Victoria is the capital of Gozo. The city is also known by the names Rabat (the original name of the old town centre) and its title Città Victoria. Here you can explore a mix of old and new, historic and modern. There are great restaurants and shops to try out, as well as the architectural heritage of Citadella and many, many churches.
Xlendi
My favourite spot in Gozo is the village of Xlendi (pronounced 'shlendi'), located on the south-west of the island. On Xlendi bay you'll find a beach, many hotels, great restaurants, and a mountain that you can see the sun setting into in the evening.
Comino
Comino is the least densely populated area in the Republic of Malta with only three residents. It is a really tiny island with not much happening, situated between Malta and Gozo. But very close to the island is where you'll find the popular Blue Lagoon. By boat, you can explore this area and the transparent, turquoise water of the lagoon.
What to see in Malta – Landmarks to visit
Although Malta is small, there is a lot to see and do. As I have a lot of favourites to recommend and want to keep this post general on facts about Malta, I have dedicated a separate post on 51 things to see and do in Malta specifically. But below I have shared 10 quick recommendations you can't miss.
1. Valletta
Malta's capital, EU's smallest capital, and the European Capital of Culture 2018. You can't visit Malta without checking out the city of Valletta. You can take a bus or taxi there, or take the short ferry-ride from Sliema for a unique (and cheap) commute.
In Valletta, there is lots to see and do. My favourite thing is to spend a full day in Valletta, starting with brunch or lunch somewhere and then barhopping through the city. There is a bunch of amazing restaurants and good bars and pubs to check out, or you can just enjoy some sightseeing and shopping.
While in Valletta, you have to check out Upper Barrakka Gardens. In this beautiful garden, you can see flowers blooming and get a spectacular view of the Three Cities. Twice a day, at noon and 4 pm, there is also a canon fire (salute). And if you are lucky, you might see some fireworks in the evening. It is my favourite spot in all of Malta, and where I got engaged.
2. Gozo
Gozo is the second biggest island of Malta and there are a lot of beautiful, historic, and unique sights to see.
Cittadella: The Citadella (or Castello) is the citadel of Victoria. The citadel has been inhabited since the Bronze Age and reconstructed several times since then, so here you can walk in a piece of history. Walk inside and around the citadel, or visit the Cittadella Visitors' Centre.
Azure Window: Up until 2017, the Azure Window (blue window) was a popular tourist attraction in Gozo. The natural arch of limestone created a rock formation "window" that was featured in several movies. The attraction collapsed on the 8th of March 2017, removing the arch. Some parts of it are still left though, so the sight is still worth checking out.
Tal-Mixta Cave: Malta has a lot of caves and grottos, but none are as beautiful – and secret – as the Tal-Mixta Cave. After parking your car and walking down to the spot of the cave, you have to sneak down some old stone steps to enter the cave. Once you enter, you will have a beautiful view of the azure blue Ramla Bay.
3. Mdina
Mdina is a small city in the north of Malta, by Rabat. The fortified city was Malta's capital before Valletta, from antiquity to the medieval period. Mdina is located within its original walls which make the city sheltered, quiet, and unique to the other busy spots of the island – the silent city.
Although small, the city of Mdina has a lot to offer for tourists. In addition to some great cafés and restaurants, there are several churches and museums to visit. But my favourite thing to do is simply walking around, admiring the beauty of the Maltese houses with flower-covered walls and colourful doors.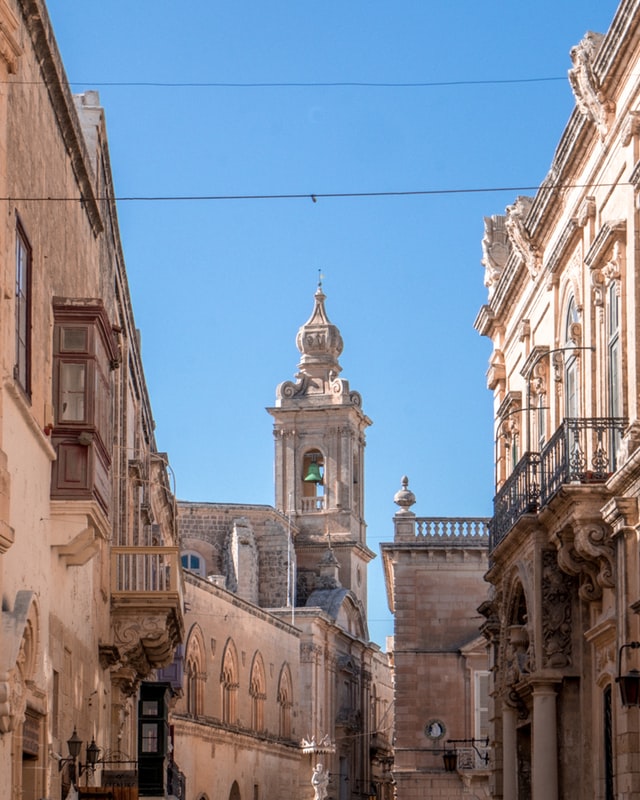 Things to visit in Mdina:
St Paul's Cathedral

Cathedral Museum

Fontanella Tea Garden

Knights of Malta Experience

National Museum of Natural History

St Paul's Catacombs
4. Go to a beach or beach club
With more than 300 sunny days a year, Malta is definitely a tourist destination for those looking to enjoy some good weather. The small island doesn't have a lot of sand beaches, but there are some good ones. And if you prefer to not get sand everywhere, there are a lot of terrific beach/pool clubs in Malta. There you can soak the sun while sipping on a cocktail and enjoying a good meal.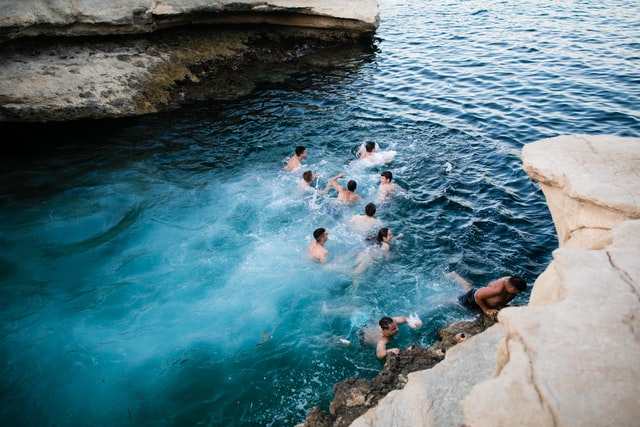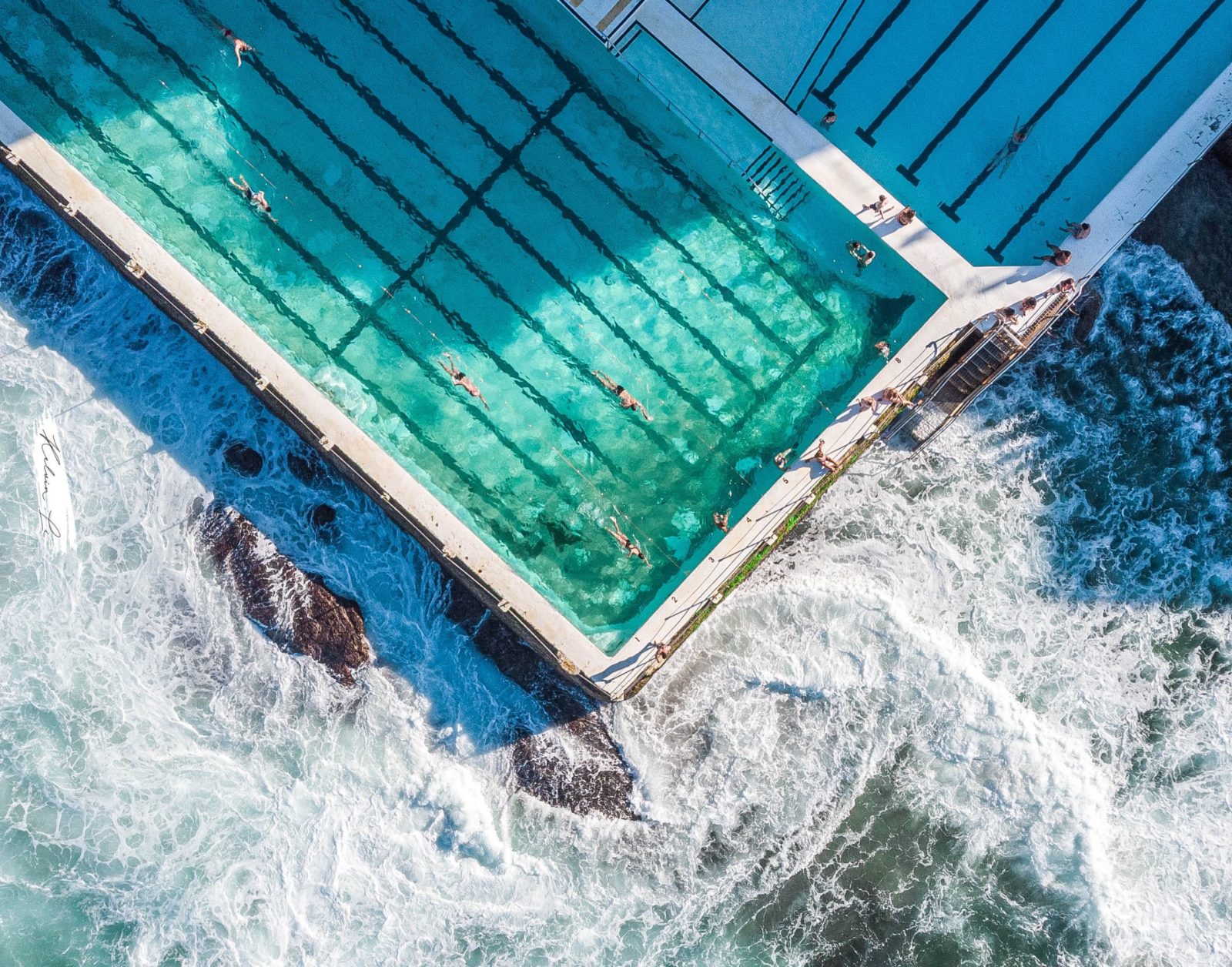 5. Visit a Cathedral
Malta is a catholic country and despite its small size, there is a surprisingly amount of cathedrals on the islands. In total, there are 313 churches in Malta and 46 in Gozo. No matter if you are religious or not, exploring the architecture and artwork of some of the country's churches is highly recommended. Some of the most beautiful churches in Malta include:
St John's Co Cathedral (Valletta)
Parish Church of the Nativity of the Virgin Mary (Mellieħa)
Basilica of Our Lady of Mount Carmel (Mellieħa)
Church of Our Lady of Mount Carmel (St Julians)
Metropolitan Cathedral of Saint Paul (Mdina)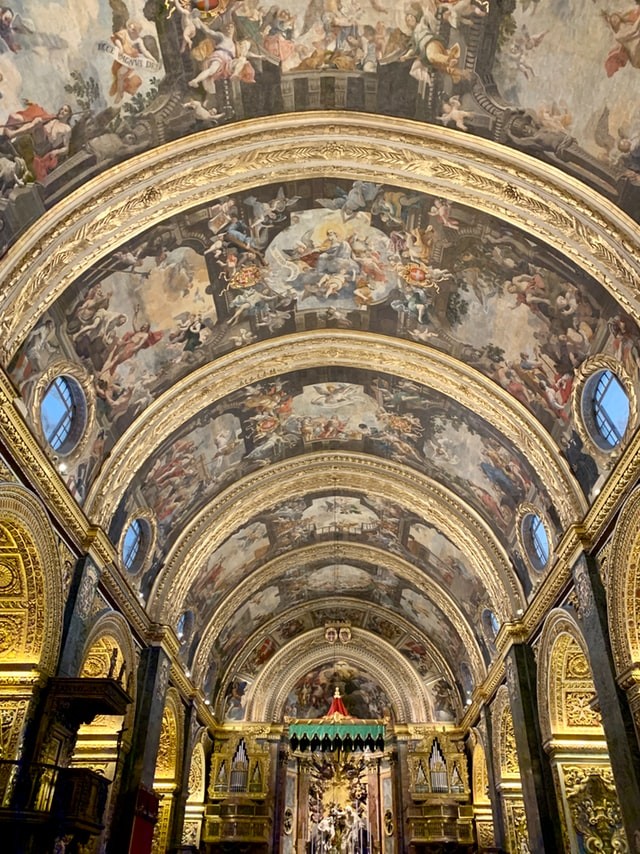 6. Listen to Live Music
One of my absolute favourite things to do in Malta is to go to a local pub or restaurant and listen to some live music while enjoying a good meal or drink. Luckily for me, there are many spots in Malta offering exactly that. If you want to enjoy some live music in Malta, check out these spots:
♪ Skyroom (Sliema) – Live jazz every Saturday evening and sometimes also weekdays
♪ Casey's Bar (Gzira) – Casey's is a small and cozy local pub with different events throughout the week, including live music and open mics
♪ Hole In The Wall (Sliema) – A cool bar in Sliema where you can play board games while listening to live music
♪ The Thirsty Barber (St Julians) – A prohibition-style bar with expert bartenders and amazing cover bands playing every weekend
♪ Bridge Bar (Valletta) – Live jazz in the heart of Valletta, while sitting at a table outside or in the stairs of Bridge Bar
♪ Storeroom (Ta' Xbiex) – An up-and-coming bar and music venue by the coast of Ta' Xbiex.
7. Visit the Fish Market in Marsaxlokk
The Marsaxlokk Fish Market is a popular attraction for tourists and residents in Malta. Every Sunday from early in the morning until lunchtime, the harbour of Marsaxlokk is filled with market stands. There you can buy local fish, but also other local produce, clothes, souvenirs and more.
8. Join a Festa
The Village Festas in Malta are unique, religious events that are celebrated all over the island. Every year, around 80 festas take place (60 in Malta and 20 in Gozo). The celebration is hosted and planned by the local band club and includes live music, food stands, drinking, and lots of fireworks.
See when all the local festas are hosted here.
9. See the Red Tower
Malta has a lot of beautiful and historical architecture to see, but one of the most unique buildings must be the Saint Agatha's Tower. This bastioned watchtower is located in Mellieħa and is also called the Red Tower – for good reason. The tower from the 17th century is bright red, visible from far away. Drive up to the tower and take a look at the building up-close. You can also drive further up the road for a beautiful viewing point over the cliffs and ocean.
10. Visit – or Photograph – Popeye Village
North in Malta in Mellieħa you will find the charming Popeye Village. The original film set of the 1980s 'Popeye' is today one of the biggest and most unique tourist attractions to visit in Malta. The village is open all year and welcomes kids and adults alike to musical fun in the sun.
If you don't want to spend a day at the village but just take a peek at it from a distance, you can head to the Popeye Village Viewpoint just across from the amusement park. From there you can take some stunning photos.
See my full guide on how to spend 24 hours or a weekend in Malta here.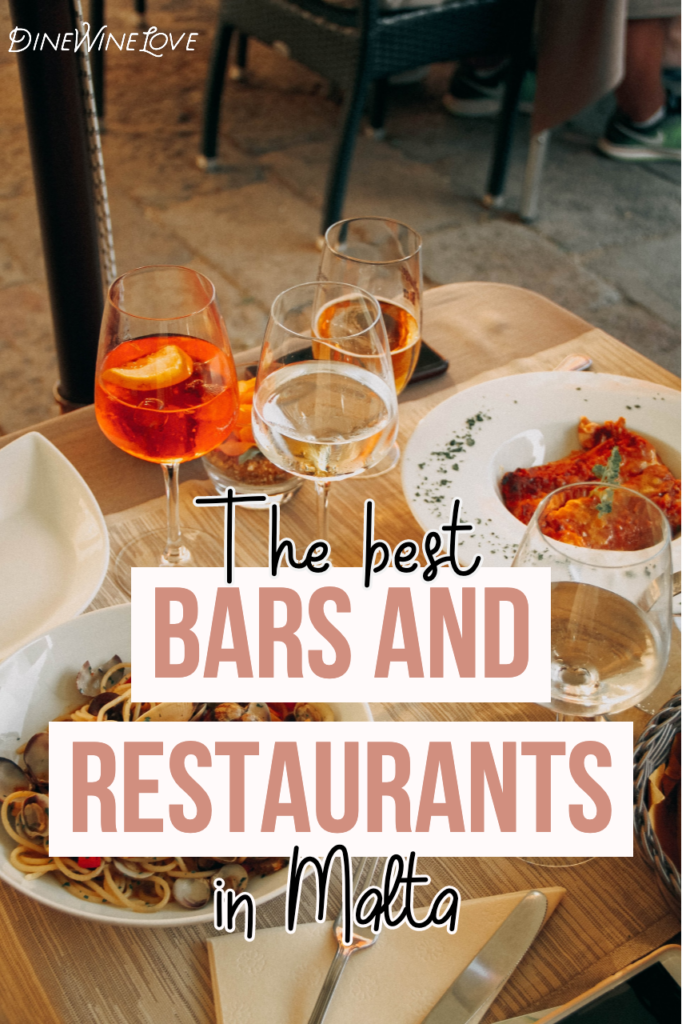 What to visit in Malta – Bars and Restaurants
One of my favourite things about Malta is the amazing restaurant scene. Here you can find an array of restaurants of different cuisines, as well as great bars and take out spots. And the best part is, the price point is generally very reasonable!
Although you should definitely try some local food (see further above) while visiting Malta, my favourite restaurants are of other cuisines. Below you can find a mix of restaurant, bars and more I think are all worth a visit.
For the best Asian food in Malta: KuYa Asian Pub
KuYa is my favourite restaurant in Malta. It is a small, laid-back basement pub and restaurant serving up authentic and proper Asian fusion. On the menu (on the wall) you'll find a mix of affordable Asian dishes with a twist. The quality of this restaurant is confirmed by a mention in the 2020 Michelin Guide.
For more, read my full KuYa Review or more about Michelin restaurants in Malta.
For the best steak in Malta: Sciacca Grill
If you want a proper and romantic dinner in Malta, I recommend checking out Sciacca in Valletta or St Julians. At this restaurant, you can choose your main course directly from the counter – with a large selection of meats and seafood. The quality and service is always amazing, and the wine selection is great. It's a perfect spot to spend a full evening, from starter to dessert.
For more, read my full Sciacca Review.
For the best pizza in Malta: HiMù
Although the country is located so close to Italy, the pizza game in Malta is very different from the Italian standard. But luckily, there are some great spots where you can enjoy proper Italian pizza and ingredients. At HiMù Malta, they produce fresh Mozarella and use only the best ingredients. Try the pizza but also share a platter with fresh cheese, meat, and bread.
For more, read my full HiMú Review.
For the best view in Malta: Skyroom Cocktail Bar & Grill
At the Skyroom in Sliema, you can enjoy a breathtaking view of Malta while enjoying a good meal or classic cocktail. The interior is beautiful, the service is always great, and on Saturdays, there's a live jazz band to set the mood. Go for dinner or grab a drink here at the end of the evening.
For more, read my full Skyroom Review.
For the best gin in Malta: Yard 32
I am normally a wine person, but in Malta, I have learned to love gin thanks to the amazing selection available. There are many great bars on the island, but an absolute favourite is the gin and tapas bar Yard 32.
Located in an alley in Valletta, this blue-doored bar is a unique spot with amazing service and quality. The staff is really helpful and knowledgeable, and there is often live music playing. As the bar is quite small a reservation is recommended.
For more, read my full Yard 32 review and learn more about this and other Malta favourites.
For the best breakfast in Malta: Frensh Bakery
There are a lot of restaurants in Malta serving up a good breakfast or brunch, but the absolute best is breakfast on the go from Frensh bakery. At this lovely little bakery, you can get fresh croissants, pastries, and bread. Buy a selection of sweet and savoury treats and enjoy your meal in the Balluta Square Park.
For more, read my full Frensh Bakery Review.
For more food and drink recommendations in Malta, check out the following blog posts:
Facts About Malta: DineWineLove Check List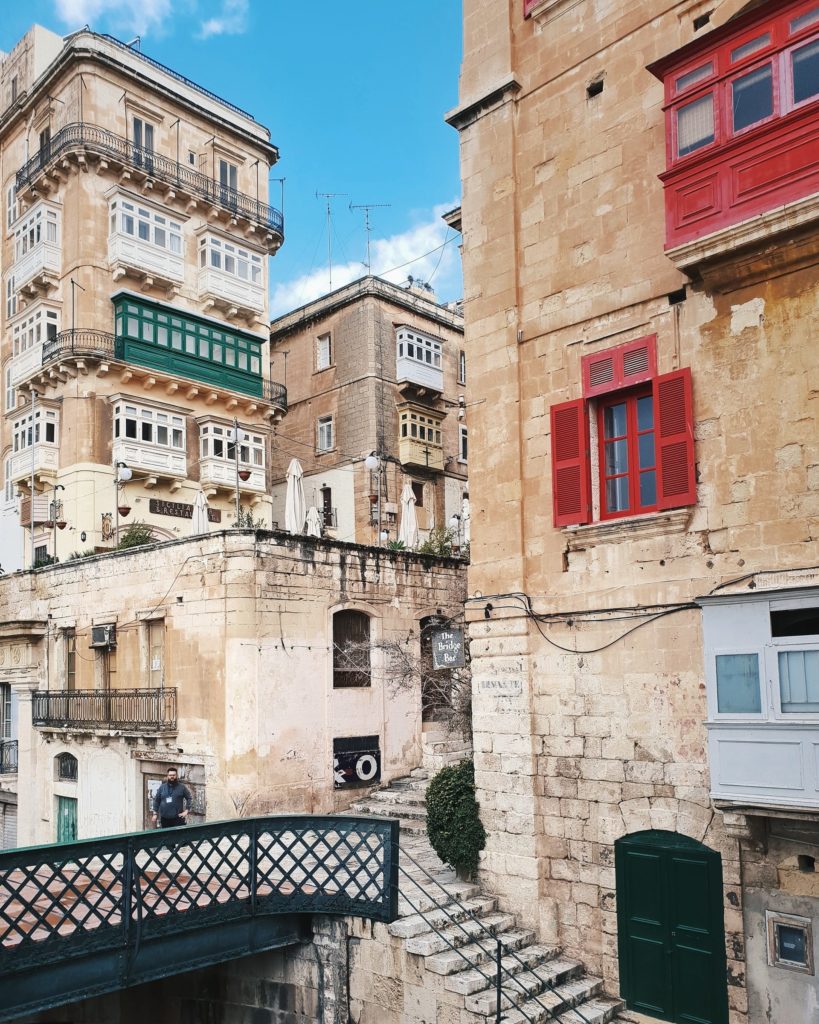 What to do in Malta
Explore Valletta
Visit Mdina
Travel to Gozo
Eat a Pastizzi
Drink a Cisk
Sunbathe at a beach club
---
Facts About Malta Q&As
Let's round off this Malta guide with some quick, commonly asked questions with answers. If you have any further questions, comment below!
Where is Malta located?
Malta is a Mediterranean country, located south of Italy, east of Tunisia, and north of Libya.
Is Malta part of Spain or Italy?
The Republic of Malta is its own country not part of Spain or Italy. From 1813 to 1964, Malta was a British colony. Malta became independent on September 21st, 1964.
How big is Malta?
The island of Malta is 27 km (17 mi) long and 14.5 km (9 mi) wide, covering 246 km2 (95 sq mi). The republic of Malta in full covers an area of 316 km2.
How long is Malta?
The island of Malta is 27 km (17 mi) long and can be crossed by car, from south to north, in less than one hour.
How old is Malta?
Malta has been populated since around 5900 BC. As an independent country, the Republic of Malta is only 56 years (became independent from Britain on September 21st, 1964.)
When did Malta join the EU?
Malta joined the EU in 2004.
What is the population of Malta?
Malta has a population of close to 500 000 (493,559 in 2019).
Is Malta a safe place to visit?
Yes, Malta is a very safe country with low crime rates.
What time is it in Malta?
Wondering what is the time in Malta and what time zone is Malta? Malta is in the GMT+1 time zone, so the time is one hour more than in the UK.
How to get to Comino from Malta?
You can take a ferry from Ċirkewwa (north of Malta) or Mġarr Harbour (Gozo), or take a round-trip boat for tourists.
How to get to Gozo from Malta?
You can drive or take a bus to Ċirkewwa (north of Malta) and take the Gozo ferry.
Want more Malta-related content?
Check out the Malta section at DineWineLove.