Looking for a night out with some live music in Malta? Check out these 6 bars that not only offer a great atmosphere but also live concerts on a daily or weekly basis.
Which bars offer live music in Malta?
Click on any of the names above to jump to that section, or keep scrolling for a description of all the live music bars and restaurants!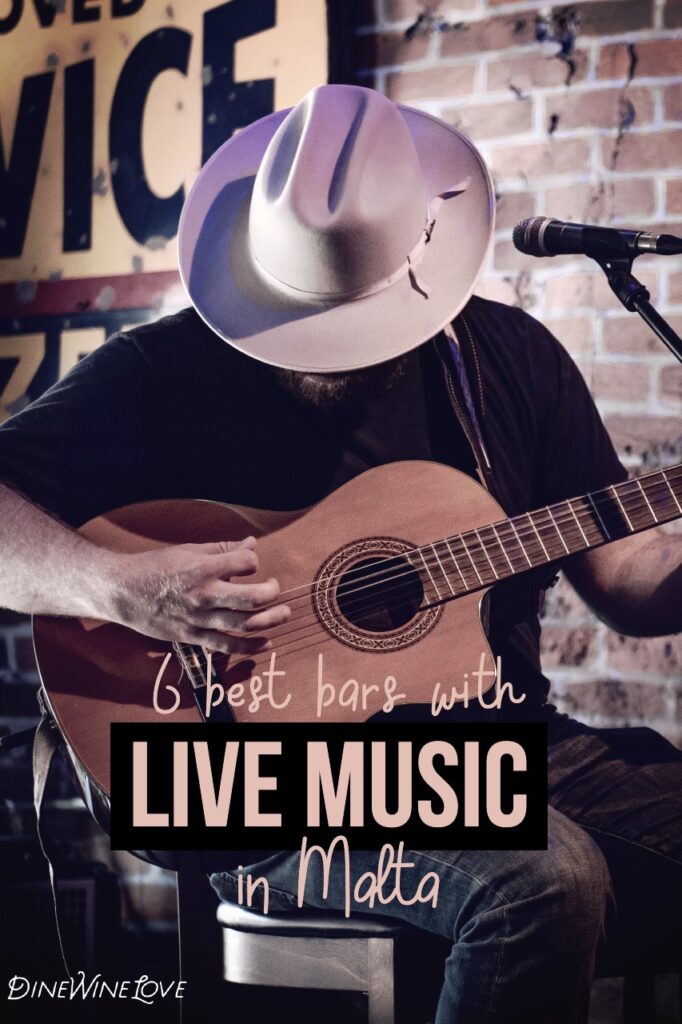 I love going out for a good meal or some drinks. And what makes the night complete, is great music. A casual atmosphere with live music makes for a romantic date night and it is something I have enjoyed countless of times in Malta.
There are in fact many bars and restaurants offering live concerts and I could have come up with more than 10 options quite quickly. No matter where you are located, you should be able to find some of the best live music near you. But I wanted to list my personal favourites, which resulted in these 6 best bars for live music in Malta.
The 6 Best Malta Bars with Live Music
1. Skyroom – Live Jazz and Rock in Sliema
The Skyroom Cocktail Bar & Grill is one of the classiest bars in Malta, located at the 13th floor of the Preluna Hotel in Sliema. Not only do they have impeccable service, food and drinks, but a few times a week it is all topped with some live music.
Currently, they have the weekly event Jazz Saturdays at Skyroom. So if you are looking for a venue in Malta with live music on a Saturday night, Skyroom is a great option. We've also been met with live music on both Friday's and random weekdays before. Keep up to date with events from their Facebook page and learn more about the bar and restaurant in my Skyroom review.
The Skyroom Cocktail Bar & Grill, Details

Where: 124 Tower Road, Sliema
Opening hours: Tuesday to Saturday, 6 pm-11 pm and Saturday to Sunday 12 pm to 3 pm
Website: https://skyroom.com.mt/
Contact: +356 9969 7214
2. Casey's Bar – Open Mic, Karaoke and Live Concerts in Gzira
Casey's was my bar down the road for two years when living in Malta and for a while, we would pop down more than once a week. My favourite days to visit Casey's was always Saturday nights when they have their Open Mic Night. The microphone is open for everyone to sing and play (or perform a poem, joke etc). This creates a very casual and fun atmosphere for the evening with lots of different people performing.
If you prefer seeing just one (more professional) artist or band, Casey's normally have live music concerts on Friday nights. Then you will be able to enjoy a concert of local or foreign artist performing their own hits or covers. There is normally no cover charge for the open mic or live concerts at Casey's, but of course, it is advised to give a tip to the artist.
Drinks are cheap and the vibe is always casual and warm at Casey's. This bar with live music was acquired by a new owner last year, so there might be changes to the schedule. To keep up to date with updates and the latest events, check Casey's Facebook page.
Casey's Bar, Details

Where: 306 Triq D'Argens, Il-Gżira, Malta
Opening hours: Monday to Sunday, 6 pm-1 am
Contact: +356 2713 2632
3. Bridge Bar – Live Jazz in Valletta
If you are looking for live jazz in Malta, Bridge Bar is the number one spot to go. Located on some stone steps and over a bridge in Valletta, Bridge Bar has such a beautiful location and atmosphere. In the daytime, it is a beautiful photo location. When the evening time comes around, the bar opens and stairs fill up.
Bridge Bar is a fun bar to visit on any day, but on Friday's you can enjoy the live jazz music being played. There is also a variety of drinks and food available to order. As the tables fill up quickly, it is recommended to book your spot on Fridays. There might also be live jazz on other nights of the week.
Bridge Bar, Details

Where: Liesse, Il-Belt Valletta, Malta
Opening hours: Monday to Saturday, 7 pm-1 am
Contact: +356 7947 4227
4. The Thirsty Barber – Local rock bands in St. Julians
The Thirsty Barber is one of my absolute Malta favourites. The prohibition-themed bar serves up some amazing cocktails. And several nights a week, there is live music playing! Normally the bar keeps its Facebook page updated with the latest events of live music.
As with the other venues on this list, it fils up quite quickly. I therefore recommend booking a table in advance if there is a live concert. You can read more about the bar in my guide of the best bars in St Julians, or just pop down for a drink and experience this favourite yourself!
The Thirsty Barber, Details

Where: Ball Street, San Ġiljan, Malta
Opening hours: Monday to Sunday, 5/6 pm to 1/2 am
Website: http://thethirstybarber.com/
Contact: +356 9965 3012
5. The Beer Cave – Local artists and comedians in Valletta
There are lots of great bars in Valletta, and several of them have live concerts. One of my favourite venues is the Beer Cave where I have attended both concerts, live comedy shows, and quizzes. The venue is actually quite big with several rooms, making it a good location for events.
The Beer Cave feels like a proper cave. Upon entering, you will be met by some steep stairs taking you down underneath the ground and into the cave-themed and stone-covered bar. In one corner there is a nice set-up for a "stage" on the ground, where musicians and comedians perform every now and then.
The Beer Cave, Details

Where: Castille Square, Valletta, Malta, Il-Belt Valletta VLT 1063, Malta
Opening hours: Monday to Sunday, 6:30 pm to 11 pm (+ 12 pm to 3 pm on Mon, Wed, Fri)
Contact: +356 7932 8068
6. Storeroom – The Live Music Bar in Ta' Xbiex
Located in an old boat garage, Storeroom is a modern live music venue with various music events throughout the week. The bar has two floors and a small stage where you can get introduced to some amazing artists from Malta and other countries. The cosy venue gives some very intimate and beautiful live music experiences.
The bar will normally have a small cover charge for the concert and limited inside seating (so reservations are recommended). You can keep up to date on their events on their Facebook page.
Storeroom, Details

Where: 7, ix-Xatt Ta' Xbiex, Ta' Xbiex XBX1027, Malta
Opening hours: Sunday to Thursday, 5 pm to 11 pm – Friday 5 pm to 3 am and Saturday 8 pm to 2 am
Website:

https://www.facebook.com/storeroomalta/

Contact: +356 7927 1869
---
As mentioned, these 6 bars are only a handful of the many venues with live music in Malta. In addition to these favourites, I can also mention that Yard 32, Himú, Manouche and Crust, and dog-friendly Naar, Black Sheep and Smokehouse also host live music events from time to time. And there are also lots of fun festivals in Malta to check out!
Please remember that due to the Coronavirus pandemic, opening hours and events may vary.
Want more Malta recommendations?
Check out the Malta section at DineWineLove.