Are you looking to go on a road trip with a dog joining you? Then prepare for the travel in advance in order to have the best time possible for all parties.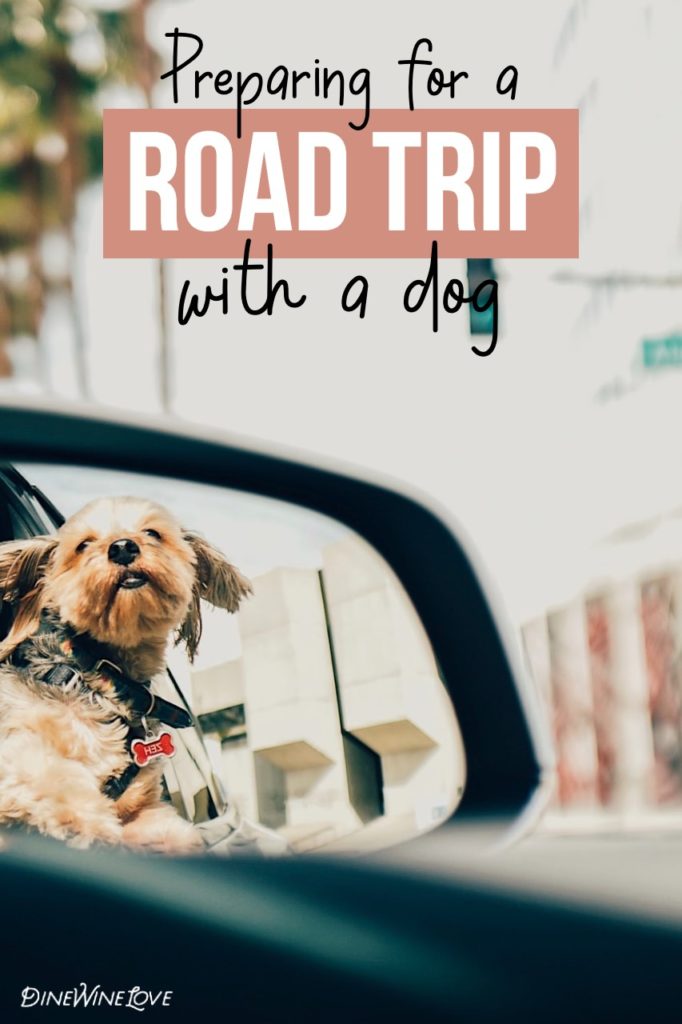 In July 2020, my fiancé and I moved from Malta to Spain by car. Our dog has always been good with driving but a 1-week road trip is of course something very different than a quick trip to the beach. So in order to ensure a smooth (and safe) road trip for everyone, we did our best to prepare our dog for everything.
Here's the steps you should think about when preparing for a road trip with a dog.
---
Step 1: Prepare your Dog for the Road Trip
When flying with a dog or cat, there are many rules and regulations in place. You will need to follow these in order for your dog to be allowed on the plane. But it might not be as easy to remember that many of the same regulations are valid for international car travels too.
When travelling with a pet you need to have the correct documentation, vaccinations and any other requirements in place. The exact requirements can differ between countries and continents, so I advise you to research specifically for the countries you are travelling to.
Travelling with a dog in Europe, the travel rules and requirements normally include:
Microchip

Pet Passport

Rabies Vaccination

Tapeworm treatment

Vet check-up
All of the above can be sorted at your veterinarian.
Microchip
Your dog should already be microchipped as that is required in all EU countries and many other countries. In Malta, the microchip requirement was put in place in May 2012.
Pet Passport
In order for your dog to travel abroad, s/he will need a passport just like you do. A European Pet Passport will list the name of the dog, its microchip number, owner, and registered vaccinations and treatments.
The passport itself is easy to obtain from your vet, but it might take a few weeks to produce. It is important to have your passport in place in order to give the rabies vaccination. Therefore it is important you don't put this off until the last minute.
Rabies Vaccination
Not only does your dog need to get a rabies shot before travelling abroad, but it needs to be given at least 21 days before departure. This means that you can't head to the vet a day or two before travelling to get the vaccination.
Tapeworm treatment
A tapeworm treatment might not necessarily be a requirement in order for your dog to be allowed to travel to another country by car. But some countries, including the UK, require your dog to have a tapeworm treatment before entering the country again.
Vet check-up
Before flying with your dog, a "fit-for-flight" veterinarian check-up is required. And while this is not compulsory for a road trip, I would recommend it. Close to your departure date, pay the vet a visit and ensure that your pooch is in good shape to travel by car for many hours.
Step 2: Buy and Pack Everything Needed
In addition to sorting everything that is required when travelling with a dog, you also need to prepare and pack everything else your dog will need. If you don't have a travel bag or similar already, this is the first thing you will need to buy. You also need to ensure that you have enough food, treats, poo bags etc for the whole road trip.
Recommended packing list:
Travel bag or carrier

Dog food

Tasty and healthy dog treats

Medication – if your dog is on or might need anything during the road trip

Poo bags

Collapsable/travel water bowl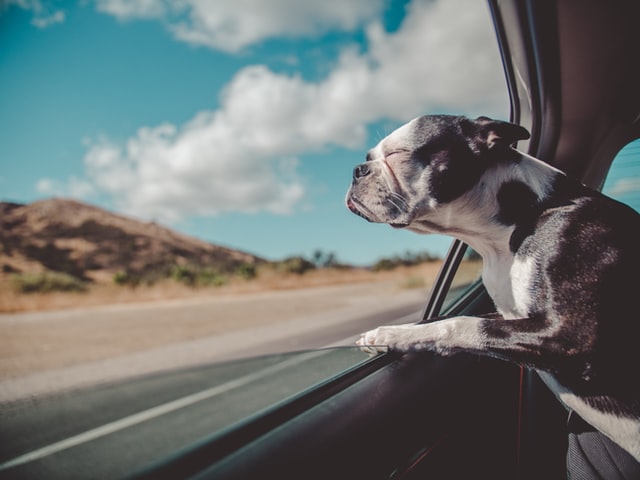 Step 3: Find a Dog-Friendly Route and Dog-Friendly Hotels or AirBnBs
No matter where your road trip is starting and ending, it is important to have somewhat of a plan in advance. Especially when planning a road trip with a dog, it is important to ensure that your dog is actually allowed where you are going.
Choosing to travel by car instead of a plane is already a big plus for both you and your dog. You won't have to search for which airlines allow dogs and how much extra it will cost. At the same time, your dog will be able to be with you all the time and not cooped up in cargo. But even if you are travelling by car, your pet will not automatically be allowed everywhere.
Ferries
If your route requires you to cross waters that are not simply crossed by a bridge, you will need to look at and book ferry options. Ferries can differ in allowing passengers only or cars too, and they might also differ in if pets are allowed or not.
If pets are allowed, do they come with an additional charge? Are they allowed up on deck, or not? There is a lot to ensure in advance. Most important is to be prepared by contacting and booking early.
Dog-Friendly Hotels and AirBnBs
If you are planning a road trip with a dog, probably you are not talking about just a day trip. Unless you will be taking shifts driving all day and night, you will need somewhere to stay and sleep at night. And with a dog, your options might be more limited.
More and more dog-friendly hotels are popping up and many AirBnBs allow pets. Nevertheless, it is not something you can take for granted. When booking your room, whether in advance or on the day, it is important to look at places that allow dogs only. Luckily, it is easy to filter by "dog-friendly / dogs allowed" on AirBnB, Hotels.com and more.
Step 4: Have your Dog Feel Comfortable in the Car
If you are planning on completing a long road trip with a dog, your dog is hopefully already used to driving. But if there is anything that will be new on the road trip, it is important that your dog is introduced to it in advance.
If your dog is getting a new travel bag to stay in, practice making the dog comfortable with it before taking it in the car. Give treats for going into the carrier and start by having it around the house. Also take your dog with you in the car whenever possible before the actual road trip.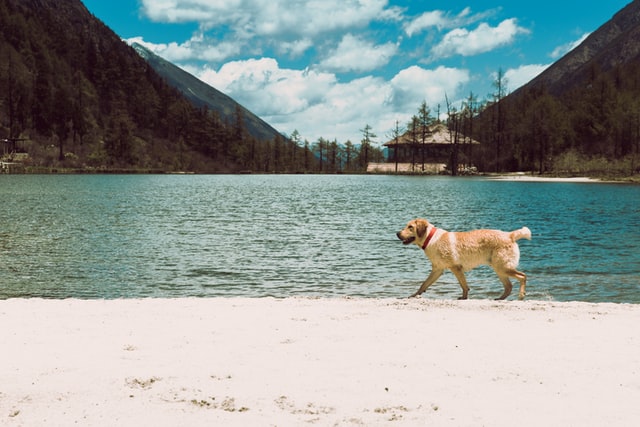 Step 5: Time to Drive!
Once you have everything planned and packed up, it is time to enjoy your road trip. By travelling on a road trip with a dog, there are certain things to keep in mind also while on the move.
Ensure that your dog is placed safely and securely in the car – in a travel bag, cradle or similar

Keep a fresh and well-temperatured environment in the car that is not too hot or stuffy for your dog

Remember to take frequent breaks to allow your dog out to pee, have a little stroll and get some water

Drive safely!
---
Want more animal-related content?
Check out the Dogs section at DineWineLove.