Valletta is the capital of Malta – a tiny yet grand city with lots to offer. If you want to make the most out of the city, keep reading my full-packed itinerary on how to spend a day in Valletta covering what to see and do.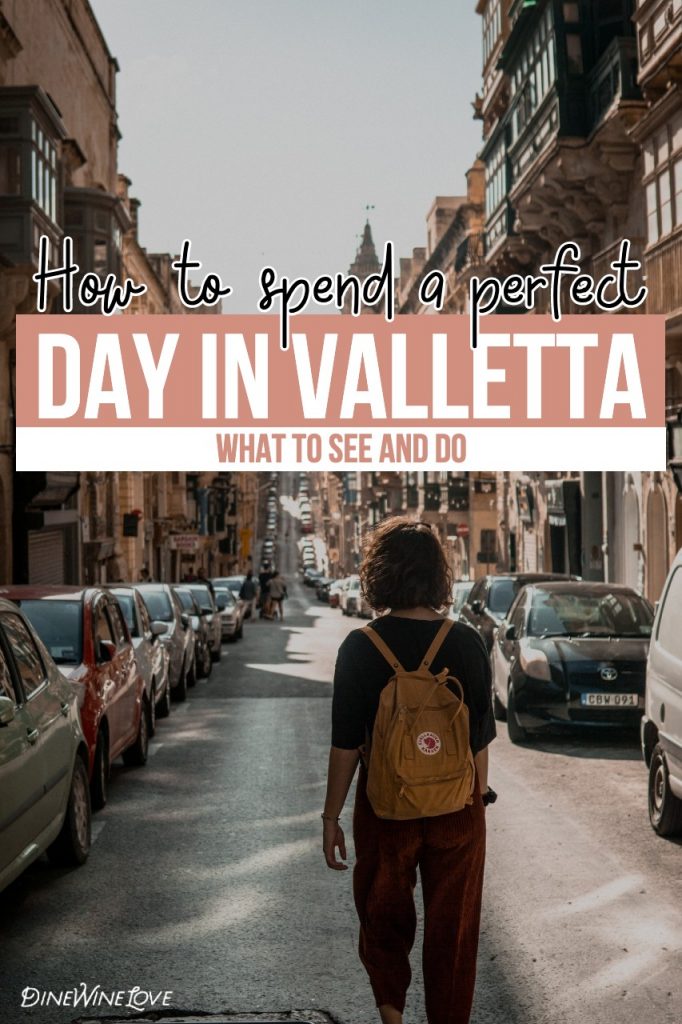 How to get to Valletta:
First things first, let's get you to Valletta. Depending on your budget and starting point, you will have a few options on how to get there.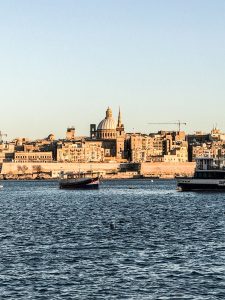 Drive

GoTo car-sharing

Taxi (Bolt or Ecabs)

Sliema-Valletta Ferry

Bus

By foot
Drive to Valletta
If you have your own car (or a rental car for your holiday) you can easily drive to Valletta yourself. While there is street parking available in the city, I recommend parking somewhere outside of the city gate. You can for example drive to the MCP parking or the public (free) car park opposite the Phoenicia Hotel.
Book a GoTo Car
If you don't have your own car but prefer to drive on your own, I can recommend booking a GoTo car. GoTo Malta is a car-sharing company where you can sign up and book an electric car directly from their app.
We normally use GoTo when driving to Valletta as it is cheaper than a taxi. There are lots of GoTo parking spots around the city where you can leave the car once you've arrived.
Take a Taxi
If you haven't signed up to GoTo yet or just prefer not to drive, you of course have the option of taking a taxi. Malta has several good taxi companies such as Bolt and eCabs where you can book a taxi directly from your smartphone. Simply download the apps and book when you're ready to go.
Take the Ferry
I would argue that taking the ferry is the most scenic way of getting to Valletta. Especially as a tourist – but also as a local – I would recommend taking the ferry at least once. It's a short and cheap ride that gives you some breathtaking views of Sliema and Valletta. The ferry leaves from Sliema, normally twice an hour.
Catch a Bus
I have to admit that I have never been good at taking the bus in Malta – I would normally walk or drive. But that is not at all because the option isn't there. The Malta public transport has lots of busses operating all over the island, where most routes go to or through Valletta for a cheap fair. They even have a unique Valletta card which can come in handy if you travel to Valletta a lot.
Walk
I am not going to recommend that you walk from Mellieħa (I mean you could, but it would take you 4 hours) but if you are not too far away, the walk to Valletta could be a really nice one.
I walked from Gzira to Valletta once and with my small dog it took about 1 hour. It was a really lovely walk with beautiful views. So if you're up for it, put on some good shoes, check Google Maps for navigation and start walking!
---
How to Spend One Day in Valletta
Once you've arrived, let's see how you can spend a full day in Valletta. My perfect itinerary would go something along the lines of this: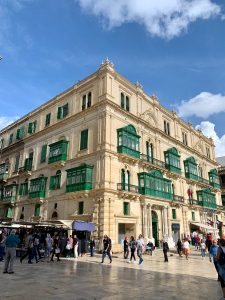 Brunch at Kingsway

Stroll Around, See and Shop

Sit Down for a Beer

Have Lunch at Pizzeria Trattoria Vecchia Taranto

See the Salute from Upper Barrakka Gardens

Have Dinner at Sciacca or Adesso

Drink your way down Strait Street
A day full of good food, good drinks and good conversations.
What to do in Valletta
1. Have Brunch at Kingsway
First stop is Kingsway. Located on Republic Street, close to St George's Square, this restaurant is a great spot to start the day. And it is also the home of the best brunch in Malta (in my opinion).
If you're feeling cheeky, you can opt for the full boozy brunch at €35. But if you want to start slow, I recommend ordering a brunch dish each with your preferred drink – whether that be a coffee or mimosa. Stay for an hour or two, soaking in your surroundings and maybe playing some games.
2. Stroll Around, See and Shop
After a full brunch, you might want to get up and moving a bit. Therefore I recommend heading out for a stroll around the city. You might walk by some shops you want to stop at or some sights you want to photograph. The city is full of great options for both shopping and sightseeing!
Also check out my itinerary on How to spend 24 hours in Malta.
3. Sit Down for a Beer
With the risk of this sounding like a boozy day in Valletta, the next step is to sit down for a pint or two. Valletta has so many great bars and pubs that they have to be explored too! Head for a pub crawl or just choose one where you can have a small break with something to drink and some nibbles.
Some of my favourite pubs in Valletta are
The Pub (136 Archbishop Street)
Ordnance Pub (Ordnance Street)
The Queen Victoria City Pub (20 South Street)
67 Kapitali (67 Triq l-Ifran)
The Beer Cave (Castille Hotel, Castille Square)
Wild Honey (127 St. Lucia's Street)
4. Have lunch at Pizzeria Trattoria Vecchia Taranto
Once you feel peckish enough to enjoy a light lunch, it is time to walk down to Saint Paul Street. There you will find one of the best pizzerias in Malta: Pizzeria Trattoria Vecchia Taranto. The opening hours are not very clear but they should be open for lunch or at least take away most days. If not, you can try getting a table at Sotto.
5. See the salute from Upper Barrakka Gardens
You can't spend a day in Valletta without visiting Upper Barrakka Gardens. My favourite spot in all of Malta, this beautiful garden is filled with colourful flowers and leads you into a fantastic view of the Three Cities. Go there at 4 pm (or 12 pm) to see the daily salute. Stroll around, enjoy the view and take some stunning photos.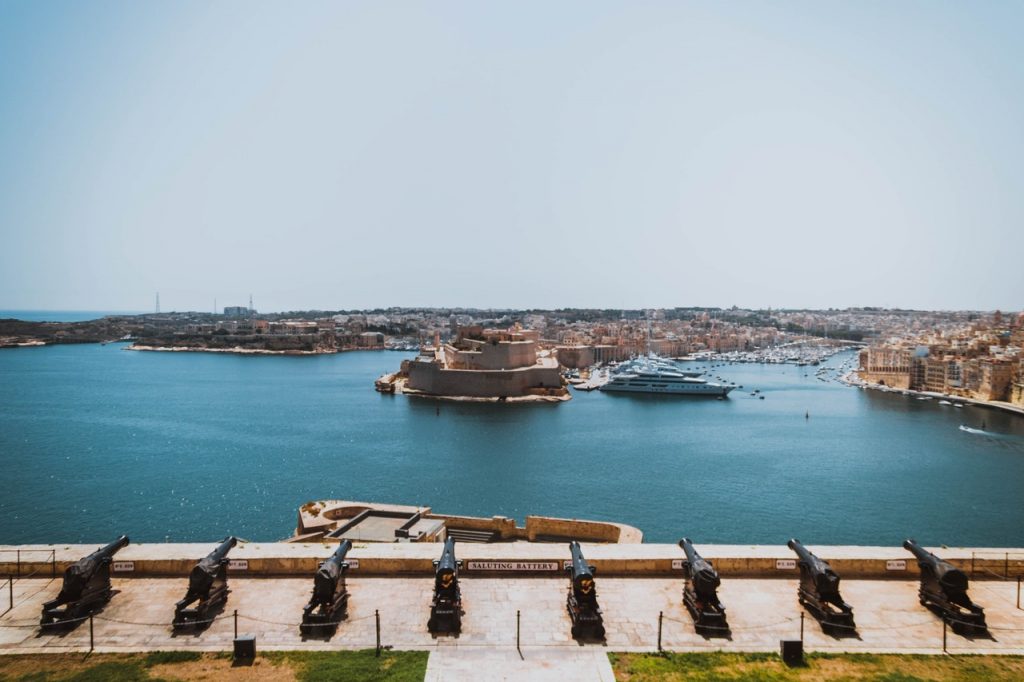 6. Have Dinner at Sciacca or Adesso
Once the sun starts to set and the day in Valletta is coming to an end, it is time to enjoy a nice dinner. I recommend checking out some of the most romantic restaurants in Malta: Sciacca or Adesso. They are both high-quality restaurants with an amazing service and menu. As they are both popular, I recommend booking in advance.
7. Drink your way down Strait Street
If you've followed the itinerary this long and want to finish off with a bang, it is time to "drink your way down Strait Street". That is unless you want to stay at the dinner restaurant for some nice wine and digestif.
Strait Street (also known as Strada Street) is a famous street – maybe even Malta's most famous street. Between the 19th and mid-20th century this street was the nightlife scene not only for locals but also American and British military. Today it is still a famous and popular street buzzing with the local nightlife, with bars upon bars to visit.
I recommend checking out Yard 32 for some great Gin and Tonics. And of course don't forget to try some local wine!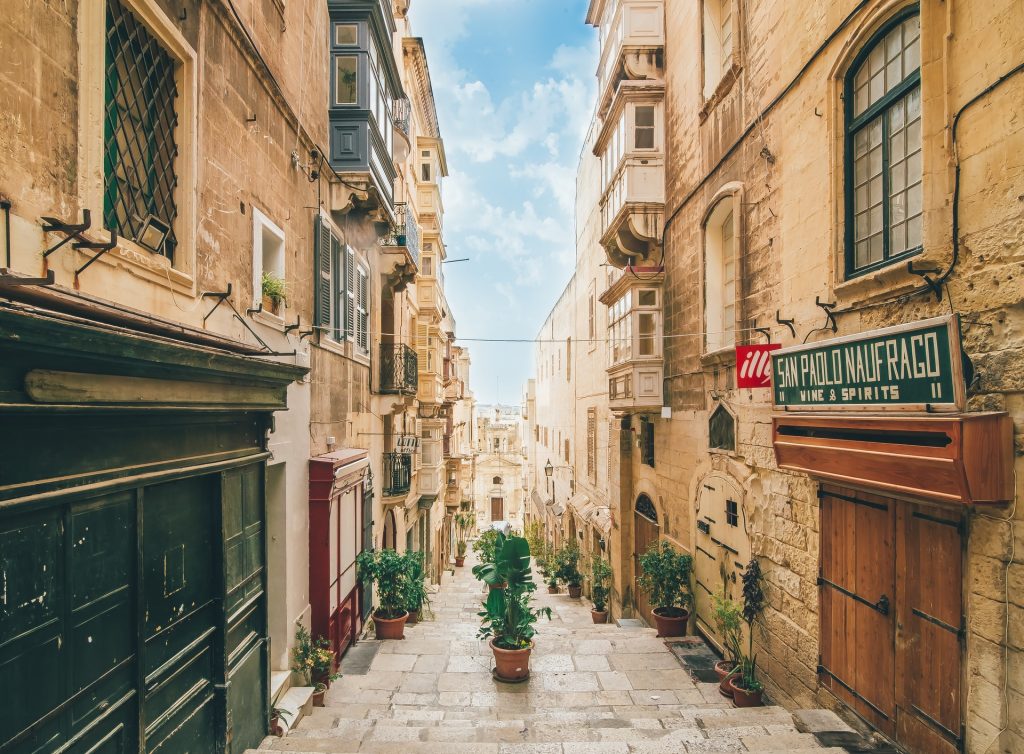 ---
And there you have what to do in Valletta in one day, from morning till night. The most important is just to walk around the city to find spots you want to check out, like the many shops, bars and restaurants available. And once you are done for the day, get home safely with a taxi or bus!
Want more Malta recommendations?
Check out the Malta section at DineWineLove.