Have you seen the new and updated design (and concept) of The Playwright Marbella yet? Check out my review of Amazonica at The Playwright to get all the details!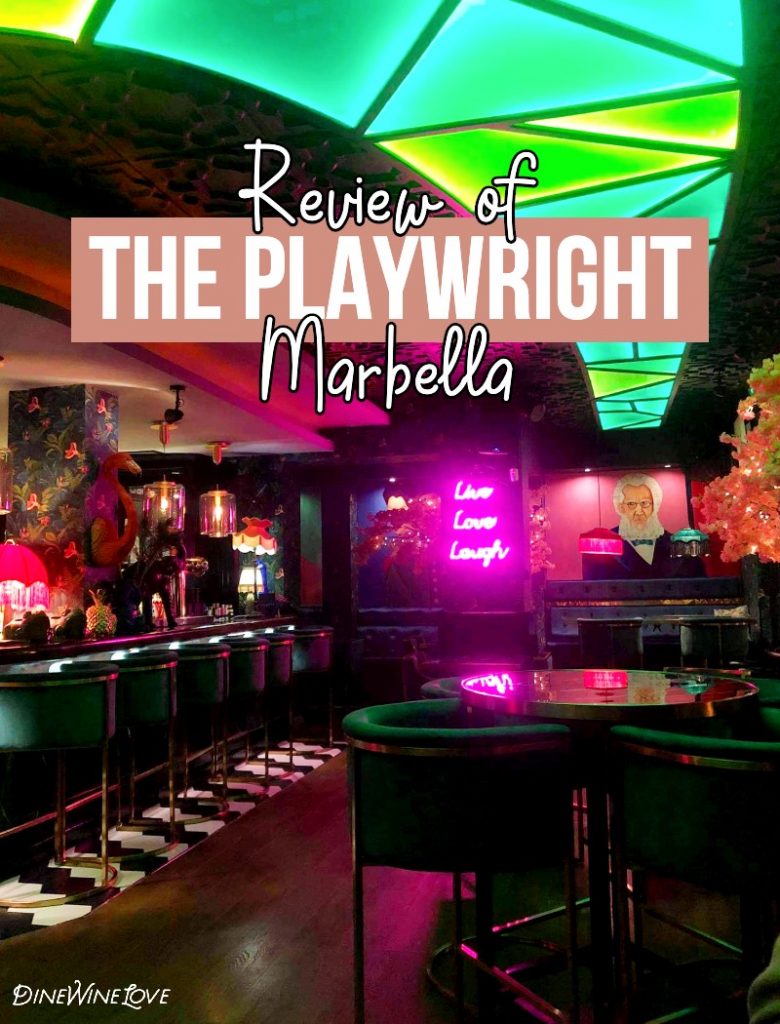 Imagine stepping into the wardrobe that sends you to Narnia, but instead of being met with snow and mythical creatures, you're transformed to an extravagant (yet classy) jungle full of flamingos, kitsch decor, and neon lights. All I can say is, photos won't do it any justice. The Playwright needs to be seen (and explored) in person.
What is Amazonica at The Playwright?
Driving past The Playwright, located right off the N-340 on your way towards Marbella, it might not look like anything special. But don't let the exterior fool you. What was once a simple and sophisticated restaurant decorated with shades of nude and black leather chairs made a true transformation during the lockdown.
In September 2020, The Playwright reopened its doors as Amazonica at The Playwright. It's a bar and restaurant with good food and drinks, live music on weekends and more.
Sadly I didn't have the pleasure to visit The Playwright before the redecorating (as I hadn't moved to Spain yet). From old photos and descriptions from staff members, I can only imagine it as a completely different place. Today, the restaurant is still classy, elegant and quality-focused as always. It's just wrapped up in a more fun and playful atmosphere unlike any other.
Amazonica at The Playwright gives me so many associations. The furniture reminds me of The Skyroom – one of my Malta favourites. The more crazy and colourful design decor reminds me of Rise Skybar on top of the Mondrian hotel in Doha and the great restaurant Arara in Fuengirola. In the end, there is just nothing quite like it!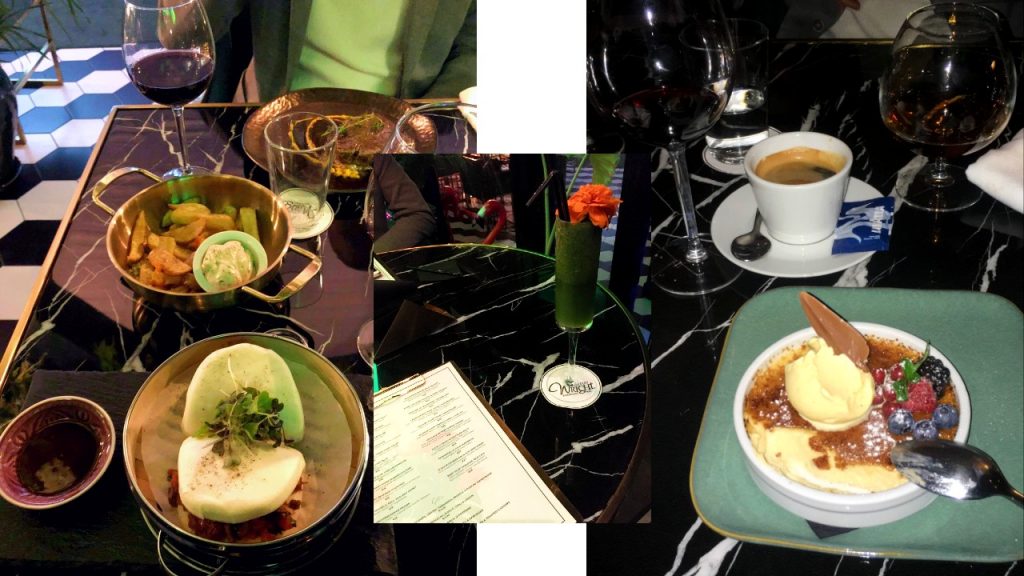 The menu, food and drinks at The Playwright
While The Playwright is worth a visit just for the decor itself, the food and drinks will be what makes you want to come back.
I recommend starting your meal with a drink in the Amazonica bar. There you'll find beer, wine and spirits, as well as a cocktail menu with a mix of special cocktails (like the Amazonica) and classic drinks.
The food menu consists of a selection of some starters, mains and side dishes that all fit on one neat A4 page. This is not to say that the menu is small, but at the same time, you won't have to browse through pages upon pages of choices. With the reopening of the restaurant in May 2021, there's an updated menu with more vegan and vegetarian options as well as some new, exciting dishes.
The restaurant serves a good selection of vegetables, seafood and meat, and the flavour combinations are impressive. Though everything sounds mouth-watering, my favourite part of the menu is the selection of sides where I could honestly just order all. And my fiancé found a clear favourite: the Galician fillet steak served with Porcini Reduction, Puree & Porcini Butter.
Once you've finished your lunch or dinner, a delicious dessert menu is waiting. I was instantly intrigued by the Banana Crème Brûlée and have to admit it might top the chocolate Crème Brûlée at Sciacca. If you're not much of a dessert person, there is also a good selection of liquors and also some fun dessert cocktails. While most bars will have Espresso Martini on the menu, the addition of Salted Caramel Martini and Key Lime Pie Martini was a first for me!
Highlights from the Menu
Cocktail: Pink flamingo (€9.95)
Starter: Deep fried brie with sesame crust, raspberry, red onion & tomato compote (€13)
Main: Galician fillet steak, porchini reduction, cheddar puree & porchini butter (€29)
Side: Roasted cauliflower, thai red curry sauce, coriander & toasted cashews (€4.50)
Dessert: Banana crème brûlée & vanilla ice cream (€9)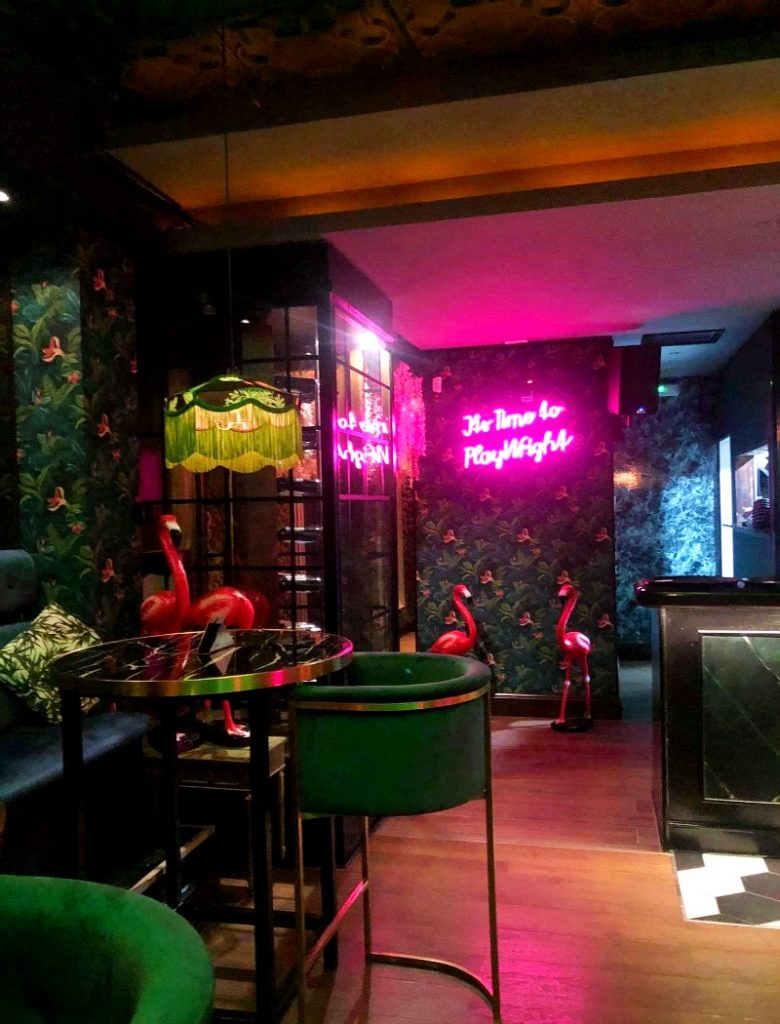 ---
Verdict
Amazonica at The Playwright is a fun bar and restaurant that I can't wait to visit again. The decor and concept is extremely well-executed and cool, and the drinks and food is all delicious. The staff is also very helpful, friendly and service-oriented. This is a bar and restaurant of quality, perfect for a romantic date night. The prices are a bit steeper but well worth it!
The Playwright at a Glance
Cuisine: International (modern)
Price point: €€€
Live music: Yes
Dog-friendly: No
Parking on spot: Yes
The Playwright Marbella, Details

Where: C / manzana, local 8 – 11 pueblo los arcos, km 191 Elviria, 29604 Marbella, Málaga
Opening hours: Tuesday to Sunday, 6 pm to 1 am*

Opening hours are currently different due to the 11 pm curfew. The restaurant is now open for lunch too, Wednesday-Sunday, 1:30 pm to 10:30 pm. Mondays and Tuesdays are closed.

Website: http://theplaywrightmarbella.com/
Contact: 952 83 08 68
Want more Spain recommendations?
Check out the Spain section at DineWineLove.