Looking for a great London restaurant? Check out my top three brand names of best London restaurants that are actually worth the hype!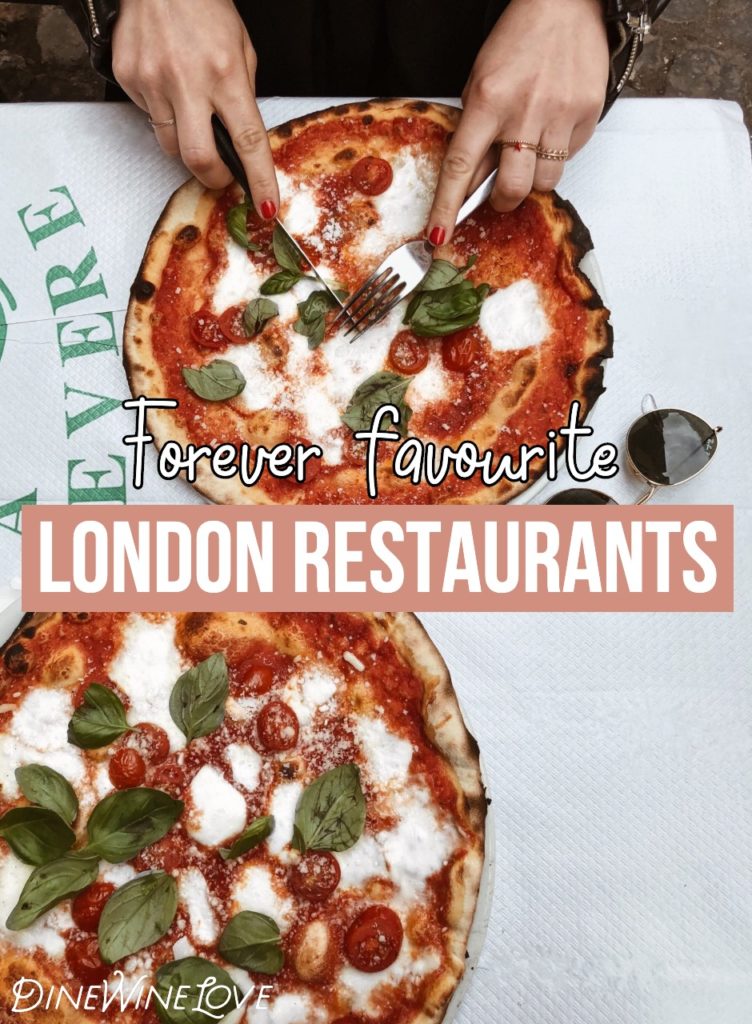 There are many things I miss about living in London, and my favourite London restaurants are high up on the list. Even though Spain has a great selection of restaurants, where I can even bring my dog, there are some London restaurants I still haven't found a match to.
One of my favourite things to do when I lived in London was to explore new restaurants and dishes. But whenever I had visitors, I always made sure to bring them to my staple favourites. These are the restaurants I will keep going back to as they have a special place in my heart.
Here is my top three list of the best London restaurants that never disappoint – and are definitely worth the hype.
Three best London restaurants
While the three following restaurant chains are all quite well-known brand names, they are popular and successful for a reason.
1. Meat Liquor
€€
My 2019 birthday was spent enjoying a (free) birthday meal at Meat Liquor. When spending my birthday in London, I couldn't think of any better place to have dinner. Meat Liquor isn't fancy, but it is right about the best food I have tried in London.
Not being a burger person, I must admit I was a bit sceptic on my first visit. Getting served a portion of fries covered in sauce and onions didn't make me any less unsure about the meal, but from the very first bite, I was hooked. Meat Liquor serves up the perfect blend of a homemade burger that isn't too daunting, together with sides that are not just your regular french fries.
Our go-to spot was the original Marylebone site which sadly closed down in early 2019. Hidden right behind the crowded Oxford Street lied a basement-like room with poor lighting and loud music. It might not sound too appealing, but it created the perfect vibe!
Even though that location is closed, Meat Liquor is still serving up the best burgers and fries in town elsewhere. In total, Meat Liquor can be found at 12 different locations (and counting) across London, Brighton and Leeds. Although the locations may vary a bit (from the big restaurants to the meat market in Covent Garden), they all serve up the same good quality food and drinks. London's best burger, if you ask me!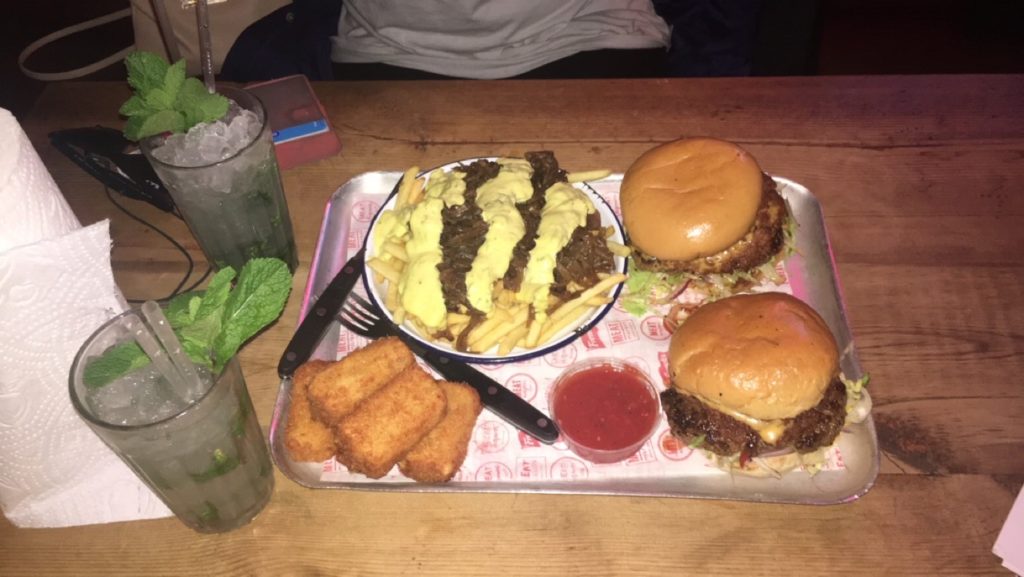 Meat Liquor in a Nutshell: Delicious, home-made burgers and side dishes, great music and vibes.
Locations: W1, Hoxton, Covent Garden, Quensway, SW11, Brighton, East Dulwich, Leeds, Croydon, N1, and King's Cross
My Go-to Order: Dead Hippie burger, Deep-fried Mac'n'Cheese, Hippie Fries
2. Franco Manca
€€
If I could only eat one dish for the rest of my life, I would choose pizza in a heartbeat. And one of my favourite pizzas are the ones from Franco Manca. Franco Manca was one of the first restaurants I tried after moving to London, and that's probably part reason why it holds such a special place in my heart.
Never have I ever experienced such a perfect, rich and tasty pizza outside the borders of Italy. I have since my first visit queued to get into Franco Manca countless times on different locations, and I always end up with the same perfectly tasting pizza on my plate. Not only is it the best London pizza ever, but it is also ridiculously inexpensive.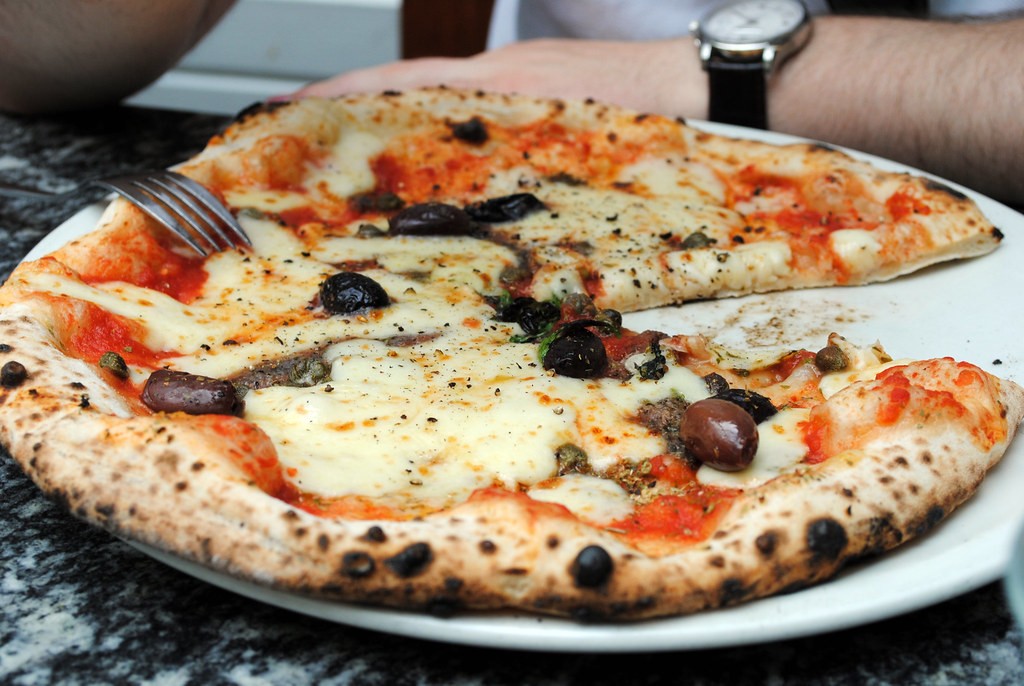 Franco Manca in a Nutshell: Home-made, sourdough pizza, and great drinks.
Locations: North London (x6), South London (x10), West London (x6), East London (x4), Central London (x10) and outside of London
My Go-to Order: Pizza #2, Nocellara green olives, and an Organic Lemonade
3. The Breakfast Club
€€€
I love breakfast food and favour any place that will serve me pancakes no matter what time of day it is. Long before I even moved to London, I knew that one of the first places I wanted to visit was The Breakfast Club. As a lover of everything American- and breakfast food-related, I could not help but drool over their picture-perfect pancakes and other meals. Even though there is almost definitely a queue to get in the door, the wait is totally worth it.
I always end up ordering the Pancakes with Berries and Cream, paired with freshly squeezed orange juice in the daytime, and a go-to cocktail (like mojito) in the evening. The good thing is that the restaurant doesn't only serve breakfast food. You can also order a scrumptious burger, salad or side dish here, served with some great drinks.
The Breakfast Club in a Nutshell: All-day breakfast-food, cool decor, and secret bars
Locations: Angel, Battersea Rise, Brighton, Canary Wharf, Croydon, Hackney, Wick, Hoxton, London Bridge, Oxford, Soho (x2), St Spitalfields
My Go-to Order: Pancakes & Berries, and a

Mojito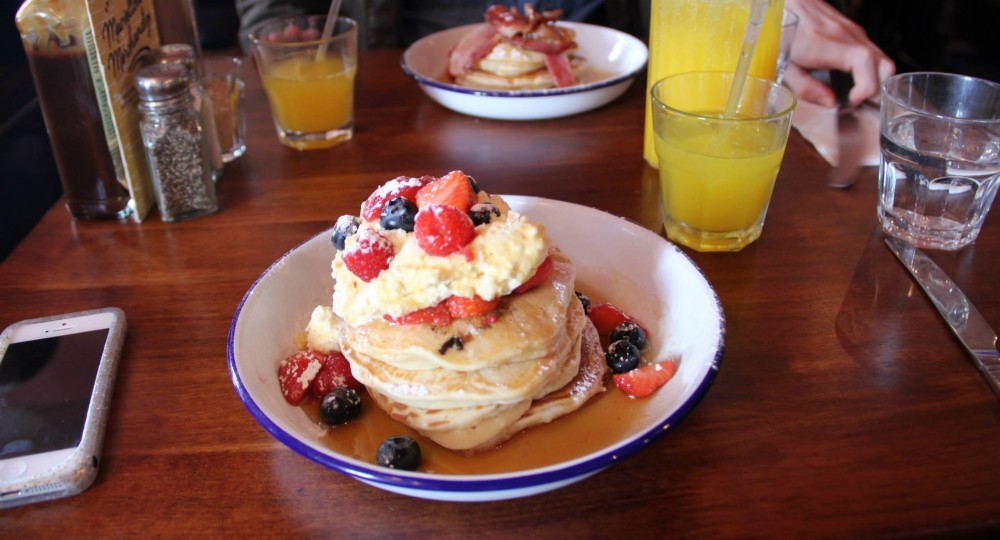 Are these London restaurants worth the hype?
A common denominator of all three restaurants above is that they all had some locations when I first moved to London (2014), but a lot more restaurants now. Basically, these are all popular, well-known spots for a London dinner. But I think that they are all worth the hype (and queuing). If you want a delicious meal, these are some of the best London restaurants to try out!
Want more food-related content?
Check out the Dine section at DineWineLove.