Do you want to enjoy a scrumptious breakfast or brunch in Costa del Sol, Spain? Check out my list of the best brunch spots on the sunny coast and enjoy a great start to your day!
Click on the restaurant names below to jump to that section or keep scrolling for the full guide!
Where can you find the best brunch in Costa del Sol?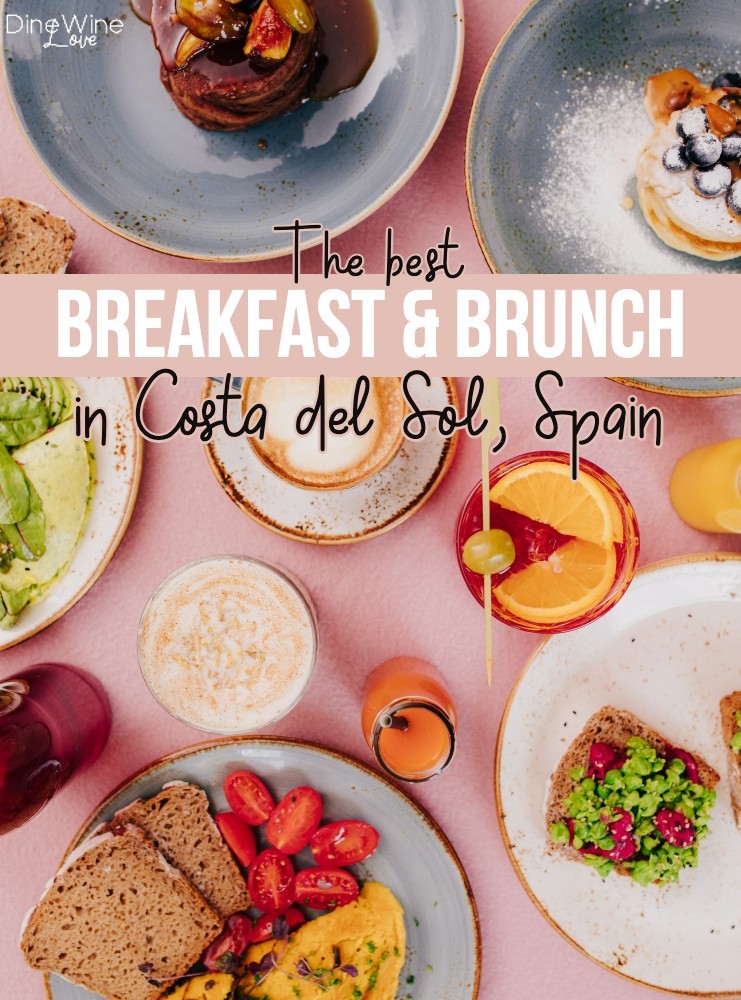 Whether you are on holiday or living along the sunny coast, it is always a nice treat to head out for breakfast or brunch. And in Spain, you will certainly find a lot to choose from, with cafés and restaurants open around the clock.
If you are looking for a traditional, Spanish breakfast, you won't have to look far. You can get a pan con tomate or another type of sandwich, some churros, fresh orange juice and coffee right about everywhere. And if you head to a local cafeteria, it won't cost you more than a few euros. But what about if you are in the mood for something a bit more unique?
Luckily, you can get a bit of everything in Spain. Especially in big cities such as Marbella and Malaga, you will find many restaurants serving all-day breakfast or offering weekend brunch deals. Here you can expect to find classic dishes such as avocado toast, eggs benedict and pancakes on the menu, as well as local favourites.
As a lover of breakfast food and a dedicated brunch-goer, I have tried many breakfast and brunch spots where I live in Mijas and in nearby cities along Costa del Sol. And after two years of "research", I am ready to share my top insider tips! Just like my guide on the best brunch in Malta, I have gathered my findings and will here go through the very best restaurants and cafés for brunch in Costa del Sol. It's written from a local's perspective with a mix of well-known spots and hidden gems for all budgets.
---
Top 6 spots for breakfast and brunch in Marbella and nearby cities
In Costa del Sol, you will be spoilt for choice. In the more international cities such as Malaga, Marbella and Mijas, there are hundreds of restaurants all serving their own unique dishes. And many are actually specialised in the area of breakfast and brunch! So no matter if you wish to wake up early or sleep in and have your eggs at noon, you will be able to enjoy a delicious start to the day at the following breakfast and brunch restaurants located along the sunny coast.
1. Tasty Bakery, Mijas Costa
Tasty is a local, family-run bakery that started out in a small shop two years ago. Here you can find counters filled with sweet delights such as tarts, cakes, cookies and more. And the talented bakers create stunning cakes for birthdays and other special occasions. The owner of the bakery is from Argentina, so there are also lots of Argentinian specialities offered – including "alfajores". But it is not only sweet dishes on the menu, as you can also get delicious sandwiches, savoury croissants, meat-filled empanadas and more.
Thanks to its popularity, the business has expanded in size and moved into a new, larger and more open location in May 2022. Just around the corner from its original spot, Tasty now offers a grand location with plenty of outdoor and indoor seating. This means that you can grab some breakfast on the go or sit down to enjoy a coffee and a sweet or savoury dish. No matter what you choose, the quality is amazing and the price point is very reasonable.
Details of Tasty Bakery

Where: C. Acuario, 55, Local 17 Primera Planta, 29649 Las Lagunas de Mijas, Málaga
Opening hours: Monday to Sunday 8:30 am to 4 pm
Contact: +34 616 86 72 24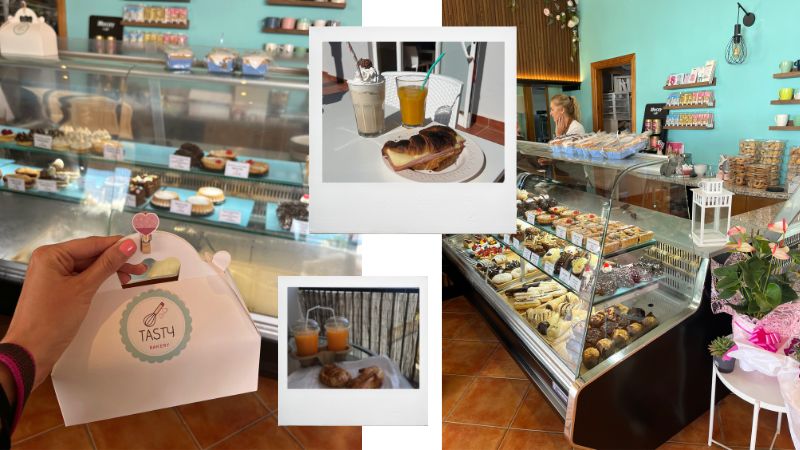 ---
2. The Jammy Olive Café, Calahonda
If you are looking for full English, avocado toast or another classic breakfast dish for a good price, The Jammy Olive is a great option. At this cute café, you can enjoy breakfast until 12:30 every day of the week. The breakfast menu is large with lots of options for savoury, sweet, healthy and greasy dishes. You can also try some homemade cakes and enjoy freshly squeezed orange juice and delicious coffee.
The café is located in Calahonda with tables both outside and inside. The service is always quick and friendly, and there are many cute details to look out for (such as the various salt and pepper shakers).
Details of The Jammy Olive Cafe

Where: Calle Mérida de Jarales, 12-13, 29649 Calahonda, Málaga
Opening hours: Monday to Saturday 9 am to 4:30 pm, Sunday 10 am to 4 pm (Breakfast & brunch served until 12:30 every day)
Website: https://thejammyolivecafe.com/
Contact: +34 603 47 15 65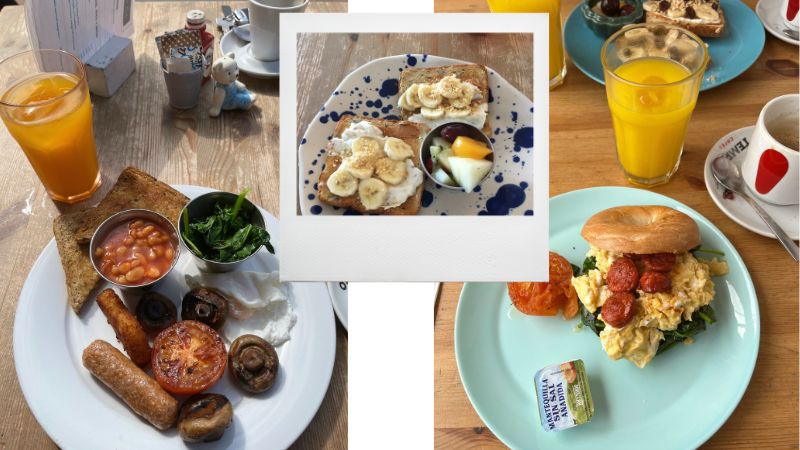 ---
3. Banana Kitchen, Mijas
This favourite I have discovered quite recently and fully fell in love with. Banana Kitchen is a hidden gem located in the centro comercial Centro Idea above Fuengirola, on the way up to Mijas Pueblo. As soon as you enter this little hideout, it will feel as if you have stepped into an oasis. There are flowers all around, stylish furniture and cute decor outside and inside, and friendly staff waiting.
On the menu, you'll find a good amount of breakfast and brunch dishes served all day. This includes homemade sourdough bread, protein pancakes and açaí bowls all served with delicious toppings. The flavoured ice coffee is also one of the best I've ever had, for the small price of €3. If you are not in the mood for traditional breakfast food though, there is plenty more to choose from. How about a homemade pizza and a glass of wine? On Fridays and Saturdays, all pizzas are €10 only!
Details of Banana Kitchen

Where: Centro comercial Centro Idea, Carr. de Mijas, km 3, 6, 29650 Mijas, Málaga
Opening hours: Monday to Saturday 9 am to 6 pm
Contact: +34 698 93 87 63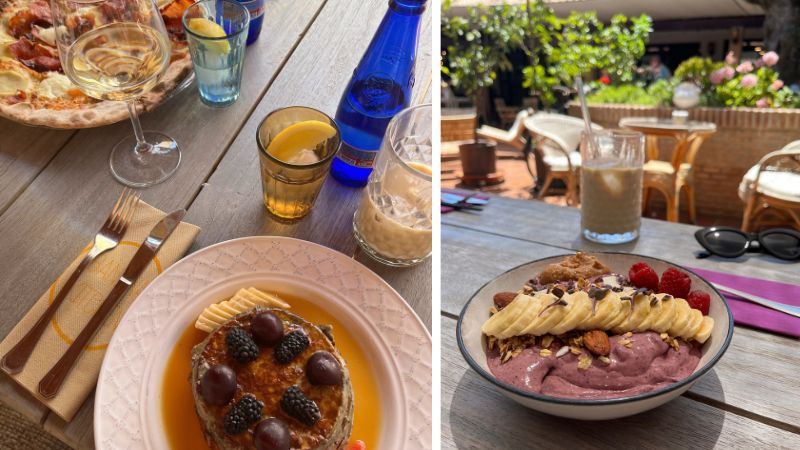 ---
4. Rosas Café, Marbella
Rosas Café is a bit posher but still won't break the bank. Located in Puerto Banus, this café is all pink and insta-friendly. The menu is a magazine, there's a flower wall and swing loveseat inside, and lots of beautiful details all around. But it is not just all about appearance here. The menu is full of delicious, healthy and quite recently priced dishes and cakes – including a large selection of all-day breakfast and brunch.
Choose between eggs royale, homemade crêpes, açaí bowls and more for a tasty and beautifully plated breakfast dish. Combine it with a specialty coffee, natural juice or a cheeky glass of cava. Don't forget to check out the cake counter where mouthwatering cupcakes and other treats are waiting. And if you happen to bring a four-legged friend, there's even a special menu for dogs.
Details of Rosas Café

Where: Gaviotas IV, Av. Playas del Duque, Local 3, 29660 Marbella, Málaga
Opening hours: Monday to Sunday 9 am to 5 pm
Website: https://www.rosas.cafe/
Contact: +34 633 55 35 82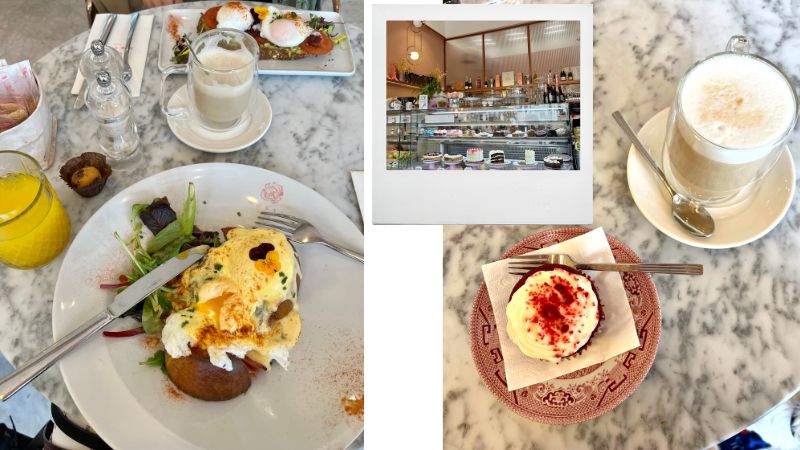 ---
5. Hustle N' Flow, Marbella
Similar to Rosas, Hustle N' Flow is another restaurant serving up tasty, healthy and Instagram-friendly dishes. Also here you can enjoy all-day brunch food such as bowls, toasts, pancakes and more. No matter what you choose to order, you can rest assured it will be a meal full of rich colours and flavours. Everything on the menu also comes with vegan and gluten-free alternatives, making it a great choice for any type of diet or preference.
Currently, you can find Hustle N' Flow at four different locations: San Pedro, Marbella, Benahavis and Gibraltar. Thanks to the uncompromised quality and fresh menu, the franchise has grown into a highly recommended and award-winning brand. No matter which location you visit, you can be sure to enjoy the very best quality of food and service, guilt free.
Details of Hustle N' Flow

Where: Calle Andalucía, C. Lagasca, Esquina, 29670 San Pedro Alcántara, Málaga (+ Marbella, Benahavis and Gibraltar)
Opening hours: Tuesday to Sunday 10 am to 4 pm
Website: https://www.hustlenflow.com/
Contact: +34 663 86 09 91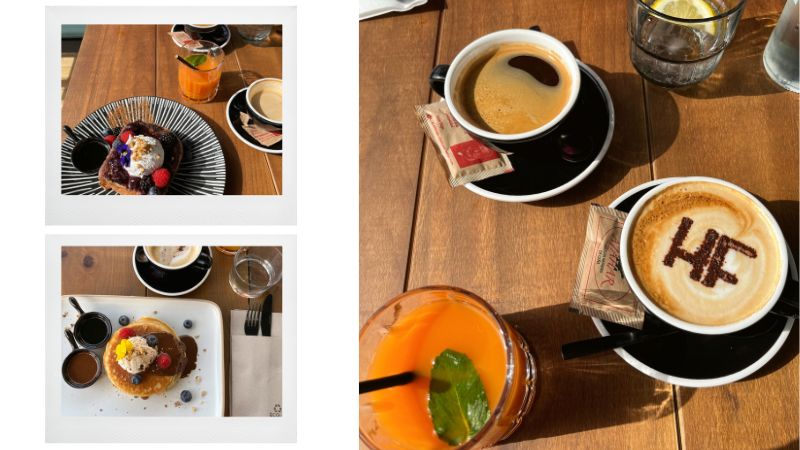 ---
6. Max Beach, Mijas Costa
A final favourite worth mentioning along the sunny coast is Max Beach. This is a complex consisting of a gym and beach club with two restaurants. The Max Beach restaurant is a modern spot with stylish decor and relaxed vibes. There is plenty of seating both outside and inside, making it possible to enjoy around the clock every day of the year. For breakfast- and brunch-goers, there are currently two menus worth knowing about.
First of all, Max Beach has a regular breakfast menu full of inviting dishes such as bowls, shakshuka, breakfast burritos and artisan bread. Each dish is priced around €10, with fresh juices and smoothies costing €8.50. This can be enjoyed every day of the week before lunch.
There is also a Sunday brunch menu listed. This is a deal offered from 10 am to 4 pm on Sundays at €29 per person. It includes some snacks on arrival, a breakfast dish and a selection of desserts. You can also include 2 hours of bottomless cava/mimosa (€18 per person) or Moet Chandon (€48 per person) for a bubbly brunch.
Details of Max Beach

Where: Autovía del Mediterráneo, Km 198, 1, 29649 Mijas, Málaga
Opening hours: Monday to Sunday 10 am to 1 am (Breakfast & brunch served until 12:30 every day)
Website: https://www.maxbeach.es/
Contact: +34 952 93 08 58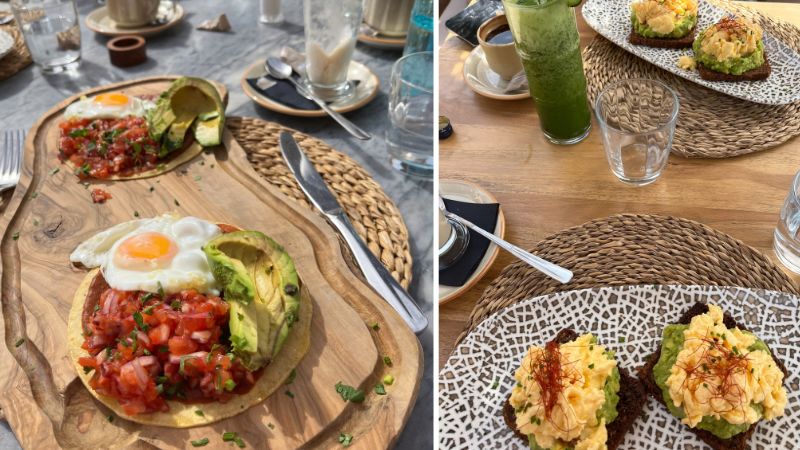 ---
Additional brunch spots
Finally, I want to list some spots that I have yet to try, but that are definitely on my list. The following restaurants are highly rated brunch spots that I will visit in the near future and report back on if they are as good as the recommendations above. Let me know if you try them – or have any other recommendations I should check out!
Dezentral, Marbella
Rachel's Eco Love, Marbella
BrunchIt, Marbella & Malaga
Find and enjoy the best brunch in Costa del Sol
In this guide, I have listed and gone through what are, in my opinion, the very best restaurants for breakfast and brunch in Costa del Sol. What makes the list even better is that all locations apart from Max Beach are dog-friendly. This means that your four-legged friend can also tag along for the meal.
With locations around the large areas of Marbella and Mijas and a variety of offerings, I hope you are able to find something that fits what you are looking for. I will also keep updating the guide and add more recommendations if I come across other spots that hold the same standard of quality. Until then, enjoy!
Want more food-related content?
Check out the Dine section at DineWineLove.