Are you looking for a romantic restaurant for an upcoming date night or Valentine's Day 2023? Find my top recommendations of romantic restaurants in Costa del Sol, with options in Málaga, Fuengirola, Marbella and more.
Click on the restaurant names below to jump to that section or keep scrolling for the full guide!
What are the best romantic restaurants in Costa del Sol?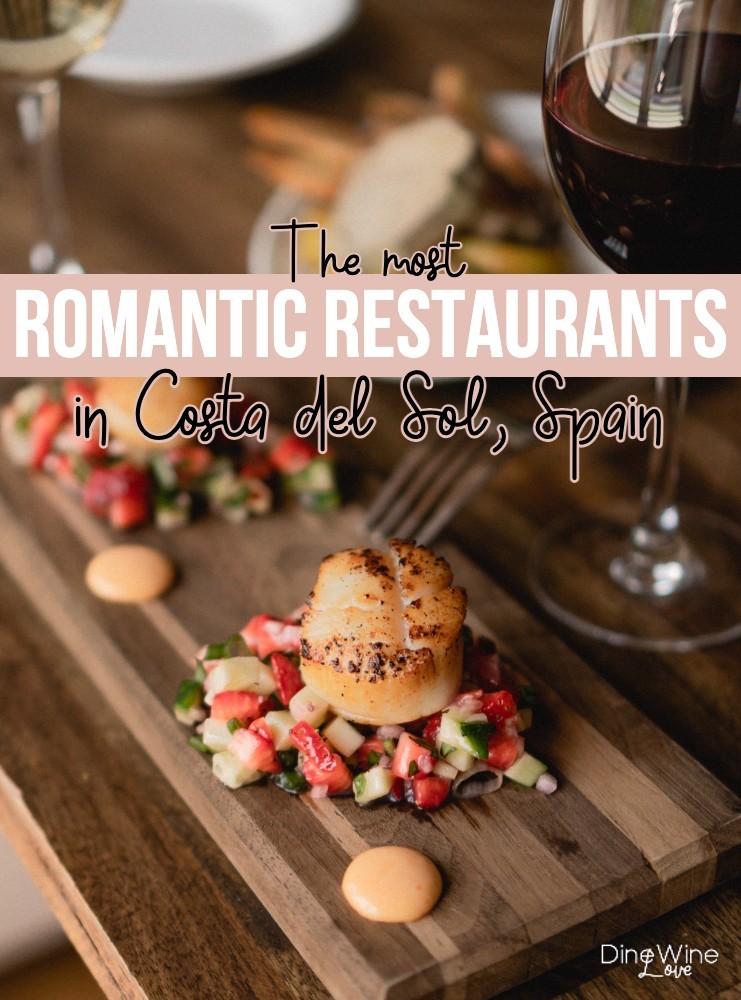 When I moved from Malta to Spain, one of my main worries was that I wouldn't find the same type of great restaurants that I had grown accustomed to in Malta. Eating out is one of my favourite things to do and in Malta, I felt spoilt for choice. But luckily, I quickly discovered that the restaurant scene was just as good – if not even better – in Spain.
Living in Mijas, I have had the pleasure of trying out restaurants all over the Costa del Sol area. This includes cities such as Málaga, Torremolinos, Benalmadena, Fuengirola, Mijas, La Cala de Mijas, Marbella, San Pedro and Estepona. And in this guide, I have compiled the very best romantic restaurants in Costa del Sol I have tried so far. All recommendations are tried and tested by me and restaurants I crave back to time and again.
I believe that these recommendations are a bit different from what you will find in other guides, simply because they are mostly restaurants that I have stumbled upon by luck and not found from recommendations myself. They are all amazing, romantic restaurants that I long back to and truly recommend. And as I stumble upon more romantic restaurants in Costa del Sol that holds the same level of quality, I will keep updating the guide with the freshest recommendations.
Romantic restaurants in Mijas, Marbella, Fuengirola and more
A mix of big names and hidden gems. Without further ado, these are my top recommendations for romantic restaurants in Costa del Sol.
1. The Playwright – Elviria, Marbella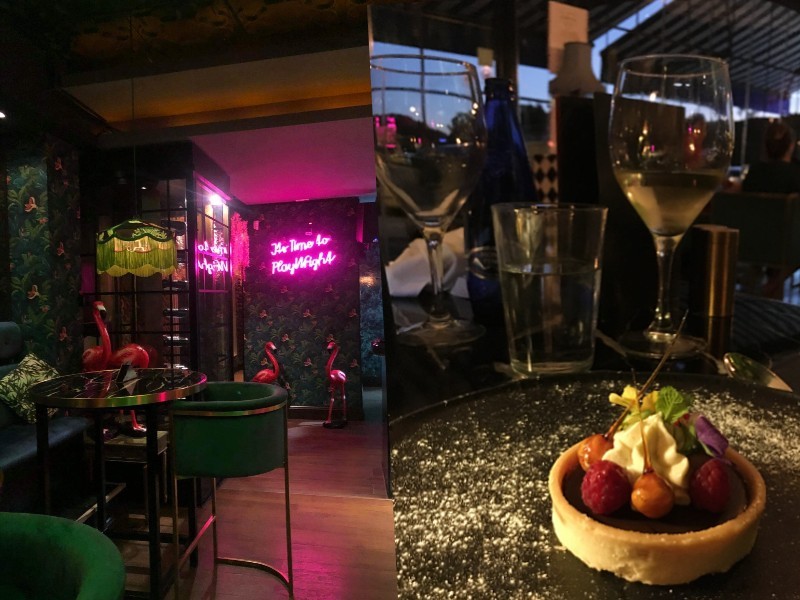 The Playwright is hands down my absolute favourite restaurant in the area and one of the best restaurants I have tried in general. The location is chique, fun and unique – perfect for a date night. You might come to Playwright for the insta-friendly decor, but you will stay and come back for the amazing food, drinks and service. With a new menu launched February 4th and a re-opening on February 11th, dishes like Galician beef fillet and 12hr slow braised beef cheek are waiting.
In addition to the amazing food made from fresh, seasonal ingredients, Playwright is a restaurant serving up dinner and a show. On weekend nights, you can enjoy live music from local talent while sipping on handcrafted cocktails. It's a bit of a splurge, but that's what makes it perfect for a proper date night. The owners of Playwright also have another restaurant named the Harbour Marbella which I am sure is just as great (but I have yet to try it for myself).
Read more in my Playwright review!
The Playwright, Details

Where: C / manzana, local 8 – 11 pueblo los arcos, km 191 Elviria, 29604 Marbella, Málaga
Opening hours: Tuesday to Sunday, 6:30 pm to midnight
Contact: 952 83 08 68
Valentine's Dinner 2023 at The Playwright
The Playwright has not released any special menu for the celebration, but is still a great romantic restaurant to check out. The restaurant might be fully booked for Valentine's already, but you can reach out to double-check.
---
2. Trocadero Arena – Marbella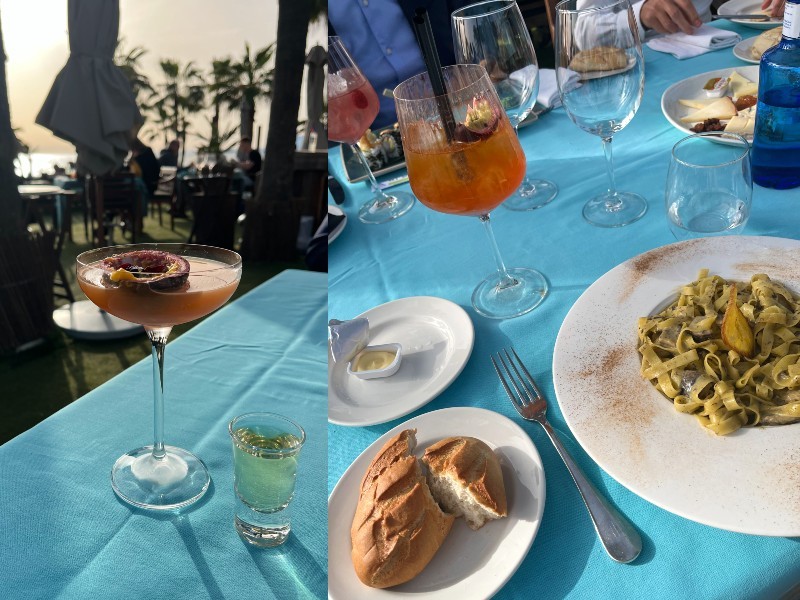 Grupo Trocadero is a chain of restaurants with several locations in Costa del Sol. The location I have visited so far is the beautiful Trocadero Arena in Marbella. In fact, our first visit there was due to winning a 2021 Valentine's Giveaway that included a meal at the restaurant. It was a romantic evening full of good food and good service so of course, it's been a pleasure to go back. The menu is extensive with a mix of international dishes and sushi and a whole load of unique cocktails. If the weather allows for it, you can sit outside and watch as the palm trees sway in the wind and the waves are crashing in the sunset.
Trocadero Arena, Details

Where: Playa de Río Real Carretera N340 km 186, 29600 Marbella, Málaga
Opening hours: Monday to Sunday, 10 am to 1 am
Contact: 952 86 55 79
Valentine's Dinner 2023 at Trocadero Arena
So far, I can not find any specific event or offering from Trocadero Arena for Valentine's. But I will update the guide should anything be added before the day.
---
3. La Scala – Marbella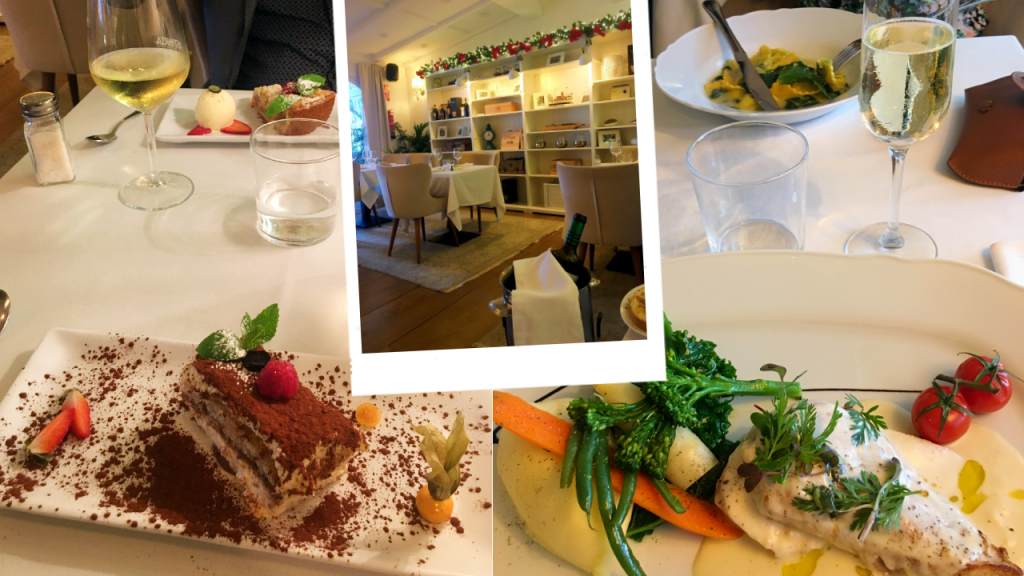 Another Marbella favourite, located in Elviria like the Playwright, is La Scala. This is a beautiful Italian restaurant where you will feel like home. The restaurant is decorated like a living room with cosy decor that truly match the homecooked food being served. In addition to homemade pizza and pasta, the menu is full of hearty dishes that taste like they have been cooked by an Italian grandmother.
Read more in my La Scala review!
La Scala, Details

Where: Urb. Real de Zaragoza, 62, 29604 Marbella, Málaga
Opening hours: Monday to Sunday, 1 pm to midnight
Website: https://lascalamarbella.com/
Contact: 951 56 93 62
Valentine's Dinner 2023 at La Scala
For Valentine's Day this year, La Scala is offering a beautiful romantic set menu. For €70 per person, you will get 3 decadent courses and a glass of prosecco. Enjoy some canapes and choose your favourites from the starters, mains and desserts offered. Book quickly to avoid disappointment!
---
4. La Pergola – Mijas
After falling in love with La Scala quickly after moving here, I got some great news in 2021: The owner of La Scala was opening a second location in Mijas. La Pergola is an Italian restaurant with the same style and homecooked meals as La Scala, located in Mijas Costa a bit outside of La Cala de Mijas.
La Pergola is an amazing restaurant where you get a lot of value for your money. As a result of its high quality of food and service, it is frequently fully booked on weekends. Take a quick trip to Italy without having to leave the country with this authentic and amazingly romantic restaurant.
La Pergola, Details

Where: Urbanización las Mimosas, 3, 29649 La Cala de Mijas, Málaga
Opening hours: Monday to Saturday, 6 pm to midnight
Website: https://lapergolalacala.com/
Contact: 951 66 90 71
Valentine's Dinner 2023 at La Pergola
For Valentine's Day this year, La Pergola is hosting a romantic evening with a full a la carte menu and a special gift for the ladies. Sadly, the restaurant is already fully booked for the night and doesn't accept any more bookings.
---
5. Figaro – La Cala de Mijas
As a big fan of La Scala and La Pergola, I was delighted when I found out that the owner would open its third restaurant in La Cala de Mijas. This was not another Italian restaurant, but a fine-dining experience by the name of Figaro. The restaurant opened at the end of 2022 and at the beginning of 2023, I was finally able to experience it.
Figaro is simply the best restaurant I have tried in Mijas and a perfect choice for a romantic date. The decor is stunning, the service is great and the food is simply delicious. It is open for lunch in the daytime and dinner in the evening, seven days a week.
Figaro, Details

Where: Calle Ronda, 34, La Cala de Mijas, Málaga
Opening hours: Monday to Sunday, 12:30 pm to 4:30 pm (lunch) and 7 pm to 11 pm (dinner)
Website: https://figarorestaurantlacala.com/
Contact: 951 74 42 46
Valentine's Dinner 2023 at Figaro
Figaro has not announced any special menu for Valentine's Day but is already fully booked. This is a popular new restaurant in La Cala, so be sure to book well in advance to avoid disappointment.
---
6. El Higuerón – Fuengirola
If you've ever passed this restaurant while driving on the A-7 you've probably been intrigued about what it is. El Higuerón is a restaurant located a bit up from the road in a big building with large windows to give the most beautiful view of Fuengirola and beyond. With large spaces both inside and outside, there are room for many guests at this romantic restaurant but you should still make sure to book in advance to ensure you get a table. You can also sit in the bar for some crafted cocktails with a stunning view.
The restaurant has a varied menu with a mix of traditional Spanish and international dishes. If you are fan of fresh seafood or good-quality meats, El Higuerón is definitely a good choice. The price point is also quite good considering the quality of food and service offered.
El Higuerón, Details

Where: Salida 217, Autovia de la, 29640 Fuengirola, Málaga
Opening hours: Monday to Sunday, 9 am to midnight
Website: https://elhigueron.com/
Contact: 952 11 91 63
Valentine's Dinner 2023 at El Higuerón
El Higuerón Restaurante has not yet shared any deals for Valentine's this year, but the a la carte menu is full of romantic dishes to share.
---
7. Arara – Fuengirola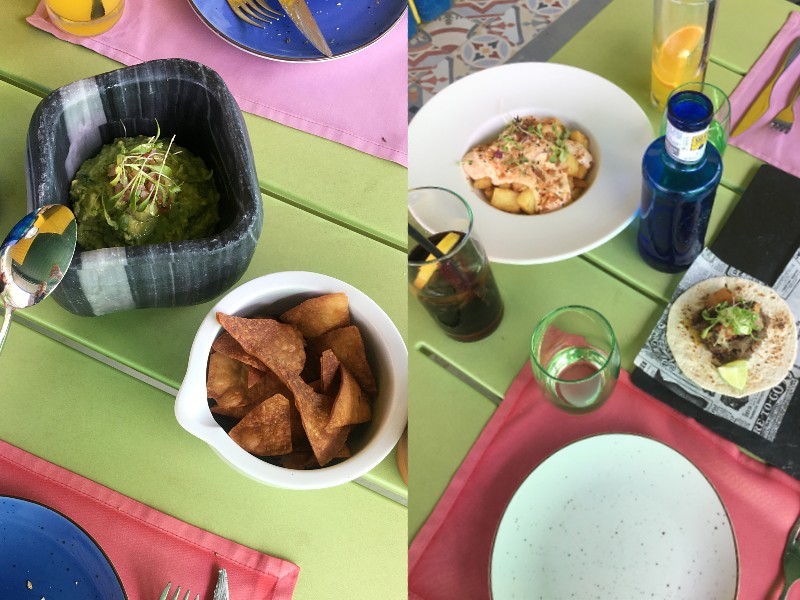 In Fuengirola, very close to El Higuerón Restaurant, you will also find the Hilton hotel El Higuerón. This is a beautiful hotel perfect for a romantic getaway for a night or two with a unique rooftop pool and lots of good restaurants. While some might prefer the Michelin-mentioned SOLLO by Diego Gallegos, my favourite is Arara. This is a bistro bar also by Diego Gallegos that is full of colours and flavours. With Southern American flavours (including one of the best guaccamoles I have had in my life) it is more fun and playful while still being romantic and elegant. Perfect for a flavourful, delicious date night.
Read more in my Arara review!
Arara, Details

Where: Av. del Higuerón, 48, 29630 Benalmádena, Málaga
Opening hours: Wednesday to Saturday, 7 pm to 11:30 pm and Thursday to Sunday 1 pm to 4 pm
Website: https://www.ararabistrobar.es/
Contact: 607 60 02 25
Valentine's Dinner 2023 at Arara
So far, neither Arara restaurant nor the Higuerón Hotel has shared any special menu offered at Arara for Valentine's Day this year.
---
8. Golf clubhouse restaurants in Costa del Sol
Costa del Sol, also known as Costa del Golf, is full of golf courses. This is of course great news for eager golfers, but it should actually also be of interest to foodies. That is because many of the golf clubhouses have their own elegant, romantic restaurants with beautiful views and delicious food. And you normally don't have to be a member of the golf club to enjoy a meal at one of the restaurants.
If you want a nice meal after golf, or just want to try something different, I recommend you to check out some of the following "golf restaurants":
La Terrazza at La Cala Golf (Mijas)
Calanova Restaurant at Calanova Golf (Mijas)
The Green Label at Chapparal Golf Club (Mijas)
La Sierra Restaurante at Cerrado del Águila Golf (Mijas)
Hacienda Los Naranjos at Los Naranjos Golf (Marbella)
La View at Los Arqueros Golf (Marbella)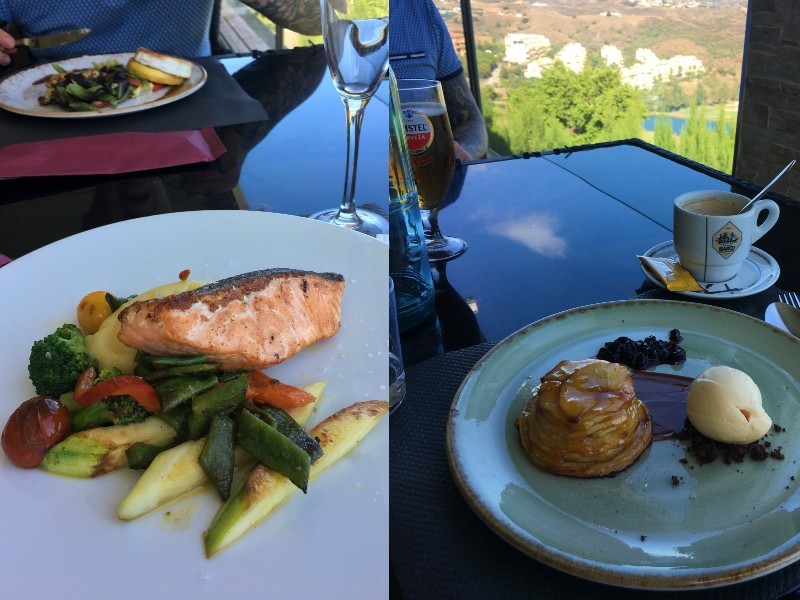 Best 2023 Valentine's Offers at Golf Restaurants
Several of the restaurants mentioned above and other restaurants found at golf clubs have Valentine's deals with set menus and live music open for everyone to book.
---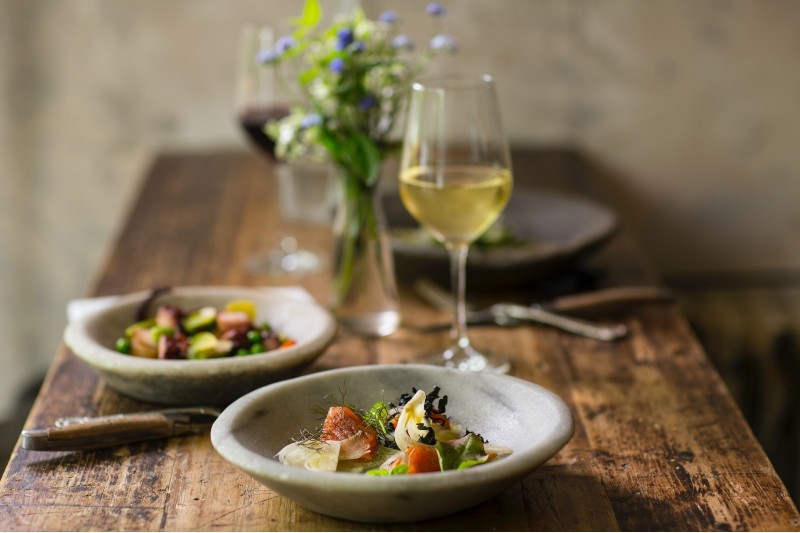 The restaurants listed above are of course only a small selection of the many romantic and fine-dining restaurants found in Costa del Sol. I only recommend restaurants that I have tried myself and that I genuinely believe are worth the recommendation. If you can think of any restaurants that you believe fit on this list, please let me know and I will be sure to check them out!
Valentine's dinner in Costa del Sol
The restaurants mentioned in this guide are all perfect for anything from a casual date night to special occasions and everything in between. And one day they are especially perfect for is Valentine's Day. If you are planning to celebrate Valentine's Day this year with a meal out, I truly recommend these restaurants. Just remember to book early in advance as the day books up quickly!
If you want to enjoy a meal out but prefer going for brunch or lunch instead of dinner, you can also check my guides on the best restaurants for lunch in Mijas and the best restaurants for lunch in Marbella.
Enjoy your romantic meal out!
Want more food-related content?
Check out the Dine section at DineWineLove.