Are you looking for the best spots for a cocktail or pint and some nibbles in Valletta, Malta? Check my list of the nine best bars in Valletta and find your new favourite!
Click on the bar names below to jump to that section or keep scrolling for the full guide!
What are the best bars in Valletta?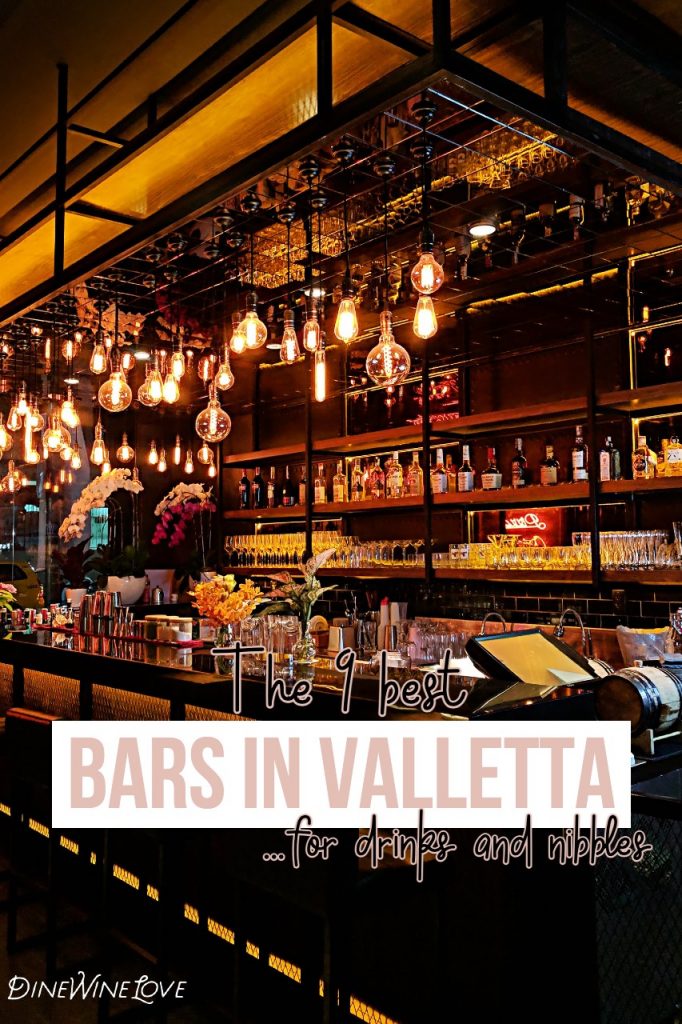 Malta's capital Valletta has an amazing selection of good bars and restaurants. A perfect day in Valletta should be spent barhopping and exploring the many hidden streets of the city. And while I haven't had a lot of bad experiences from random picks, there are some bars in Valletta that have really stood out to me that I keep going back to.
In this guide, you will find nine of Valletta's very best bars and pubs. There is something for every taste and budget, with some grand selections of beer and exclusive cocktails. Try them all and find your number one!
1. Yard 32
– Gin and Spanish Tapas
In a back alley of Strait Street, you'll find a turquoise door with some scribbles on it underneath a large "Gin & Tapas" sign. This is Yard 32, one of the best bars not only in Valletta but all of Malta.
At Yard 32 you will find a grand selection of gin and tonic (with more than a hundred different kinds of gin) and Spanish tapas. On weekends there is normally live music and no matter the day, the service is always great.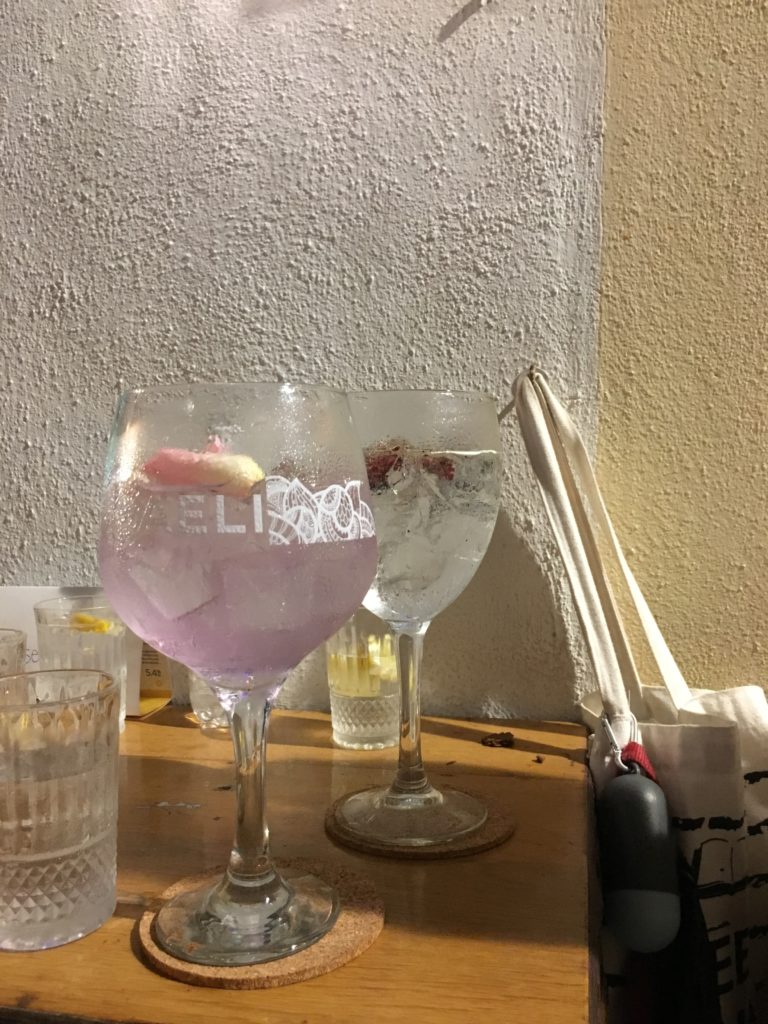 This is definitely a must-visit for any gin-lover. But the gin bar in Valletta is also a good choice for those who prefer a glass of wine (or beer or soda) with some delicious nibbles.
For more information, check out my full Yard 32 review.
Yard 32 Details

Where: 32 Strait St, Valletta VLT 1031
Opening hours: Wednesday to Sunday, from 6 pm till late
Website: http://yard32.com/
Contact: +356 9993 6734
---
2. Kingsway Bar & Restaurant
– Food and Drinks Fit for Royalty
If you are looking for a grand meal within budget, Kingsway is the way to go. Kingsway is a bar and restaurant where you can enjoy breakfast, brunch, lunch, dinner or just some drinks in the heart of Valletta.
While you could (and I have) go for just a drink, I recommend trying out at least some nibbles. The food menu is full of scrumptious dishes with a luxurious flair that you can share with your company or pair with your drinks. Opt for a boozy brunch, sharing platter or some bar bites.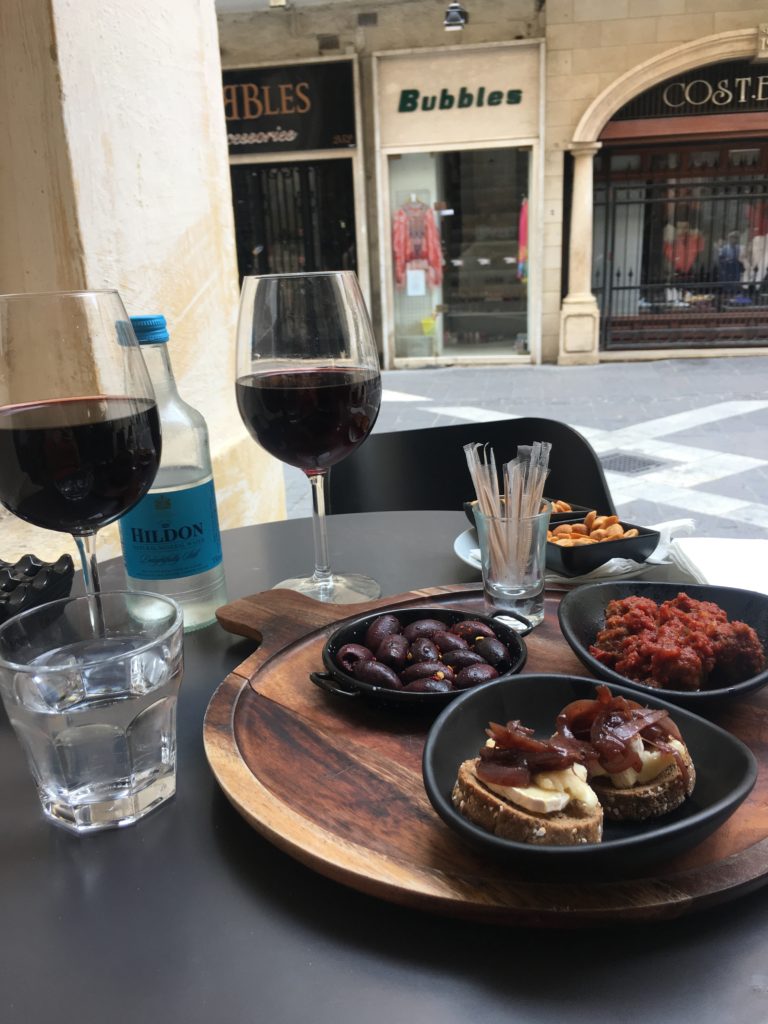 Red wine and nibbles at Kingsway
The style and decor of Kingsway is modern and elegant and the staff is always giving the best possible service. It's not a coincidence that this is where my fiancé and I chose to celebrate our engagement…
Kingsway Bar & Restaurant, Details

Where: 57 Republic St, Valletta
Opening hours: Monday to Friday, 8 am to 10 pm and Saturday 9 am to 11 pm
Website: http://kingswayvalletta.com/
Contact: +356 2703 7720
---
3. The Queen Victoria City Pub
– A Piece of London in Malta
Valletta has a lot of great pubs (there are several on this list!) and many feel "proper British". But if there is one pub that brings me back to London in a heartbeat, it is The Queen Victoria City Pub.
The pub has a bright blue exterior and a large, golden Johnnie Walker greeting you on the way in. Once you enter, you will immediately feel the warmth and friendliness of the staff.
Sit down in a booth or take a seat at the bar, where you can choose from the many beers on tap or drinks in the menu. The pub of course has some delicious pub food on the menu too. Stay for a meal, watch a football game or just enjoy the atmosphere.
The Queen Victoria City Pub Details

Where: The Queen Victoria City Pub
Opening hours: Monday to Sunday, 11 am to midnight
Contact: Message on Facebook
---
4. Alchemy
– Splurge-Worthy Cocktails from Impressive Mixologists
Alchemy Cocktail Bar is a place to visit and an experience to be had – a mixology experience, that is. Nowhere else in Malta have I ever seen such craftsmanship being put into the art of cocktail making.
This cocktail bar in Valletta is unlike any other. The mixology menu lists a few handcrafted signature cocktails with fun names (ie the Salato Martini) and even more fun glasses. Get your cocktail served in a flower pot, book, smoking glass or something else unexpected.
The bar has classic cocktails on the menu too, but this is not a place to go with your go-to order. Although the drinks are definitely more of a splurge, having a cocktail or two here is not something you'll regret. The service is impeccable and you will be served some tasty bites free of charge.
---
5. The Pub
– A Historic Venue with Good Times
You have pubs in Valletta and then you have The Pub in Valletta. Well-worthy of its name, The Pub is a bit of a legend in Malta. This has a lot to do with its history as the renowned last stop for legendary actor Oliver Reed.
At The Pub, the walls are covered with news articles about Oliver Reed and they even sell merch at the bar. The design is extravagant yet cosy with a really friendly atmosphere. There are a few tables outside but if it looks full, you can head inside and upstairs where there normally are seats available.
Head there for a pint and admire the walls and ceiling covered with history.
---
6. Bridge Bar
– The best Spot for Live Jazz
If you are looking for live jazz in Malta, Bridge Bar is the absolute best choice. Every Friday from May 1st to the end of October the bar hosts live jazz sessions and an atmosphere unlike any other.
At Bridge Bar you are seated outside – most probably in the stairs unless you booked a table in advance – while listening to live music and enjoying local food and beverages. The venue stretches from the top of the staircase, down to and across a bridge, with lots of seats available. But don't expect there to be lots of room, as the seats fill up quickly once the music starts playing!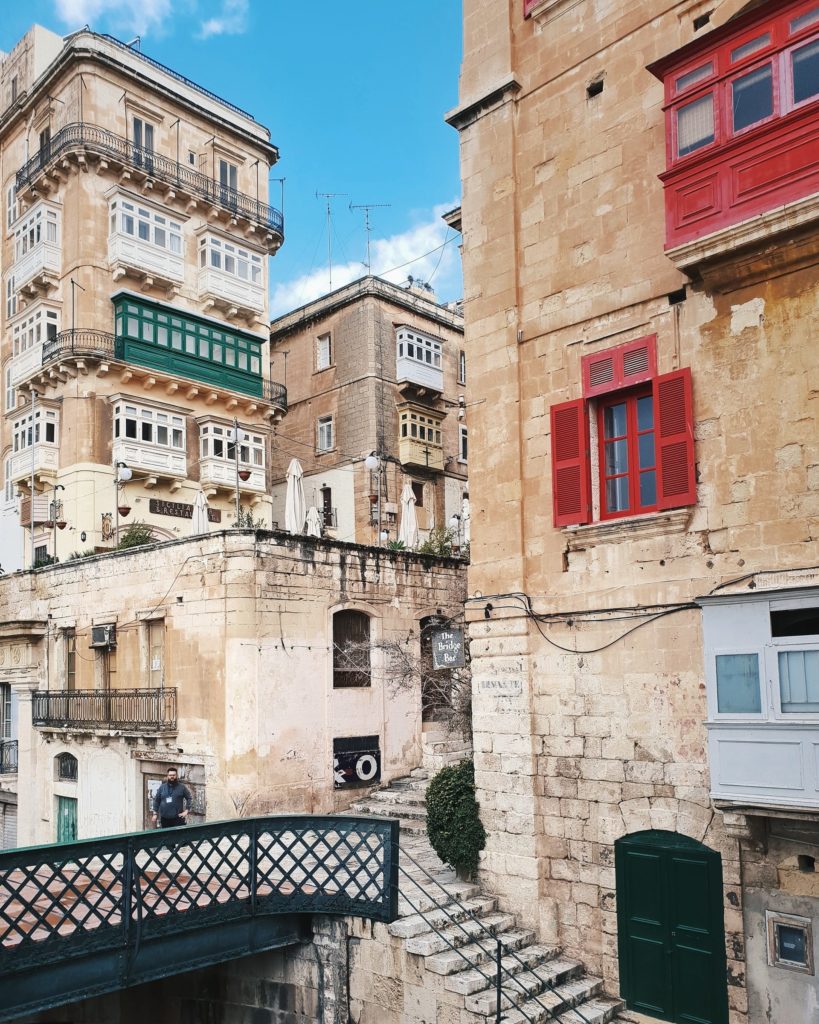 Bridge Bar can be visited on any evening, but you should for sure check it out on a Friday. A local treasure in Valletta – a must-visit for anyone visiting (or living in) Malta.
Bridge Bar Details

Where: Liesse, Il-Belt Valletta
Opening hours: Monday and Wednesday to Saturday, 7 pm to 1 am
Contact: +356 7947 4227
---
7. The Beer Cave
– Entertainment and Craft Beer in a 450-year old cellar
The Beer Cave is another venue that offers live entertainment in a unique environment. As you enter the pub and walk down the stairs, you step into a 450-year cellar. Here you'll find a retro craft beer pub unlike any other, with different rooms and events to be explored.
What I love about The Beer Cave are the many fun events they host. In addition to live music, they also host things such as stand-up comedy and game nights. I've even attended a Harry Potter quiz there!
Of course this beer cave serves up a lot of different craft beer. Try something local or international and enjoy it with a delicious pizza. While the bar is not currently open I recommend checking out their Facebook page as they are using their platform to share local artists and spread the love.
The Beer Cave Details

Where: Castille Hotel, Castille Square, Il-Belt Valletta VLT 1063
Opening hours: Permanently closed
Website: http://www.thebeercavemalta.com/
Contact: +356 7932 8068
---
8. 67 Kapitali
– Local Craft Beer and Nibbles
67 Kapitali is another craft beer pub that focuses specifically on local craft beer. The bar offers the widest selection of local craft beers in Malta, in addition to local and foreign ciders, wine and more.
We have always been met with an amazing service at 67 Kapitali. The staff is not only friendly but also really knowledgable. You are therefore in good hands if you are not sure what to choose from their long menu and need a suggestion. Go for a local classic or try something a bit more far-fetched like a flavoured beer.
At 67 Kapitali, the atmosphere and decor makes it feel like a mix of a bar and a café. In addition to the good selection of drinks the bar also offers nibbles and sandwiches, with lots of Maltese delicacies. Try a sandwich with the recommended local beer pairing. There are also vegan and gluten-free options available.
67 Kapitali Details

Where: 67 Triq l-Ifran Il-Belt Valletta, VLT 1427
Opening hours: Monday to Sunday, 12 pm to 10 pm–1 am (depending on the day)
Website: http://www.67kapitali.com/
Contact: +356 2738 0010
---
9. Wild Honey
– Unique Beers in a Cozy Location
For a long time, my fiancé and I referred to Wild Honey as "the bar with the red door". It's impossible to miss if you are walking by, thanks to the bright red door and wall full of beer-related decor.
Wild Honey is a small and cosy bar and bistro with an impressive selection of beers to choose from. There is also a food menu with nibbles, platters, pizzas and more. The menu even features pizza and beer pairing recommendations.
Thanks to the knowledgeable and friendly staff you can ask for recommendations and try something new. You might just find a new favourite!
Wild Honey Details

Where: 127 St. Lucia's Street, Il-Belt Valletta
Opening hours: Monday to Saturday, 5:30 pm (Saturday 6 pm) to 1 am
Contact: +356 7761 3772
Enjoy these 9 bars in Valletta!
Local businesses need your support more than ever. While opening hours might differ depending on current restrictions and unforeseen events, these nine bars in Valletta could all use your support. And you won't regret it for a second, as they are all fabulous spots with a great menu selection.
Want more Malta and bar recommendations?
Check out my posts on the best bars in St. Julian's and Sliema.