You know MacLaren's Pub from How I Met Your Mother, right? Well did you know that there is one such MacLaren's located in Berlin? Me neither, until I happily stumbled upon it!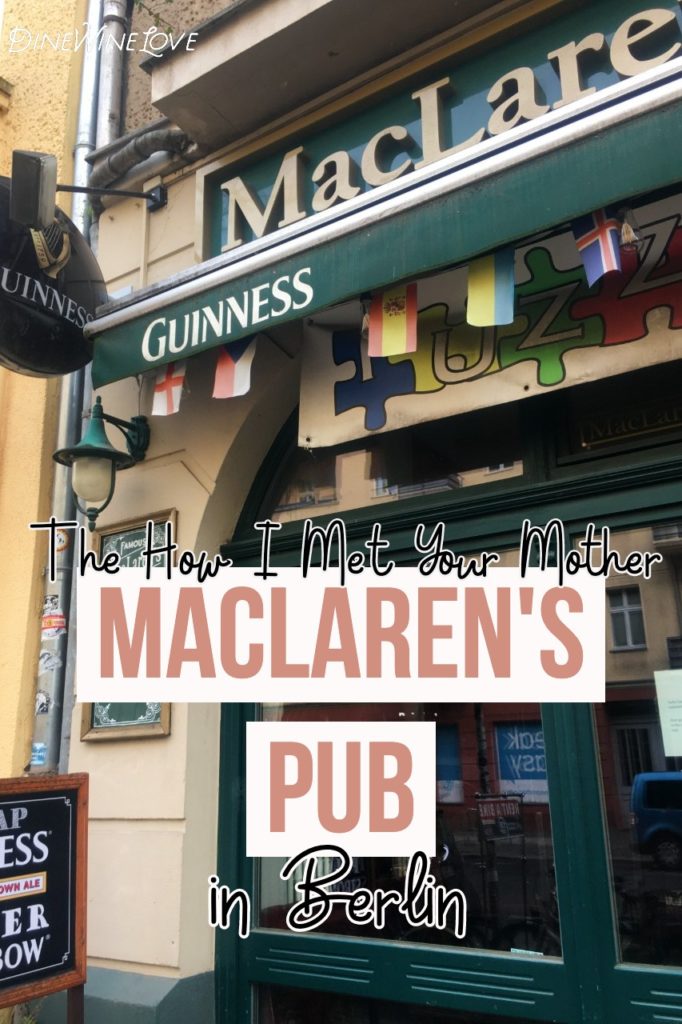 When I went to Berlin at the beginning of March 2020, I did a fair amount of research beforehand. Having never been before, we wanted to find good places to go. I was in charge of bars, cafés and restaurants in Berlin, while my friend covered culture.
I wrote down a list of places I wanted to visit from recommendations online and from friends. But nowhere did I find anything about a HIMYM pub! So when we casually strolled by a pub named MacLaren's one evening, I first thought it was a random name. Until I spotted "Robin Sparkles" and "Barney's Sour" on the outside cocktail menu…
What is MacLaren's Pub in Berlin?
MacLaren's in Berlin is exactly what you thought (and hoped) it would be: a proper How I Met Your Mother-themed pub. It's open from 6 pm to wait for it (open end) Tuesday to Sunday, and once you step inside, you'll feel as though you are hanging out in a HIMYM scene (or many).
The decor in this place is amazing. They have a framed (and chained) blue french horn, Barney's inspirational posters, the naked painting of Marshall with a rose, a Puzzles banner and more.
If you didn't catch any of the references above, you can still have a good time in this fun and lively pub. But if you took all those references and want to know more, this is the perfect spot for you!
My whole evening at MacLaren's Pub felt like a treasure hunt. Wherever I looked, there were fun props, references and puns to explore. A night here will sure to be legen – wait for it – dary!
How Did This Idea Come About?
In the MacLaren's Menu, you can read about the story of the pub. Of course, it all starts with the famous line "we should start a bar!". The bar was started by two Berlin students – one studying Architecture, the other law – in Dember 2011. It sounds too good to be true, but it really is!
What to order at McLaren's Pub
While being a HIMYM-themed pub, MacLaren's is in its essence just a proper Irish pub. On the menu, you'll find lots of drinks and food to choose from, all on theme.
Drinks
The drink menu is amazing, with so many HIMYM-named cocktails. But you will also find lots of beers and even cider on tap or bottles, as well as wine and normal spirits. The themed "How I Mixed Your Cocktails" include:
Robin Scherbatsky
Robin Sparkles
Minnesota Tidal Wave
Woooo-Girls-Tai
Puzzles Colada
Food
Just like in How I Met Your Mother, McLauren's bar of course serves up some proper pub food. There is a long list of burgers, as well as nachos and other starters. The kitchen is open until 11 pm.
---
How I Met Your Mother is one of my favourite TV-shows. That is why I was so happy when we stumbled upon this pub! It is a dream come true for any HIMYM fan but also just a great pub in general. Check it out for yourself!
Want more Berlin recommendations?
Check out my top 5 eateries!