Looking for a boozy, bottomless, vegan, or dog-friendly brunch in Malta? Check out my list of the best brunch spots on the island and enjoy!
Click on the restaurant names below to jump to that section or keep scrolling for the full guide!
What's the best brunch in Malta?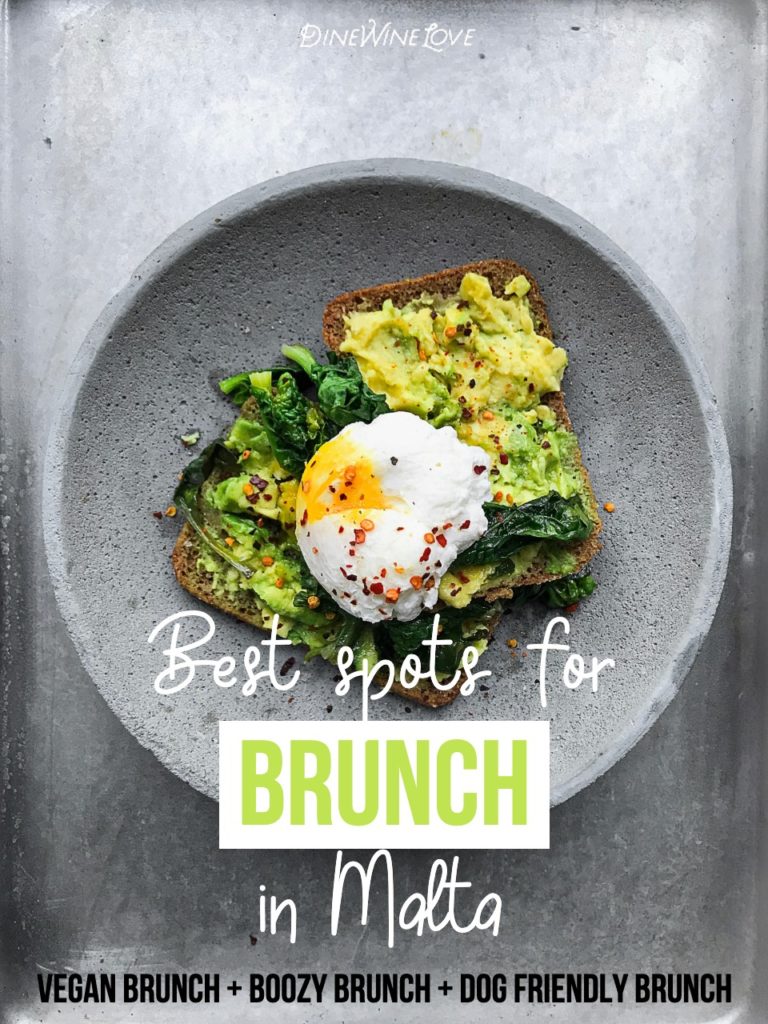 I love breakfast food and I love booze, and brunch is the best of both worlds.
What is brunch? Brunch is the ultimate guilty pleasure, allowing for a lazy weekend or decadent celebration. Brunch is normally served around 12 pm, in between (or instead of) breakfast and lunch.
Saturday and Sunday are the ultimate brunch days, but some restaurants offer their brunch menu every day of the week. Going for brunch in Malta is a perfect weekend or public holiday activity for the spring and summertime. To be honest, brunch can be enjoyed all year and every day – like an all-day breakfast. Sit outside and enjoy refreshing drinks and some delicious food to start the day.
The best brunch restaurants will have a variety of scrumptious dishes and drinks to try out and share. With so much to choose from, you just need to know where to go, and I am here to help with that!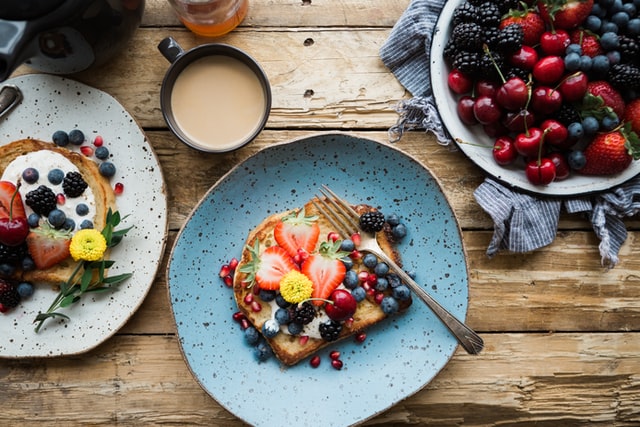 ---
Top 8 spots for brunch in Malta
After living in Malta for years and enjoying my fair share of breakfast and brunches out, I have compiled my very favourites into this top list.
Before jumping into the list, I want to give a quick note that most of the restaurants mentioned are in St Julians. This is simply because the St Julians area is where I have had the most (and best) brunches during my years in Malta.
Without further ado, let's check out the best spots for brunch in Malta, featuring some St Julians, Valletta and Sliema favourites.
---
Malta boozy brunch
With brunch, you'll often swap your coffee for a glass of prosecco or a mimosa. If you want a boozy brunch, I recommend going for a bottomless option where you pay for a certain amount of hours of free-flowing drinks. Luckily, there are some great options available!
1. Kingsway Bar & Cafe, Valletta
Starting off strong, Kingsway is my absolute favourite brunch spot in Malta. I have always loved Kingsway and it became extra special after my fiancé and I had our champagne there after we got engaged. But out of all the food I have tried here, the brunch is number one.
Kingsway brunch details

Where: 57 Republic St, Valletta
Brunch Hours: Monday to Sunday until 4 pm
Contact: 2703 7720
At Kingsway, brunch is served until 4 pm. They have a brunch a la carte menu with 7 different dishes including a classic smashed avocado toast and some more unique flavours. You can either order the dish of your choice (for about €10 each) and drinks on the side, or opt for the Boozy Brunch deal.
With the Boozy Brunch, you will get a selection of tapas to share, one main brunch item, and 2 hours of free-flowing drinks for only €35 per person. What I really loved about this deal is that you can switch between different drinks as you go and don't have to pick one and stick with it. Drinks include beer, prosecco, mimosa, Aperol & wine spritzers.
The offer and selection of food is great, easily making it the best bottomless brunch in Malta.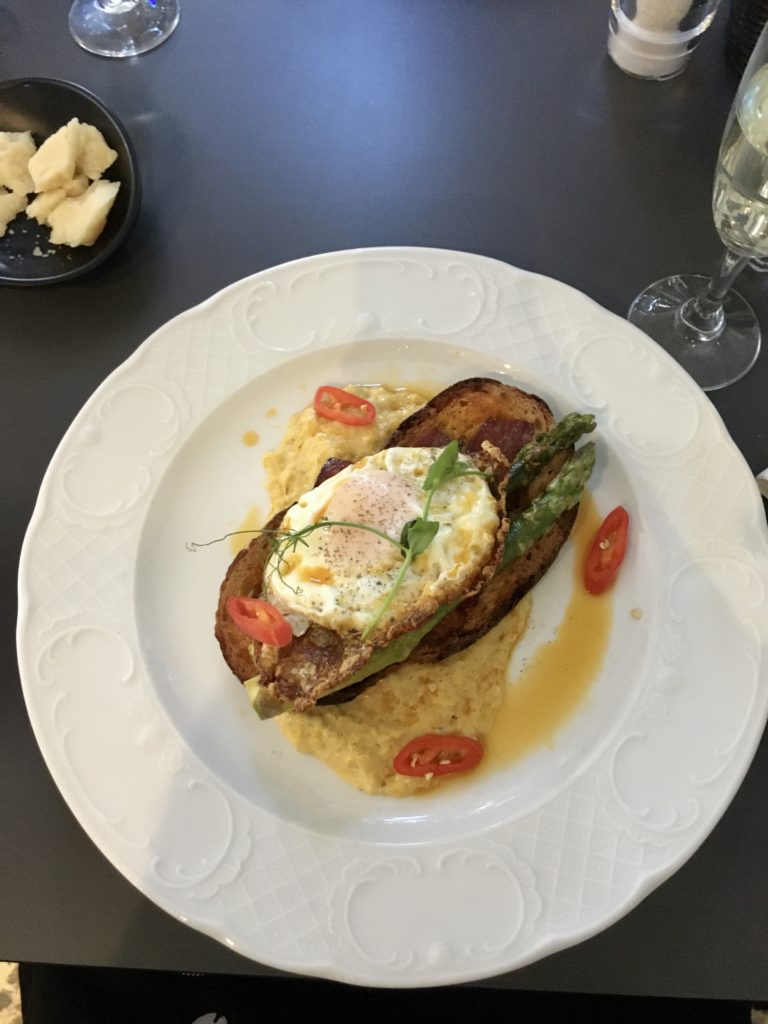 Kingsway Boozy Brunch
For the main dish, I recommend trying "The Squire" which is an absolutely amazing combination of chorizo, asparagus, creamed corn, fried egg and bread.
€35 (with drinks)
---
2. Hammett's Gastro Bar, Sliema
Hammett's is a classy and modern gastro bar located along the Sliema seafront. With a nice outside terrace and a large inside seating area, you can enjoy food or drinks here no matter the weather or time of day.
Hammett's brunch details

Where: 33, 34 Tigné Seafront, Tas-Sliema
Brunch Hours: Saturday to Sunday from 11 am to 2 pm
Contact: 2134 1116
With the Bottomless Brunch at Hammett's you can enjoy two hours of free-flowing Prosecco for your table and a brunch dish each at €24 per person. This is a perfect start to the day, especially if you are seated outside in the sun.
Are you ready to join Hammett's brunch club? It's another great bottomless brunch option in Malta, but note that here you can't choose any other drinks than Prosecco in the set deal.
I have been to brunch at Hammett's several times, both "regular" and boozy. No matter the drink, I always opt for the delicious American pancakes for food. If you are not much of a sweet tooth, I would recommend Eggs Benedict.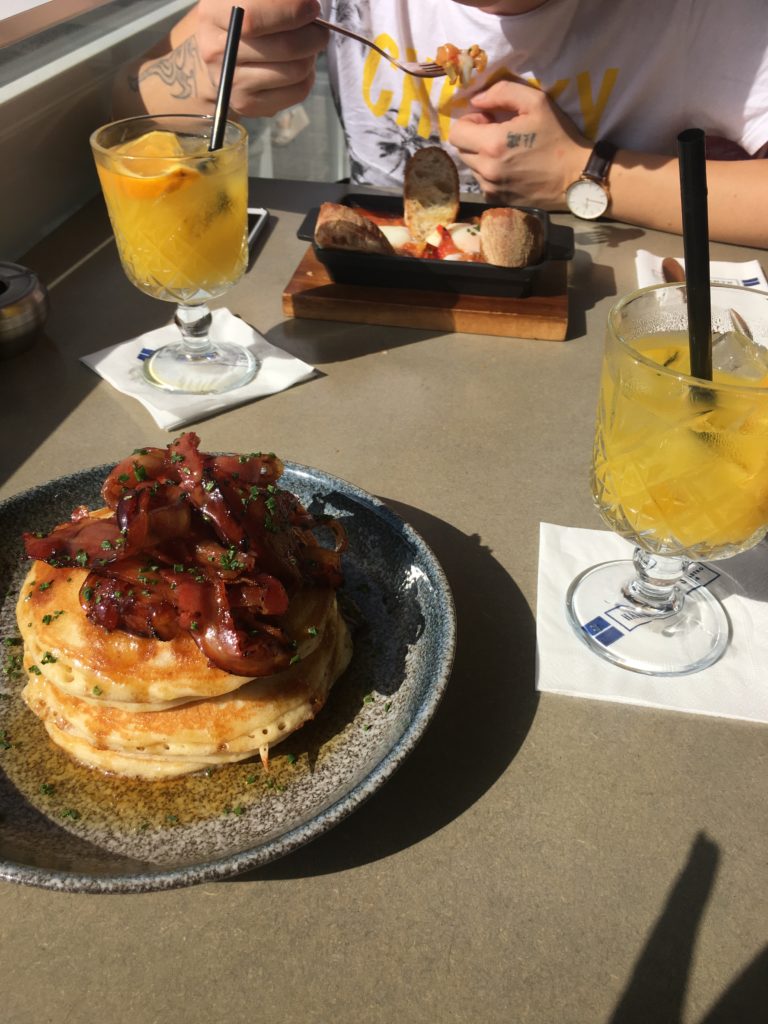 Hammett's Bottomless Brunch
I love pancakes and always go for the "American Short Stack", the best pancakes (and maple syrup!) in Malta.
€24 (with Prosecco)
---
A la carte brunch
While a set menu deal often works well with brunch, the options might sometimes be limited. If you are looking for a bigger selection of dishes and drinks to choose from, check out an a la carte brunch from my favourites below.
3. Manouche Craft Bakery & Bistro, St Julians and Valletta
Manouche is a French Bakery and bistro that knows all about high-quality food. Looking at their social media, I am always amazed by the delicious baked goods and dishes they share. It started with a bistro in St Julians, but at the end of 2020, a new Manouche outlet also opened up in Valletta!
Manouche brunch details

Where: Spinola Park, SPK 1000, St Julians
Brunch Hours: Monday to Sunday, 8 am-3 pm
Contact: 2704 1478
Manouche doesn't actually have a brunch menu, but an extensive breakfast and lunch menu. Due to the popularity and high demand, breakfast is served from 8 am until 3 pm. From 12 pm there is also a lunch menu until 3 pm.
If you want to go for a great brunch no matter if it is early or late, Manouche is a good choice. Simply take your pick and order from what is available on the menu and at the bakery counter. The breakfast menu at Manouche includes so many unique dishes. Here you can find a wide variety of omelettes, benedicts, french toast and more. Don't forget to order some fresh baked goods on the side or to go!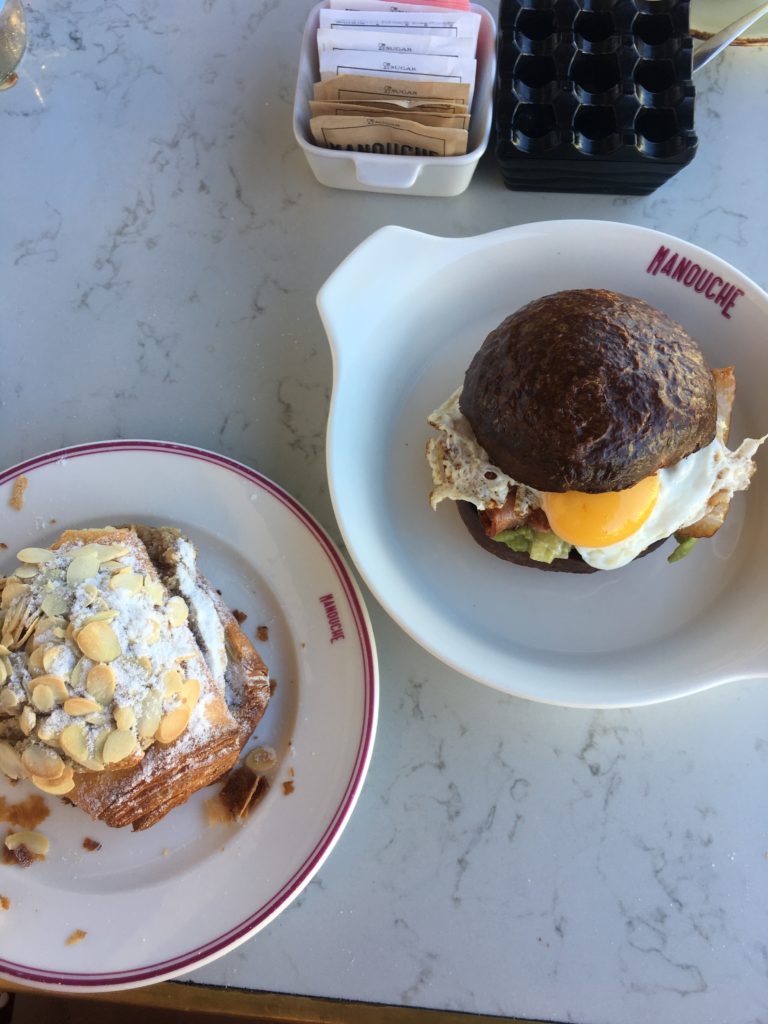 Manouche Brunch
I like to order a mix of sweet and savoury. Last time I had an Almond, Chocolate Croissant and a Brioche bun with Avocado, Egg and Bacon.
€2-€11 per dish
---
4. Crust Bakery – Bar – Bistro, St Julians
Crust Malta is a great spot for lunch, dinner, drinks or brunch. The restaurant is led by Chef Sean Gravina who really knows how to combine flavours and textures into a great dish.
Crust brunch details

Where: 64, 65 Mensija St, St Julian
Brunch Hours: Monday to Sunda, 11:45 am to 3 pm
Contact: 9938 0976
At Crust, you will find a modest brunch menu covering all the classic dishes. Try a staple Smashed Avocado Toast or Eggs Benedict, or opt for something different with a Sweet French Toast or Breakfast Tagine. If you don't feel like a classic brunch dish, you can choose from the lunch menu where you'll find salads, burgers and more.
In addition to the tasty dishes, Crust has a full menu of drinks to enjoy with the food. Try one of the three unique brunch cocktails or an old favourite. Remember to book in advance, especially if you want to sit outside in the sun!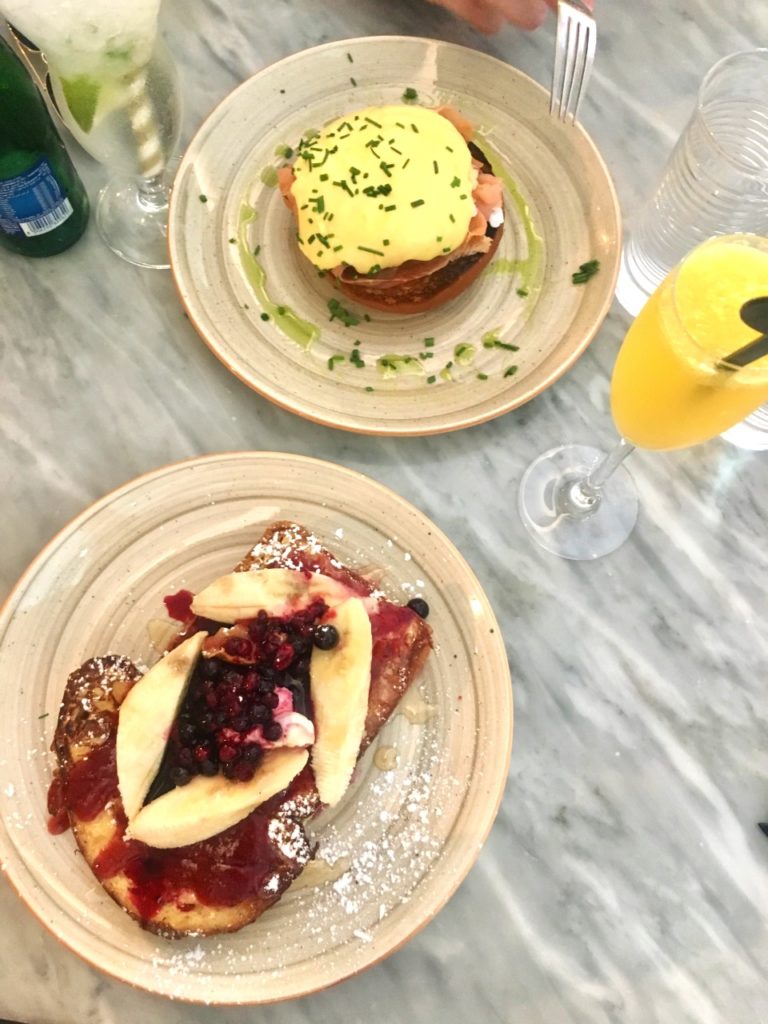 Crust Brunch
I have tried a few dishes at Crust, but nothing beats the "Sweet French Toast" which is a perfect combination of banana, peanut butter, berries and more deliciousness.
€8-€13 per dish
---
5. U Bistrot, St Julians
Similar to Manouche, U Bistrot doesn't have a specific brunch menu. But I want to include it on the list as you will find a long breakfast menu here, serving every day until 12:30 pm.
U Bistrot brunch details

Where: George Borg Olivier St, St Julian's
Brunch Hours: Monday to Friday, 10 am to 12:30 pm and Saturday to Sunday, 9 am to 12:30 pm
Contact: 2311 2361
At U Bistrot you can go for sweet or savoury, healthy or naughty. There are many classic breakfast dishes to choose from. The price per dish is ranging from €5 to €10.
The bistro is lovely decorated on the inside, but if the weather is good, I recommend sitting outside. Soak up some sun and enjoy the view of Ballutta while eating your breakfast.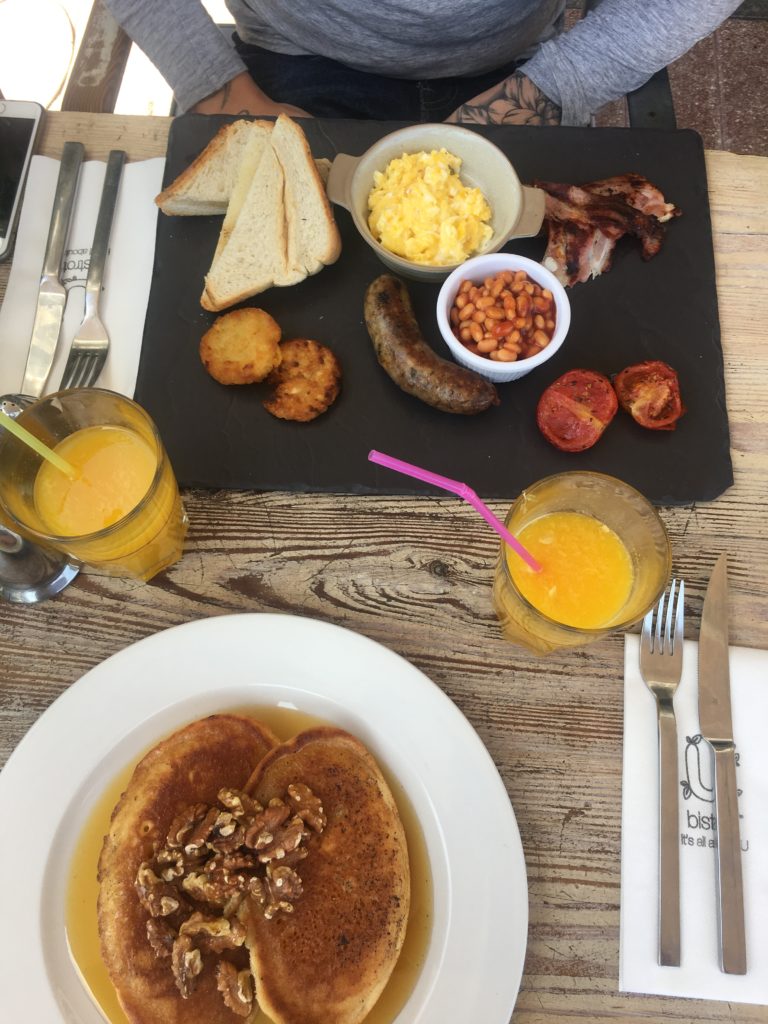 U Bistrot Brunch
Again, I opt for the pancakes. In my opinion they are not as mouth-watering as Hammett's pancakes, but still good!
€5-€10 per dish
---
Vegan brunch in Malta
If you are vegetarian, vegan or have any special dietary needs, it is worth researching before you decide on a restaurant. Not being a vegan myself, I haven't searched much for a vegan brunch in Malta. But one of my favourite lunch spots just so happens to have an extensive vegan menu for brunch!
6. NAAR Restobar, St Julians
Malta has a lot of vegan-friendly restaurants with NAAR being a great option for brunch.
NAAR brunch details

Where: 1 Triq Censu Tabone, St Julians
Brunch Hours: Saturday and Sunday, 10 am-12 pm
Contact: 2137 3412
The breakfast and brunch menu at Naar includes juices and smoothies, toasts, eggs, vegetarian and vegan dishes, and morning cocktails. With 5 vegan brunch dishes available, everyone is spoilt for choice.
If you prefer a later brunch or fuller dish, you can choose from the main menu which serves up salads, burgers, sandwiches and more.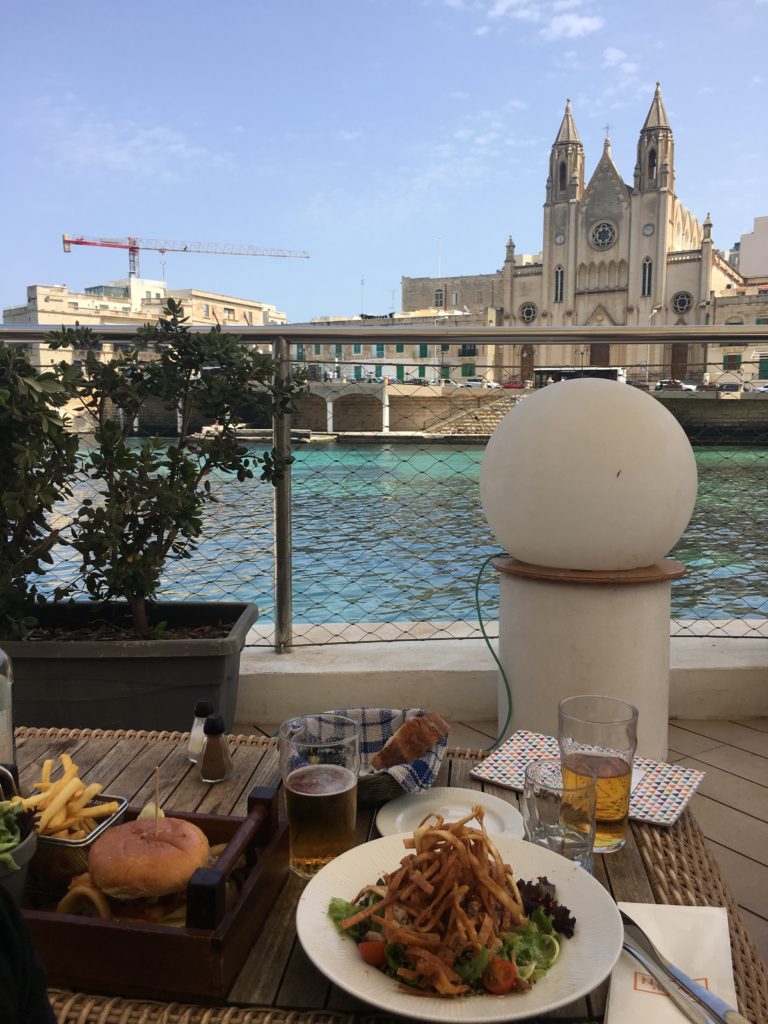 NAAR Brunch
At NAAR you can enjoy the sea-view while enjoying a delicious salad, burger or classic breakfast/brunch dish.
€5-€10 per dish
---
Malta brunch on the go
While brunch is a great meal to enjoy at a restaurant, you can also pick up some treats on the go and enjoy it at home. Or grab a brunch favourite on your way to work, to start your day off right!
7. Dr. Juice, Various locations
If you are looking for a healthy, quick and delicious breakfast, lunch or dinner on the go, Dr. Juice is a great choice. With 9 locations across Malta you'll find a juicery nearby, but did you know that the Gzira Dr. Juice Restaurant serves brunch?
Dr Juice brunch details

Where: 54, Gzira Road, Gzira
Brunch Hours: Monday to Sunday, 7 am to 10 pm
Contact: 2134 1218
At Dr. Juice you will find a great variety of juices, smoothies and food-to-go. Pick your favourite and take it home or sit outside somewhere for a healthy takeaway brunch.
But if you are looking to sit down for a proper brunch from Dr. Juice, visit the Gzira restaurant. Here you can choose from the regular juices and food from the counter, as well as a full menu with brunch dishes. Try the classic smashed avocado & egg or some exciting matcha avocado pancakes!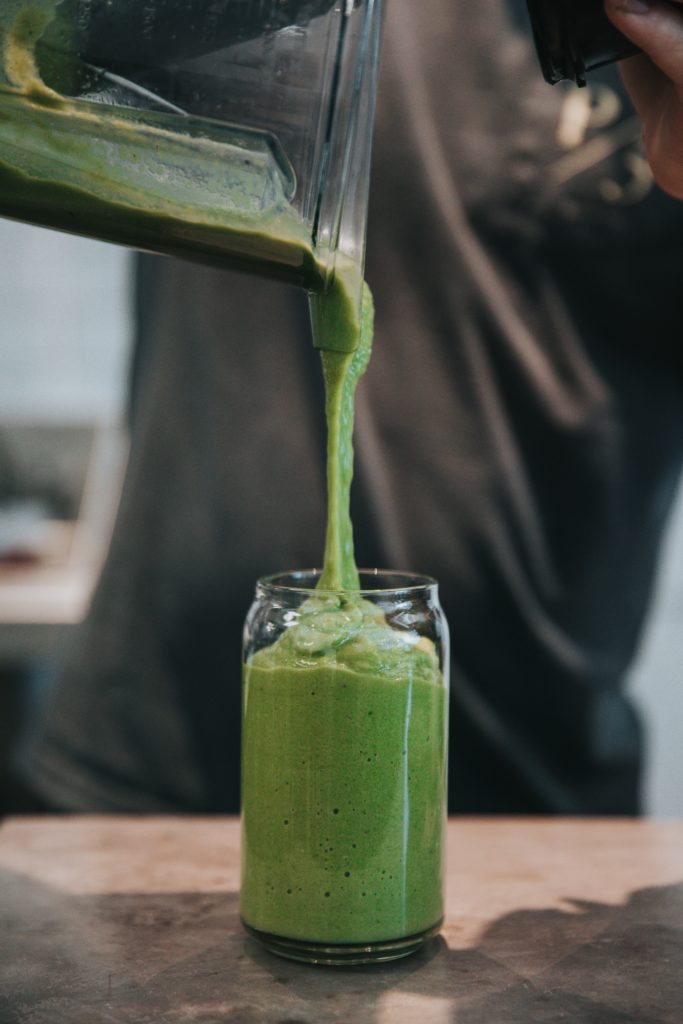 Dr Juice Brunch
Do breakfast and brunch on the go or in the Gzira restaurant. Healthy, delicious and hip!
€7-€13 per brunch dish
---
8. Frensh Bakery, St Julians
Another breakfast, brunch and lunch option on the go and one of my favourite places in Malta is Frensh bakery. Nothing beats strolling down to Ballutta Bay to pick up some fresh (French) croissants, bread, tarts and more.
Frensh brunch details

Where: 37 Pjazza Balluta, St Julian
Brunch Hours: Tuesday to Sunday 7:30 am to 6:30 pm
Contact: 2137 0818
Even though you can't sit down to eat at Frensh, this spot offers some delicious brunch food. That is why I love to stroll down and buy some things for takeaway to eat at home or in Ballutta Square.
Try a bit of everything and go for a mix of sweet and savoury. As this is a very popular spot though, I recommend being early to avoid the worst queues. You can also call to book your order in advance.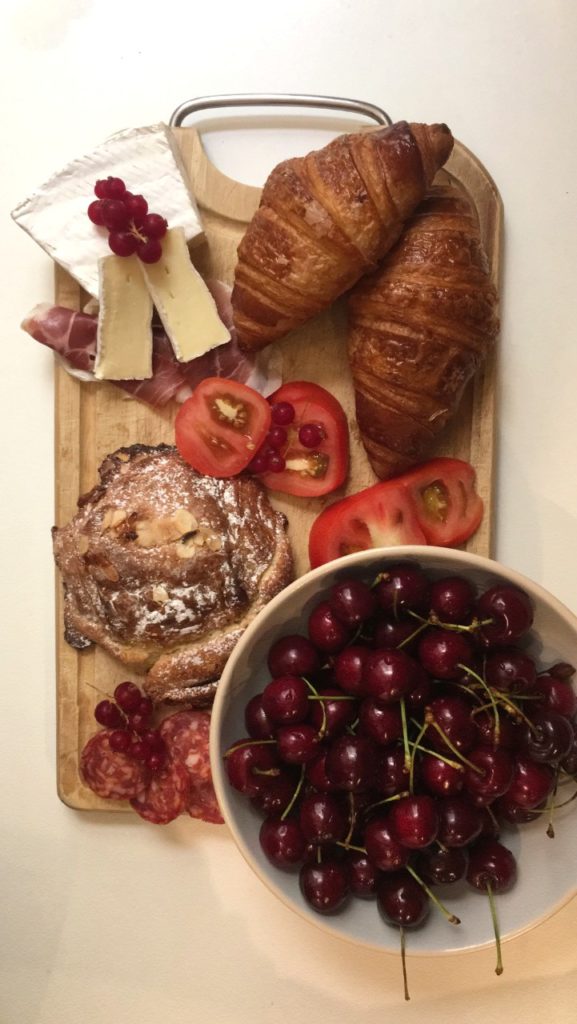 Frensh Brunch
Fill a bag with croissants, baguettes, tarts, sweets and more and pair it with some fruit, vegetables and cheese.
€1-€5 per item
---
Dog-friendly brunch in Malta
Looking for the best dog-friendly brunch in Malta? Well lucky for you, all the places listed above are dog-friendly restaurants!
With the exception of French Bakery (which is not a restaurant), you can bring your dog to any of the Brunch restaurants mentioned. And for French Bakery, you can take something delicious to-go and enjoy it in Balluta Square.
So if you are looking to bring your pooch to a nice weekend brunch, check out the following spots for a dog friendly brunch in Malta:
Kingsway (Valletta)

Hammett's (Sliema)

Manouche (St Julians and Valletta)

Crust (St Julians)

U Bistrot (St Julians)

NAAR (St Julians)

Dr Juice (several locations)

French Bakery (St Julians)
---
Conclusion: What's the best brunch in Malta?
All of the 8 brunch spots listed above are personal favourites of mine that I would recommend anyone to check out. But if you are looking for the best brunch in Malta, I also want to highlight the best out of the best.
In conclusion, DineWineLove awards Kingsway in Valletta as the absolute best brunch in Malta. This is based on the amazing boozy brunch deal offered, the unique dishes on the menu, as well as the fabulous location in the heart of Valletta. Be sure to check it out if you haven't already!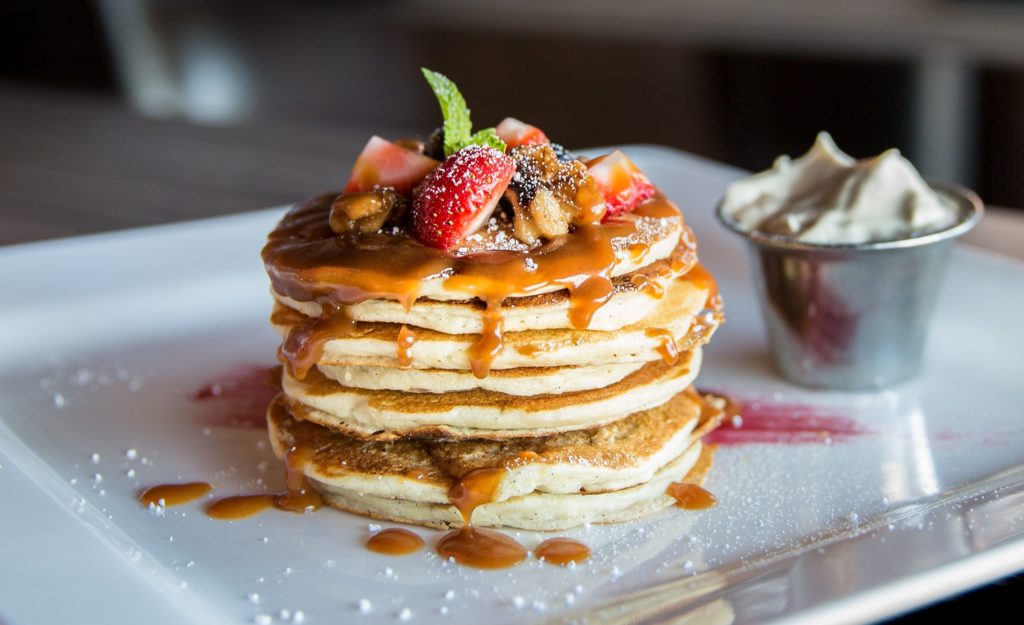 Want more food-related content?
Check out the Dine section at DineWineLove.