Looking for the best pizza in Malta? Try one of my top 5 pizza restaurants in Malta, all serving up a delicious slice!
What are the best pizza restaurants in Malta?
Click on any of the names above to jump to that section, or keep scrolling for a description of all the pizzerias!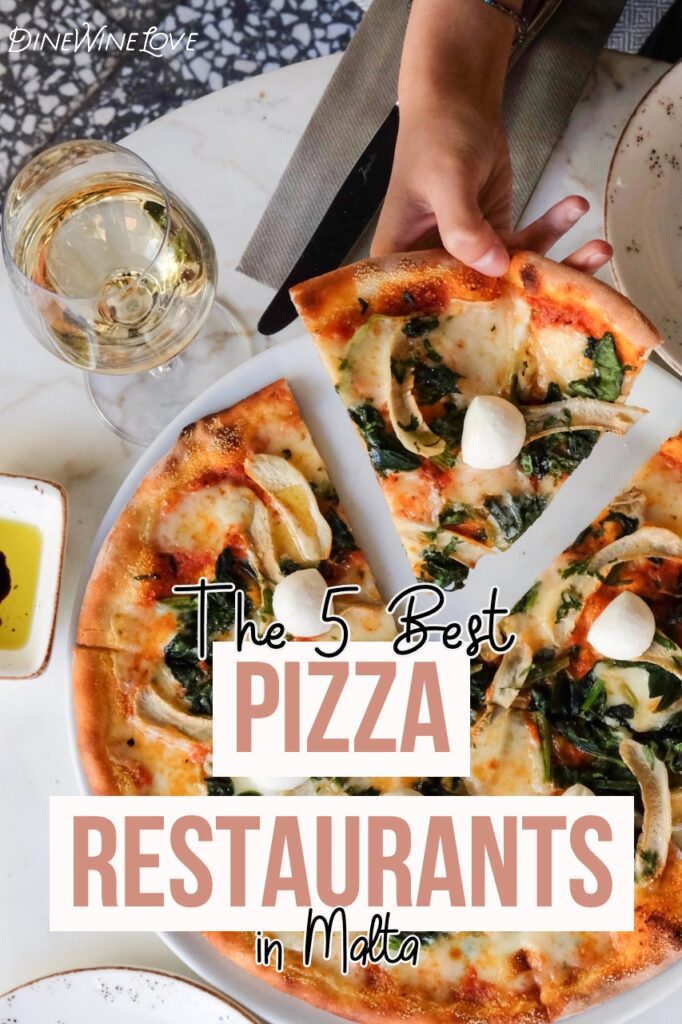 ---
When I first moved to Malta back in 2017, I couldn't wait to have Italian pizza right at my doorstep. Located so close to Italy, I believed that the Maltese cuisine would be the same as traditional Italian food. And while I wasn't completely wrong, I quickly learned that Maltese food is a cuisine of its own that is not particularly based on pizza and pasta.
A lot of restaurants in Malta have pizza on the menu, but far from all serve up a proper, quality slice. After several rather disappointing encounters, I found some spots that were truly great.
Of course, pizzas come in many shapes and variants and we all have different preferences. Personally, I prefer a thin, chewy crust with quality cheese and simple toppings. But my favourites listed below include a good mix of styles and flavours to try out.
Top 5 Pizza Restaurants in Malta
After living in Malta for three years and trying out what feels like every pizza restaurant on the island, I have found my absolute favourites. While they slightly differ from other "best pizza restaurants in Malta" lists I see elsewhere online, they are my tried and tested go-to's.
Here you'll find a mix of popular and lesser-known pizzerias in Malta – all worth a try.
1. HiMú – Best Italian Pizza in Malta
HiMú is an Italian restaurant serving up amazing pizzas from the freshest ingredients. Their main unique selling point is the fresh, homemade mozzarella, taking every meal to a whole new level.
The pizzas at HiMú are, in my opinion, the best in Malta. The dough is thin yet chewy, the tomato sauce is a homemade secret, and the mozzarella is what brings it all together. And thanks to the charcuterie part of the restaurants, you can also top the pizza with some amazing meats.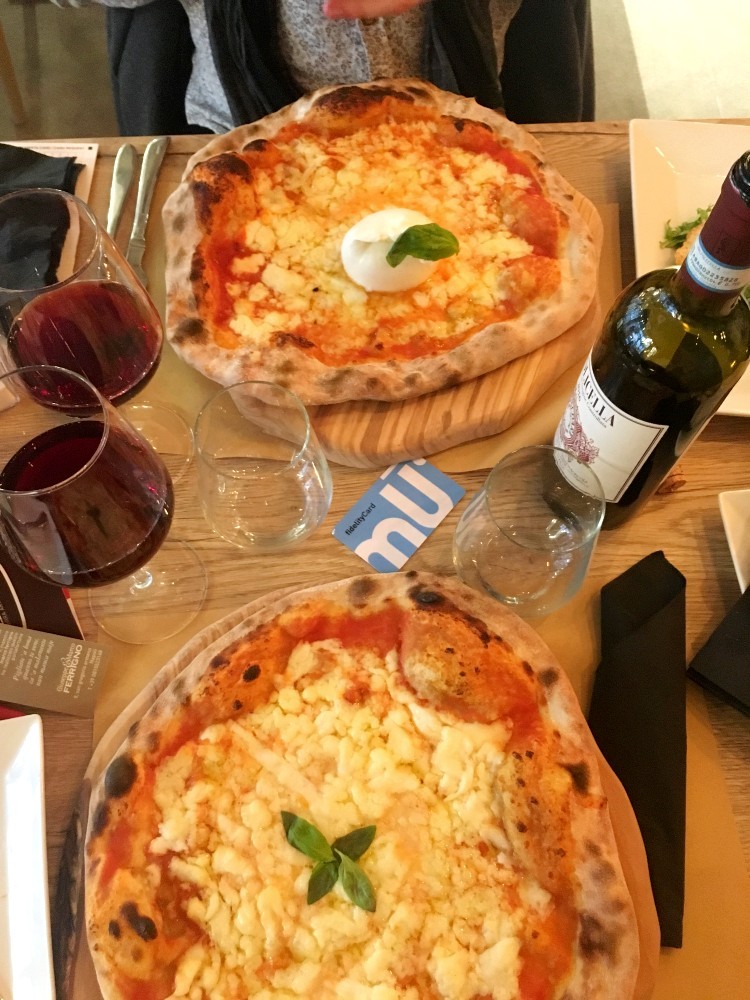 HiMú Pizza
Cheesy, stone oven pizza with the freshest mozzarella available.
Order some pizzas to share and also try some of their other dishes and premium wines. HiMú has two locations (Gzira and St. Julians) in addition to take-away and delivery from their own app, Bolt Food and Wolt.
HiMú Restaurant Malta, Details

Where: 195 The Strand, Triq ix Xatt, Gżira and Triq Ball, St Julians
Opening hours:

Gzira: Monday to Sunday, 10:30 am to 3:30 pm and 6:30 pm to 10:30 pm.
St Julians: Monday to Sunday, 7 am to midnight

Website: https://www.himu.it/
Contact: 2788 0400 / 2138 2923
For more information, read my full HiMú review!
2. Prosciutteria – Best Take-Away Pizza in Malta
During the Coronavirus lockdown in Malta, we ordered a lot of food delivery through Wolt and Bolt Food. And my favourite restaurant to order a quick lunch or dinner treat from quickly became Prosciutteria.
This pizza restaurant is located in Gzira if you want to dine in, but honestly, the food is just as delicious for take-away and delivery. Some pizzas turn sloppy or just don't feel that fresh when you get them delivered, but that is not the case with Prosciutteria! Their pizzas (and especially the Diavola) simply make the best pizza delivery in Malta.
The pizzas from Prosciutteria are egg-shaped and not cut, served in a rectangular pizza box. The restaurant doesn't slice the pizza on purpose – to ensure it is fresh and leave it up to you to slice it how you like. The dough is chewy and tasty and the toppings always bring lots of flavours.
The restaurant is run by Zero Sei who also operate the famous Valletta pizzeria Sotto. In their own words, they offer more than Italian restaurants, with real Roman cuisine.
Prosciutteria Restaurant Malta, Details

Where: 188 the Strand, Triq ix Xatt, Gżira
Opening hours: Monday to Sunday, 9 am to 11 pm
Contact: +356 2133 6446
3. La Vecchia Taranto – Best Pizza Restaurant in Valetta
I feel like this point is a bit "controversial" as it is very common to describe Sotto as the best pizza in Valletta (or even all of Malta). But for me, there is something so unique and authentic about Pizzeria Trattoria Vecchia Taranto / La Vecchia Taranto. It's a hidden gem I keep finding myself going back to.
Located in an old, small house on St Paul's Street in Valletta, the restaurant is quite the experience. It's not the most accessible online (there is no website nor Google my Business) and a spot you will most probably just walk by if you don't know about it. But when you're first there, you're in for a treat.
Run by two Italian brothers, the restaurant serves up proper Italian pizza and other dishes. In order to sit down for a meal, you have to walk up the steep, cylinder staircase and take a seat at one of the five (!) small tables available.
It's unique and authentic, with some of the staff members speaking mostly Italian. The food is always served quickly and it is also very affordable.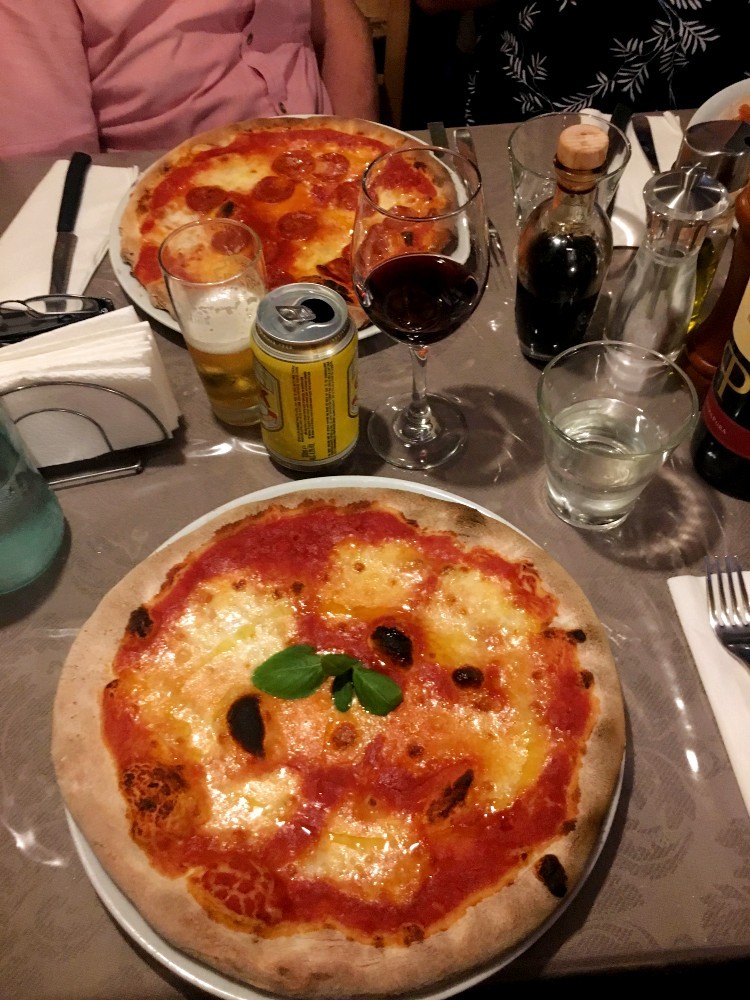 La Vecchia Taranto
Oily, tomato-heavy pizza fresh out of the oven.
Pizzeria Trattoria Vecchia Taranto Malta, Details

Where: 279 St Paul St, Valletta
Opening hours: Monday to Saturday, 11 am to 10:30 pm, Sunday 10 pm to 10:30 pm
Website: N/A
Contact: +356 2760 0620
I would love to paint a clear picture of this restaurant, but it is simply something that needs to be experienced.
4. Roma Capoccia – Best Cheap Pizza in Malta
Similar to Prosciutteria, Roma Capoccia pizza by Luca is a small pizzeria in Gzira offering some delicious, Roman pizza. This is not a restaurant for dining in but rather a fabulous pizza takeaway and delivery spot for a cheap lunch or dinner.
Walking by Roma Capoccia you'll instantly smell the pizzas baking in the oven. You can choose to buy some rectangular slices from what is already available at the counter or order a new pizza. Grab a soda or an Italian coffee too and you have a full meal for only a few euros!
Roma Capoccia Malta, Details

Where: Il, 57 Triq il-Gzira, Gzira
Opening hours: Monday to Sunday, morning until evening
Website: N/A
Contact: +356 7783 9753
5. Amigos – Best Non-Italian Pizza in Malta
While the four pizzerias above are unique and different, they all serve a type of Italian pizza with traditional flavours. And sometimes, you might want a great pizza that is a bit different. Then I would recommend pizza from Amigos Malta!
Amigos is a restaurant chain in Malta with pizza, burgers, taco and more on the menu. While not a traditional pizzeria, they have a good selection of various pizzas. One thing that really characterises the Amigos pizza is the use of sesame seeds on the dough crust. This adds a unique taste and crunch which complements the other flavours of the pizzas well.
If you are looking for a cheat-day meal or a restaurant that offers a selection of dishes with something for everyone, Amigos is a good choice.
Amigos Malta, Details

Where: Sliema, Ta'xbiex, Zabbar, Hamrun, Bugibba, Mosta
Opening hours: Depending on the location
Website: https://www.amigos.com.mt/
Contact: +356 2733 1111
---
There you have my 5 pizzeria favourites in Malta, serving up some of the best pizza in Malta. No matter if you want to eat in or order delivery, these five pizzerias are great choices for a delicious meal. In short, you should try (at least) a slice from each one!
Want more Malta recommendations?
Check out the Malta section at DineWineLove.