Looking for a bar/restaurant in Malta with great drinks, live music, and a spectacular view? Look no further than the Skyroom in Sliema, a rather hidden gem with lots to offer.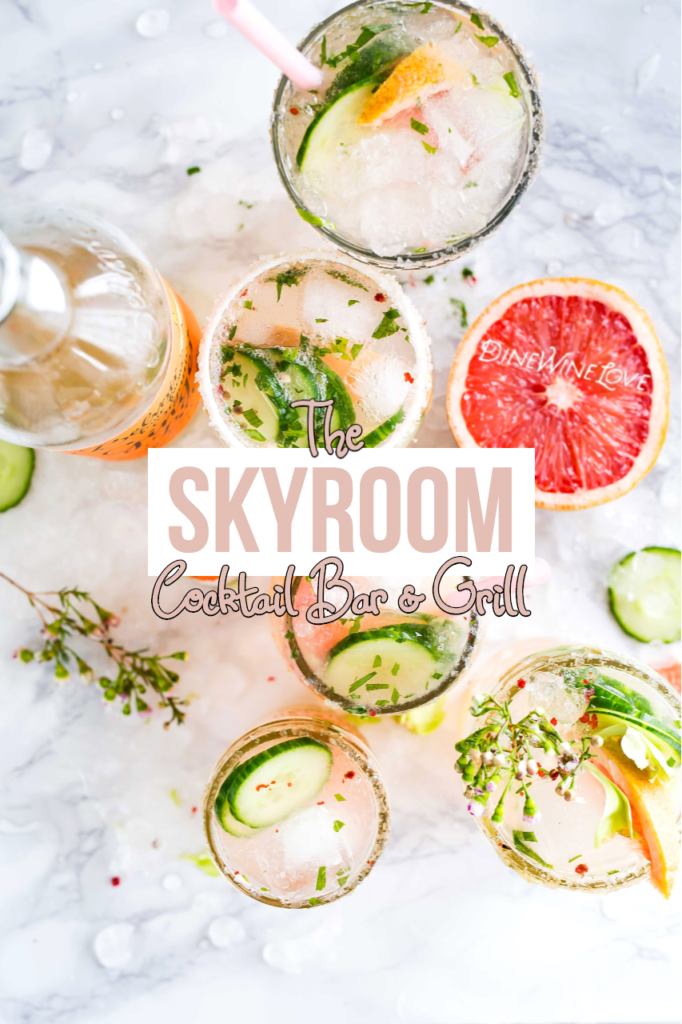 I love to share my Malta favourites including restaurant and bars. A recent favourite of mine that I now keep going back to is The Skyroom Cocktail Bar & Grill. Already mentioned in my most romantic restaurants in Malta list, I thought this spot deserved a post of its own.
What is Skyroom?
The Skyroom is a Cocktail Bar & Grill located on the 14th floor of the Preluna Hotel in Sliema. From the top floor, you get a breathtaking view of Sliema and further, unlike any other bar in Malta. The location, decor and atmosphere makes it perfect for a romantic date night in Malta.
Fully renovated in 2019, the style is very classy while laid back. The decor is luxurious with a mix of dark-toned velvet, leather, marble, and copper. But the luxurious feeling should not intimidate you as the vibe is very casual and the price point very reasonable. If you want, this is a spot to enjoy a night on the town in heels, but at the same time, you can drop in straight from work.
My favourite thing about this spot, though, is not the interior nor the view. I love live music, and at Skyroom, they have a great live band every Saturday from 9 pm. In addition, they host events such as Jazz and Gin Wednesdays.
For me, Skyroom is the perfect bar to visit at a Saturday evening for a date night or fun time with a group of friends. But it is also a restaurant where you can enjoy a nice dinner with a view. It has quickly become one of my favourite bars after finding it on Facebook, and I think it deserves even more visitors (as the large location normally has a lot of empty seats still).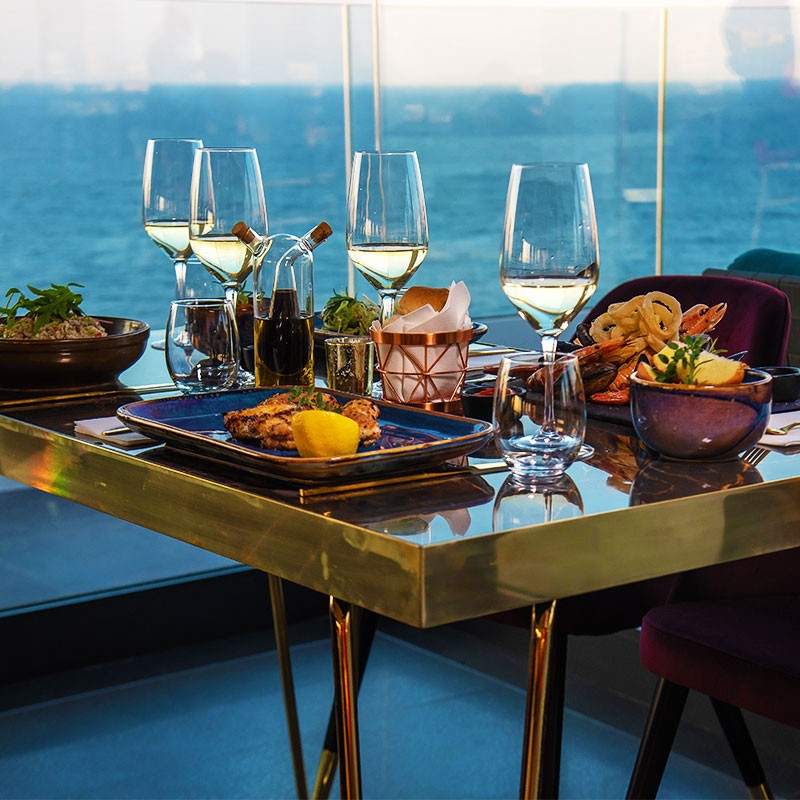 What to order at Skyroom
Food
At Skyroom in Sliema, you will find a selection of starters, pasta, and main courses including fish of the day and steak. Share some starters with your party or go for a main dish from the grill. The talented chef Marvin Schrembi serves up scrumptious dishes that are aesthetically pleasing.
If you want to stay in the bar they also have some bar bites available like different platters to share while sipping your drinks and maybe trying some romantic wine ideas?
For our last Friday in Malta before driving to Spain, my fiancé and I had a wonderful date night filled with good views, good food and amazing drinks at Skyroom. We weren't super hungry but shared some smaller dishes (including an amazing asparagus salad with homemade pesto) and a cheeky dessert.
Drinks
The cocktail menu is extensive with a mix of classic and modern drinks to choose from. If you prefer something simple like beer, wine, or a gin and tonic, you will be spoilt for choice. But I recommend asking the bar manager for a recommendation, as he really knows what he is doing.
Skyroom Menu
There is a lot to choose from, with a long list of both food and drinks. In addition, you can order based on recommendations or specials. You can check out the Skyroom food menu and cocktail menu from their website.
The Skyroom Cocktail Bar & Grill Malta, Details

Where: 124 Tower Road, Sliema
Opening hours: Monday to Sunday, 7 pm-1 am
Website: https://skyroom.com.mt/
Contact: 2133 4001
The Skyroom Review, Final Thoughts
If I still lived in Malta, the Skyroom would be one of my go-to places. But luckily, I have found a similar vibe at the Playwright in Marbella. Still, I can't wait to travel back and once again enjoy the stunning view from the 14th floor while listening to live music.
Want more Malta recommendations?
Check out the Malta section at DineWineLove.