Sliema is full of bars and restaurants to check out, but which should not be missed? Check out my list of top 6 bars in Sliema for the best insider tips!
Click on the bar names below to jump to that section or keep scrolling for the full guide!
What are the best bars in Sliema?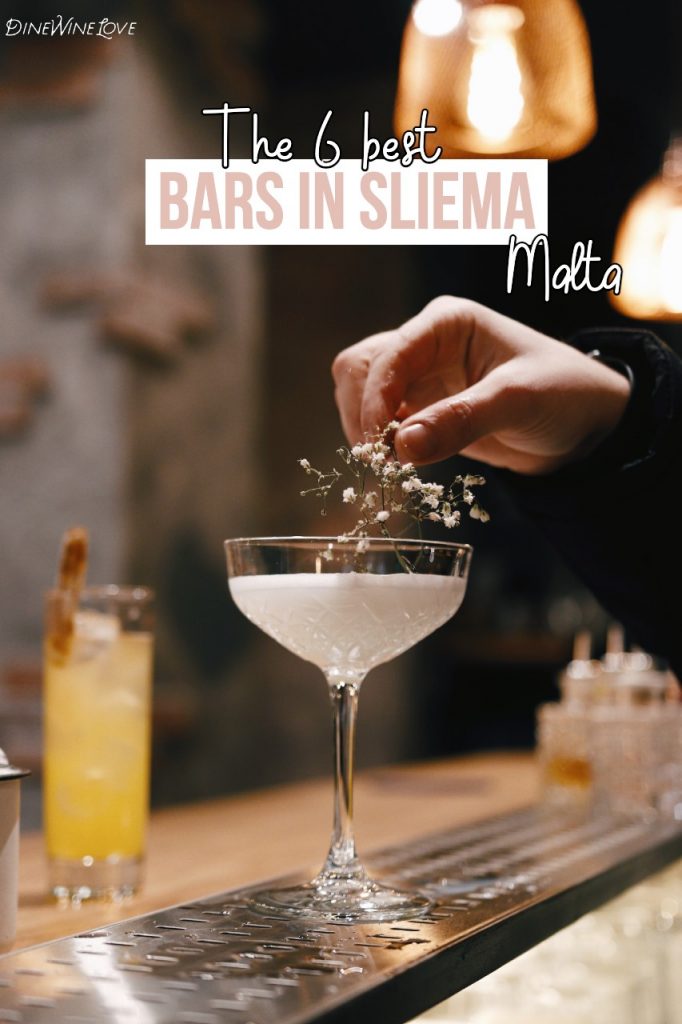 While Sliema might not be as much of a party hub as St. Julian's, the city is definitely full of great bars and restaurants to check out. Strolling down the seafront, you'll be met with bars upon bars. So how can you know which are worth a stop?
In this guide, I go through six of the best bars and pubs in Sliema, Malta. In addition to a great selection of drinks, the bars all have food or nibbles on the menu. This makes them all perfect choices for a weekend lunch, romantic date, or a night out.
Try them all and find your favourite!
1. The Skyroom Cocktail Bar & Grill
– Romantic ambiance and high-quality drinks
In my opinion, the absolute best bar in Sliema is The Skyroom Cocktail Bar & Grill. The bar is located on top of the Preluna hotel. Thanks to its stunning location, Skyroom has a beautiful view of Sliema and surrounding areas.
The bar was fully renovated in 2019 and has grown in popularity ever since. From the first moment you step inside the bar, you will be met with a romantic and luxurious ambience. The decor is beautiful and the staff is service-friendly and knowledgeable.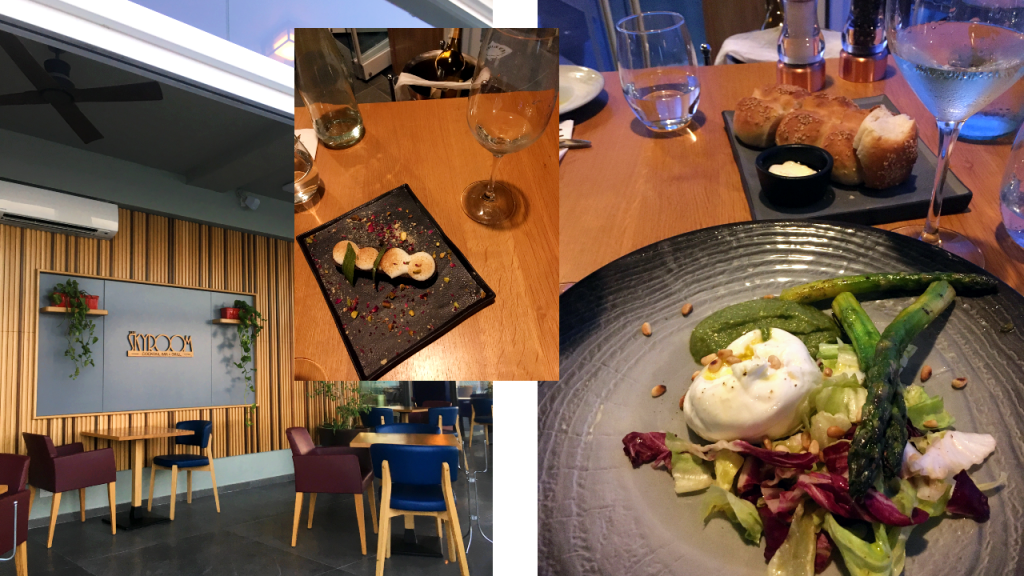 At The Skyroom, you can sit down for a delicious cocktail and some nibbles. There's also a full food menu with high-quality dishes from the talented chef Marvin Schrembi.
Read my full Skyroom review for more details
To sum up, The Skyroom is a romantic bar and restaurant with a grand location in the heart of Sliema. In addition to the scrumptious food and exquisite drinks, there's live music playing several days a week. What more can one ask for?
The Skyroom Details

Where: 124 Tower Road, Sliema SLM 1605 (Preluna hotel)
Opening hours: Tuesday to Saturday, 6 pm to 11 pm + Saturday and Sunday, 12 pm to 3 pm for lunch
Website: http://www.skyroom.com.mt/
Contact: +356 9969 7214
2. O'Clock
– Handcrafted cocktails and complementary aperitivos
O'Clock is a small bed and breakfast located in Sliema. While I've never stayed at the B&B, I have visited its bar many times.
O'Clock cocktail bar is a beautiful bar where you can enjoy handcrafted cocktails and tapas. The bar is located facing the sea and there is some outside seating for sunny days. Inside, you'll find a turquoise wall stacking the best liquors, good music playing, and friendly staff members ready to take your order.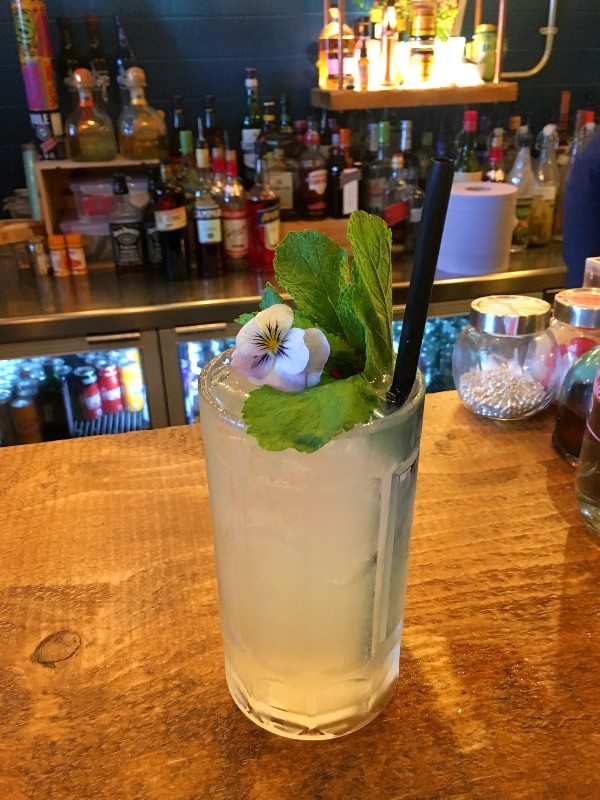 Handcrafted cocktails at O'Clock
I believe O'Clock is a bit of a hidden gem in Malta. The cocktails crafted here are of the highest quality, with unique twists on classic recipes. The mixologists are great at creating cocktails based on your preferences, so don't be afraid to give them a challenge. In addition to the great drink selection, you will also be spoilt with a delicious platter of various nibbles when visiting O'Clock.
3. The Black Sheep
– Good food and good mood!
The Black Sheep in Sliema is always busy on weekends – with good reason. Not only is it a restaurant serving tasty food, but also a lively bar with some of the best drinks and atmosphere on the island. With live music or a cool playlist playing, the vibe is always great.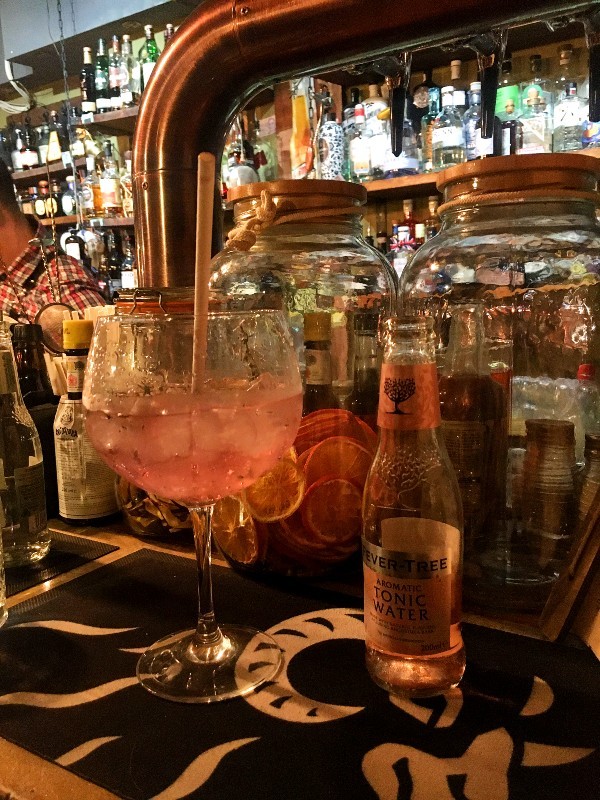 Boë Gin at The Black Sheep
One thing I love about The Black Sheep is their selection of gins and spirits. With deliveries from Mr Gin, the offering includes my personal favourite: Boë gin from Scotland.
The venue is large with lots of inside and outside seating, but you should still reserve a table. The restaurant is also a dog friendly favourite, but I would not recommend bringing your pooch in the late evening.
The Black Sheep Details

Where: 55 Triq Ix – Xatt, Sliema, SLM 1022
Opening hours: Monday to Sunday, 10 am to 2 am (4 am on Friday and Saturday)
Contact: +356 9975 5571
4. Hole in the Wall
– Board games and live entertainment
Hole in the Wall is another local favourite bar and restaurant in Sliema. According to The Times of Malta, it is the oldest bar in Sliema – transformed from stables into a bar in 1922.
When the bar opened it was literally a hole in the wall – hence the bar name. In 100 years, it has come a long way from selling takeaway wine to being a local hub for live entertainment and casual hangouts.
At Hole in the Wall, visitors can listen to live music, exhibitions and talks. Or how about playing some games? Hole in the Wall has a selection of board games available for customers to play while drinking and eating. For the menu selection, the bar works with a lot of local and small suppliers for food and drinks.
Hole in the Wall Details

Where: 31 High Street, Sliema SLM 1549
Opening hours: Monday to Friday, 12.30 pm to 1 am, and Saturday to Sunday, 5 pm to 1 am
Website: https://holeinthewall.com.mt/
Contact: +356 9980 8386
5. Hammett's Gastro Bar
– Michelin-worthy food and drinks
Hammett's is a modern gastro bar and restaurant located on the Sliema seafront. The establishment is from the same "family" as Hammett's Macina in Senglea which was listed in the 2020 Michelin Guide. I wouldn't be surprised to see Hammett's Gastro bar added as a Michelin restaurant in Malta in the future…
The food menu at Hammett's is full of Asian-inspired dishes to share, always made from the best ingredients of the season. The bar is crafted to mirror the food menu, with a grand selection of wines, spirits, beers and cocktails on offer.
Hammett's is the type of place you can enjoy no matter the occasion or time of day. Order some dishes to share and try some of the gourmet cocktails or vintage wines available.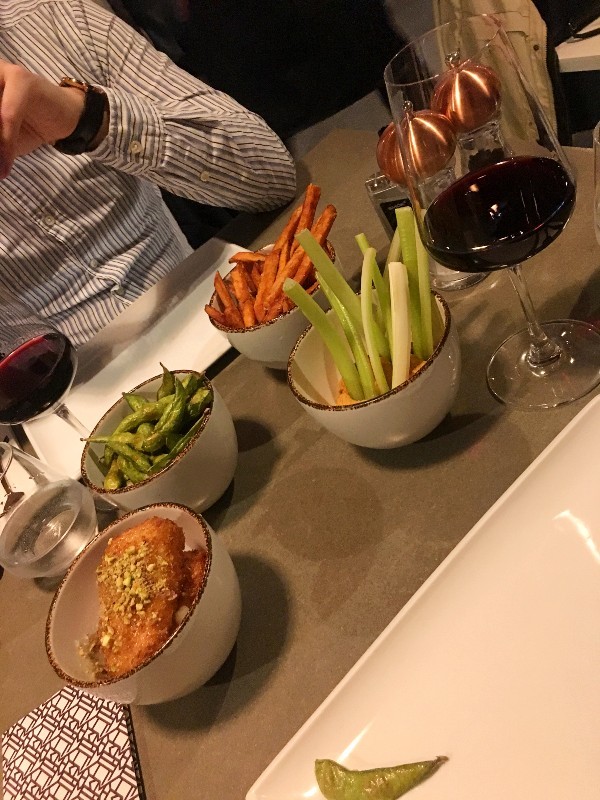 Wine and nibbles at Hammett's
The bar has a lot of Happy Hour deals with 2 for 1 cocktails. There's also a bottomless brunch deal on weekends, which you can read more about in my Malta brunch guide.
Hammett's Details

Where: 33, 34 Tigné Seafront, Sliema
Opening hours: Monday to Thursday, 5 pm to 11 pm and Friday to Saturday 11 am to 11 pm
Website: https://www.hammettsgastrobar.com/
Contact: +356 2134 1116
6. Step Down Bar
– Cheap drinks and homemade food
If you are looking for a cheap and simple bar in Sliema, I would recommend checking out Step Down Bar. This little gem is a cosy pub with live sports, British food, and cheap prices.
Step down into the bar and sit down for a pint and some homemade food. There might be sports playing on the telly and a roast cooking. Located on the corner of a quiet side street, it's a place you have to know about to visit.
Step Down Bar Details

Where: 161 Triq Manwel Dimech, Sliema
Opening hours: Tuesday to Friday, 3 pm to midnight, and Saturday to Sunday, 12 pm to midnight
Website: http://www.facebook.com/stepdownbar
Contact: +356 7980 5940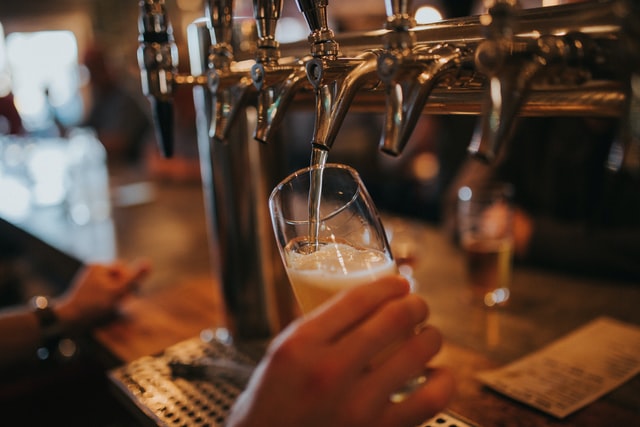 ---
Enjoy these 6 bars in Sliema!
There you have my six favourites, all located in different parts of Sliema. You can try them all as a pub crawl, or visit them one by one. All of the bars also serve food – or at least some nibbles – so you can enjoy a meal out too.
Want more Malta and bar recommendations?
Check out my posts on the best bars in St. Julian's and Valletta.