If you are looking for a romantic restaurant in Malta for a date night, check out my top list of romantic Malta restaurants.
Click on the restaurant names below to jump to that section or keep scrolling for the full guide!
What are the best Romantic Restaurants Malta?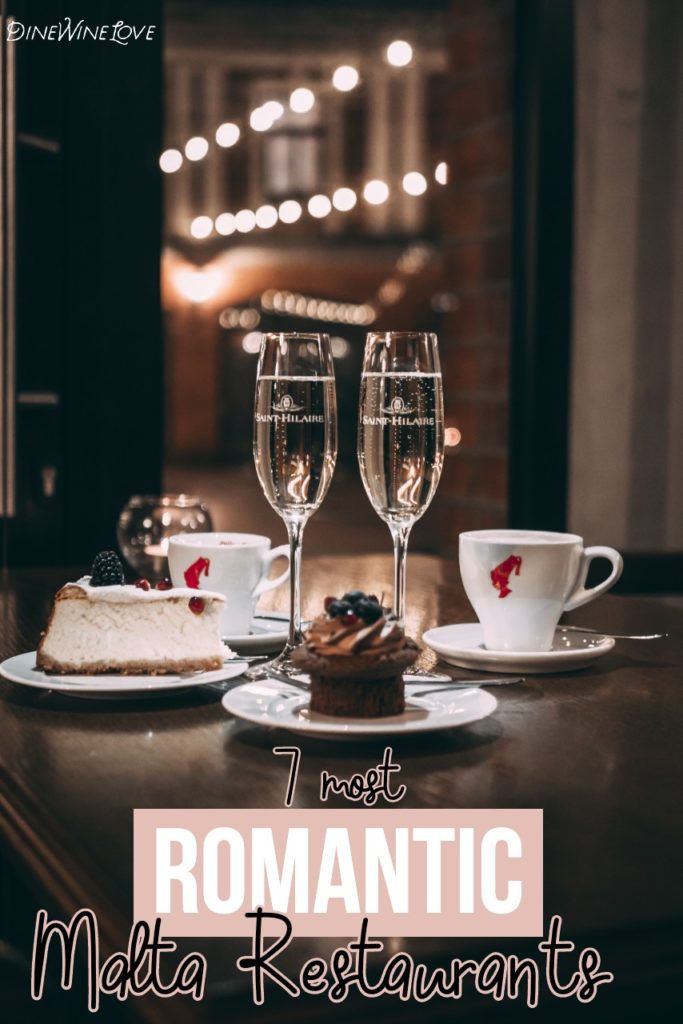 I love to eat out in Malta, but I don't need it to be fancy. I love to go out for a good brunch or a casual dinner. But on some special occasions, it is really nice to have a proper dinner at a romantic Malta restaurant. Such occasions might include birthdays, anniversaries and Valentine's Day. And luckily, there are many nice restaurants in Malta to choose from.
I don't really celebrate Valentine's day, but with the many ads starting to pop up on Facebook, I can't help but think about it. Last year we spent Valentine's Day cooking at home – and meeting our new dog (who we adopted on February 15th).
No matter the occasion: If you want to go out for a romantic dinner in Malta, I recommend trying out any of the romantic restaurants below. All the restaurants listed are romantic and serving up quality food, while not breaking the bank completely.
PS: No matter which restaurant you choose for you romantic dinner Malta, remember to book early!
Top 7 Romantic Restaurants in Malta
1. Blue Elephant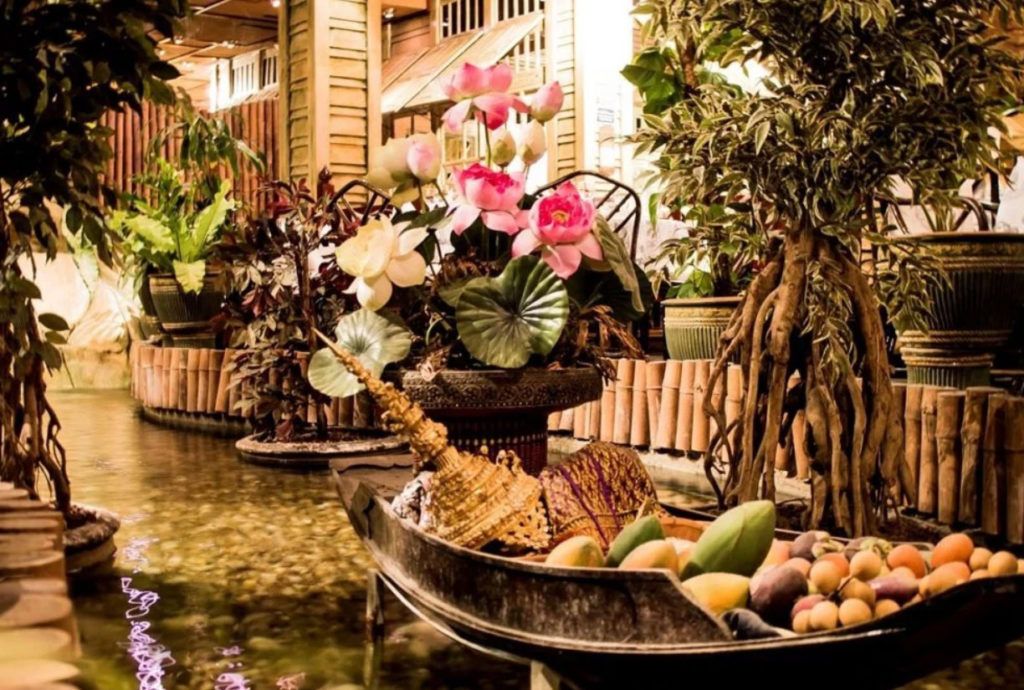 Located at the Hilton hotel in Porto Maso, Blue Elephant is the perfect romantic restaurant for a date night in Malta. Blue Elephant is a chain of award-winning Thai restaurants with 7 locations around the world. Lucky for us, one of them is in Malta.
On the menu, you will find a grand selection of delicious Thai dishes. With a mix of classics and fusion, there is something for everyone. I recommend going for the Vegetarian Set Menu or the Royal Thai Banquet Menu, which will give you a selection of different dishes to try and share.
In addition to delicious food, Blue Elephant has a unique atmosphere. Stepping into the restaurant is like stepping into another world. The decor is beautiful and so well-done, and the sounds of a roaring stream and bird song in the background make it feel like you are far away from Malta.
Blue Elephant Malta, Details
2. Zen Japanese Sushi Bar & Teppanyaki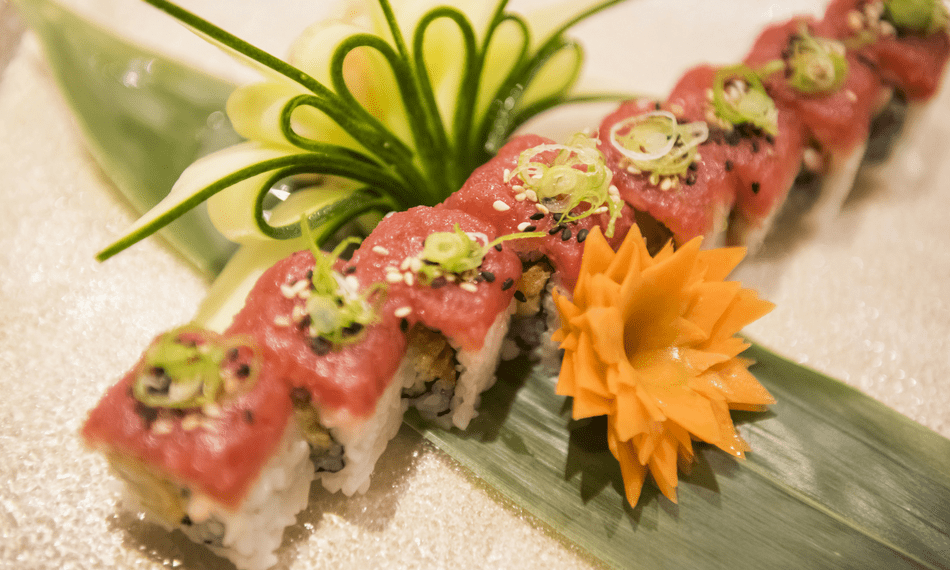 Zen is another restaurant located in Porto Maso, St Julians. Here you can enjoy delicious Japanese cuisine all made from fresh ingredients. The restaurant is classy and exclusive, perfect for a romantic date night in Malta.
If you like sushi, you will have a lot to choose from on the a la carte menu. But if you are looking for something more unique, I would recommend booking a seat at the Teppanyaki table. Here you can choose from fresh seafood and meat that will be cooked right in front of you, served with miso soup, rice and vegetables.
Zen Japanese Sushi Bar & Teppanyaki serves dinner and a show. There are also a lot of great wines and other drinks to choose from, to complete the romantic date night.
Zen Japanese Sushi Bar & Teppanyaki Malta, Details

Where: Portomaso Yacht Marina, St Julians
Opening hours: Monday to Sunday, 7pm-11pm
Contact: 2138 6500
3. Sciacca Grill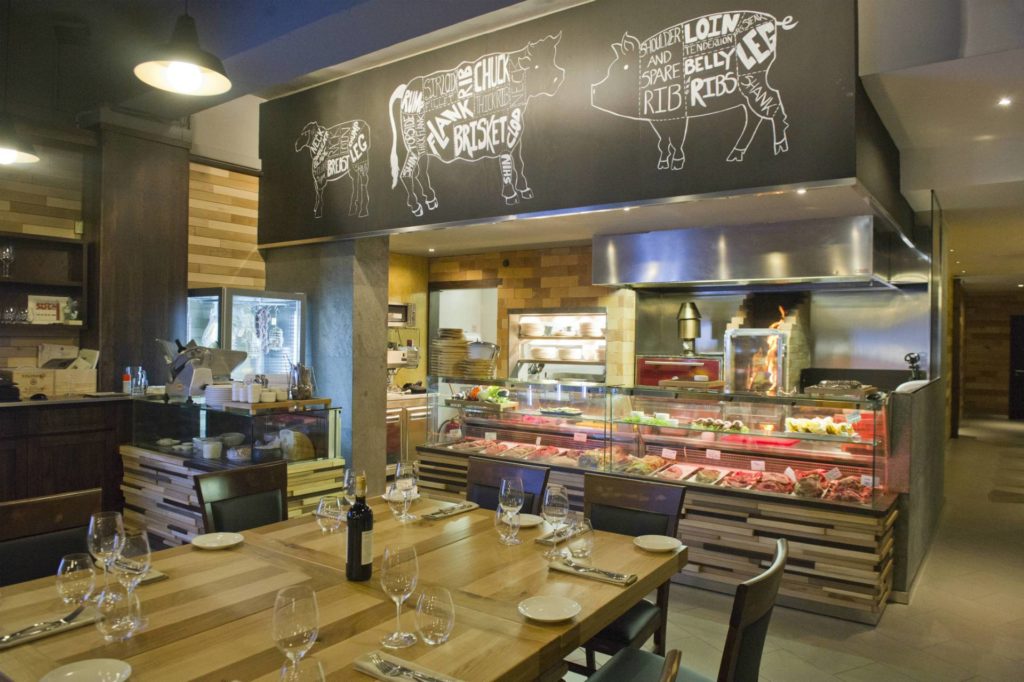 How many times can I write about Sciacca on this blog? At least once more! Sciacca is one of my favourite dog-friendly restaurants in Malta and also a great choice for a romantic Malta restaurant. Here you will be spoilt for choice with delicious meat, appetisers, side orders, desserts, and drinks.
Sciacca Grill has two locations, so you can choose to book a table in Valletta or St Julians. Either is a great location for a dinner which can then be followed by drinks at a nearby bar.
At Sciacca, you can choose something from their a la carte menu, go for a set menu, or simply pick out your preferred meat from the meat counter. It might not be "dinner and a show" like Zen, but it adds something extra to the dining experience. If you are looking for a delicious and romantic restaurant in Malta, check out Sciacca grill.
Read more in my Sciacca review!
Sciacca Grill Malta, Details

Where: South St, Valletta and Triq Santu Wistin, St Julians
Opening hours: Monday to Saturday, 12pm-3:30pm and 6pm-10:30pm (Valletta) / 6pm-11pm (St Julians)
Website: http://sciaccamalta.com/
Contact: 2123 7222 / 2133 1310
4. Adesso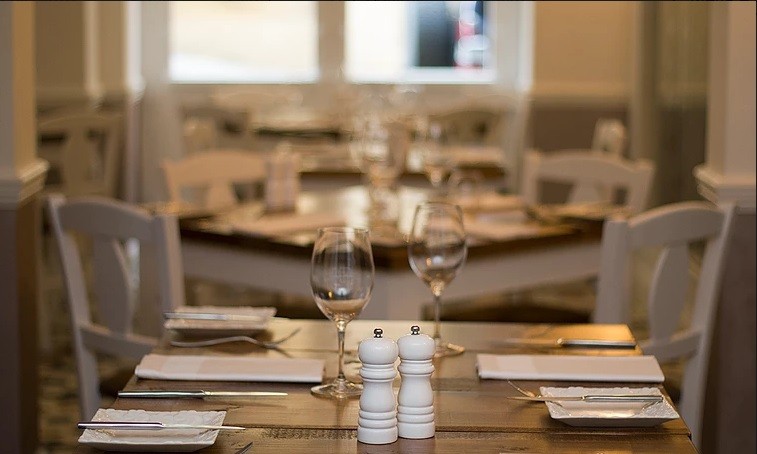 Although I do recommend booking a table for all of the restaurants above, what they have in common is that the locations are quite spacious and fit a lot of guests. That is not the case for my next recommendation: Adesso.
Adesso is a small and romantic restaurant located in Valletta. Here you will be served delicious, homecooked meals with the freshest ingredients. It is simply one of the best romantic restaurants Valletta.
The atmosphere and quality of the food is nothing but amazing. Start your visit with a glass of something bubbly, try out some starters and a main course, and pair it all with a great bottle of wine (and some romantic wine ideas).
Adesso Malta, Details

Where: Valletta Building, South Street Il-Belt Valletta
Opening hours: Tuesday to Saturday, 11am-11pm
Website: https://www.adesso.com.mt/
Contact: 2124 0460
5. The Chophouse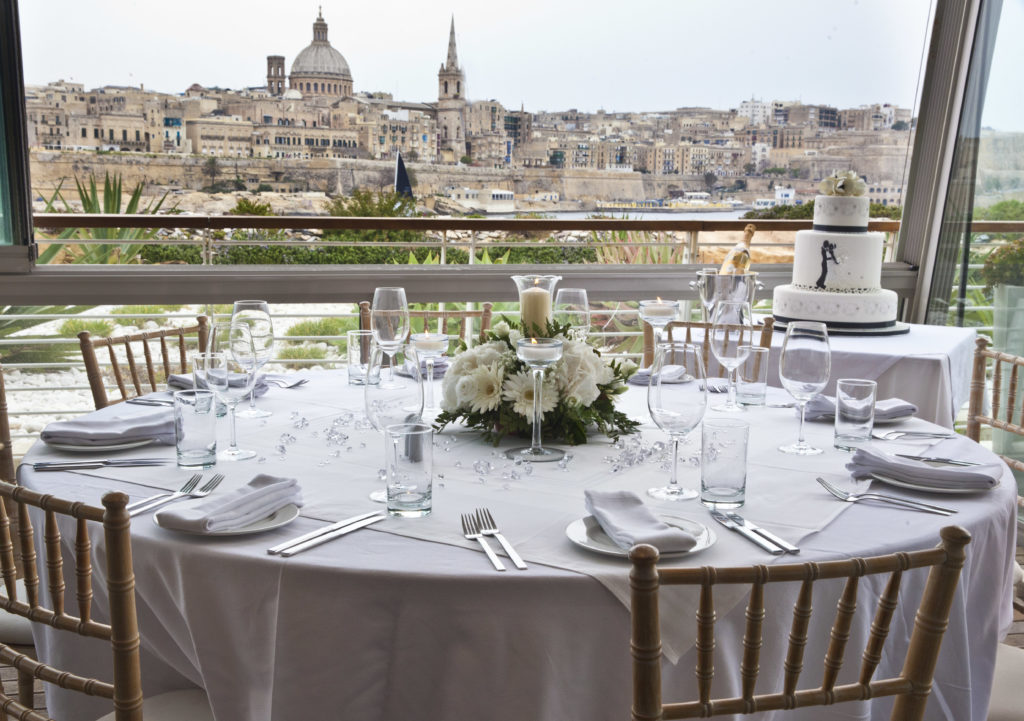 Similar to Sciacca in some ways, Chophouse is another great steakhouse perfect for a romantic dinner in Malta. Located in Sliema down by the seafront, you'll have a beautiful view of Valletta while enjoying your meal.
On the Chophouse menu, you'll find meat, fish and more that is grilled on Malta's largest charcoal grill. In addition to a selection of the finest meats, the restaurant has an impressive wine cave which stocks over 350 wines. Last time we visited, we were especially impressed by the wine selection and great wine recommendations by our waiter.
Request a table with a view and enjoy the stunning location and delicious food. The venue can also be used for wedding receptions.
The Chophouse Malta, Details

Where: Tigne Point, Censu Xerri, Sliema
Opening hours: Monday to Saturday, 6pm-2pm and Sunday 12pm-3pm
Website: https://chophouse.com.mt/
Contact: 2060 3355
6. The Skyroom Cocktail Bar & Grill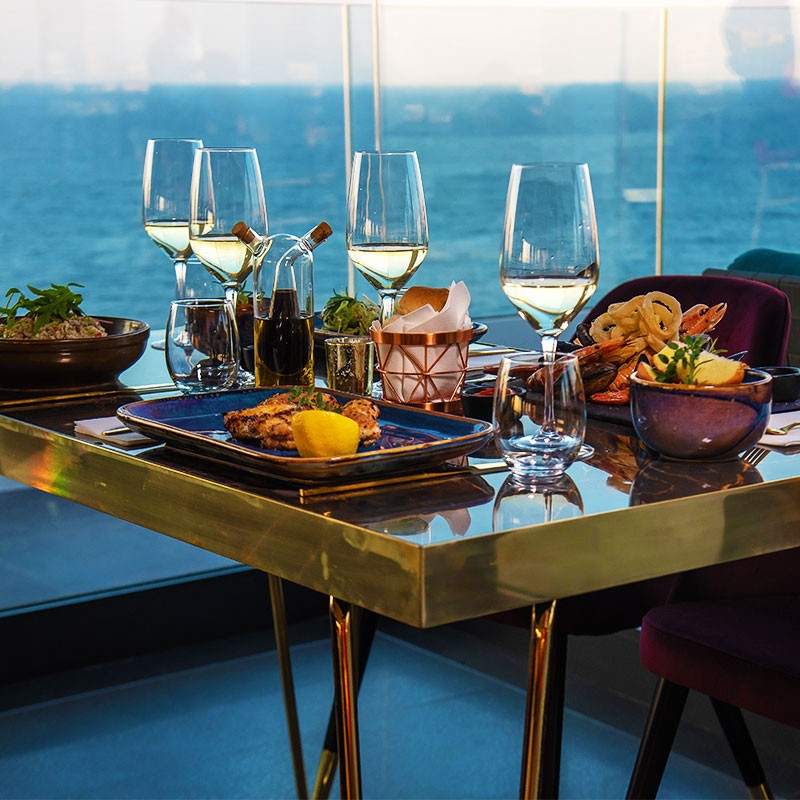 Skyroom in Sliema is one of the newest restaurants/bars I have visited in Malta. The location is recently converted to The Skyroom Cocktail Bar & Grill.
Located on the 14th floor of the Preluna Hotel, the Skyroom is a perfect location for a classy and romantic date night in Malta. With live jazz playing in the background and proper cocktails being mixed, this is a great spot. It might be more of a bar than the other restaurants on this list, but there is also a grill menu available. Get a table at the restaurant to enjoy some great appetizers and meat, or go for some bar nibbles with your cocktails.
The atmosphere, interior and location is nothing but classy at Skyroom. Dress up for a night on the town and enjoy a dinner with a view.
Read more in my Skyroom review!
The Skyroom Cocktail Bar & Grill Malta, Details

Where: 124 Tower Road, Sliema
Opening hours: Monday to Sunday, 7pm-1am
Website: https://skyroom.com.mt/
Contact: 2133 4001
7. Grotto Tavern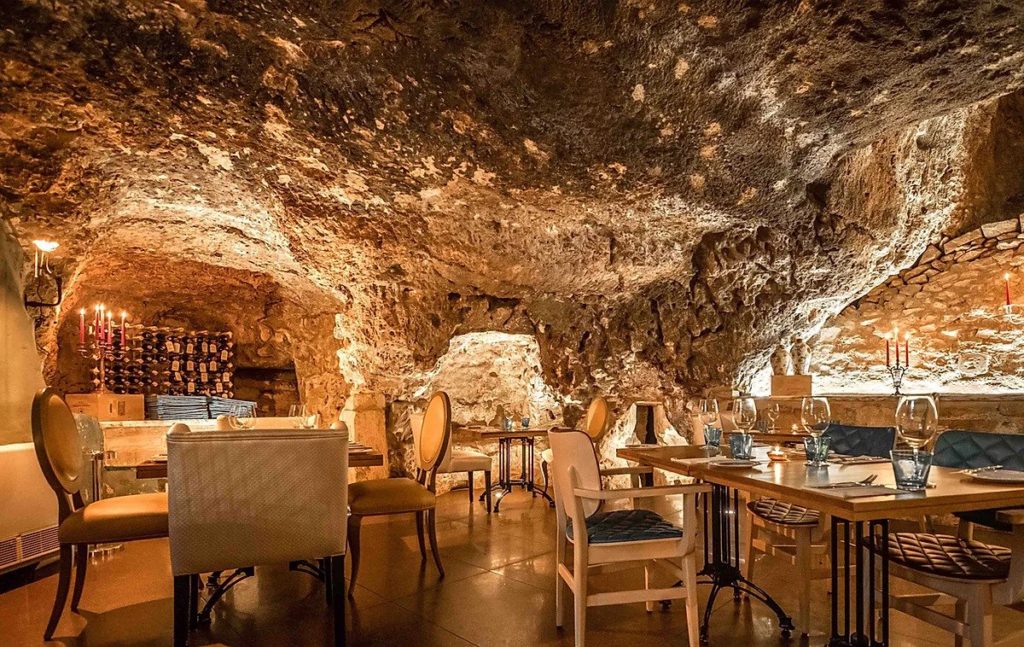 Grotto Tavern is a unique Malta restaurant, located in a 2000 year old cave in Rabat. There are three rooms available, with 'The Cave' being the most unique one. Here you will be tucked away in a dug-out seating area in the middle of a cave. Surrounded by yellow stone walls, you can enjoy a meal within Malta's history.
I have to admit that Grotto Tavern is the only place I have not actually visited on this list. But I wanted to include it anyway, as I have come across it on several occasions and noted it down as a romantic Malta restaurant idea for a date night.
There is also an a la carte menu and a tasting menu. Both are filled with delicious and unique dishes to complete a romantic date night. Of course, this romantic Malta location can also be used for weddings, so there is a reception menu too.
Grotto Tavern Malta, Details

Where: 9/10/12 St Pauls Square, Rabat
Opening hours: Monday to Saturday, 6pm-10pm and Sunday, 12pm-10pm
Website: https://www.grottotavern.net/
Contact: 2145 3258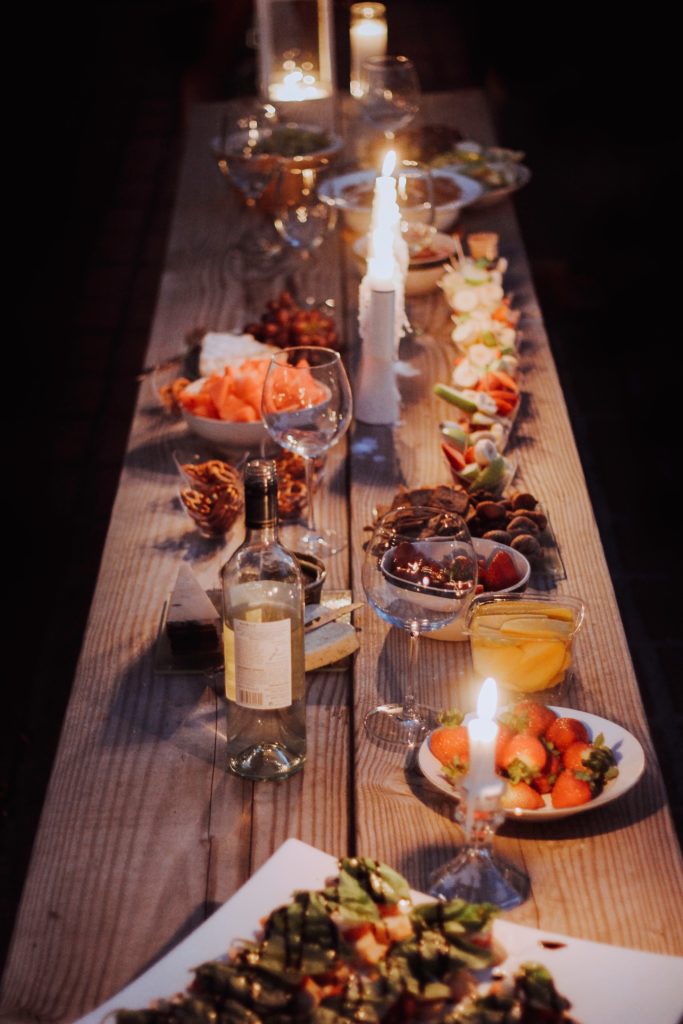 Looking for something delicious but inexpensive and casual? Check out my KuYa review, and remember to book in advance!
Enjoy your date night!
Want more food-related content? Check out the Dine section at DineWineLove.