Need some inspiration for what to do in Malta? Check out my guide covering a total of 51 things to do in Malta, including both free, budget-friendly and splurge-worthy ideas.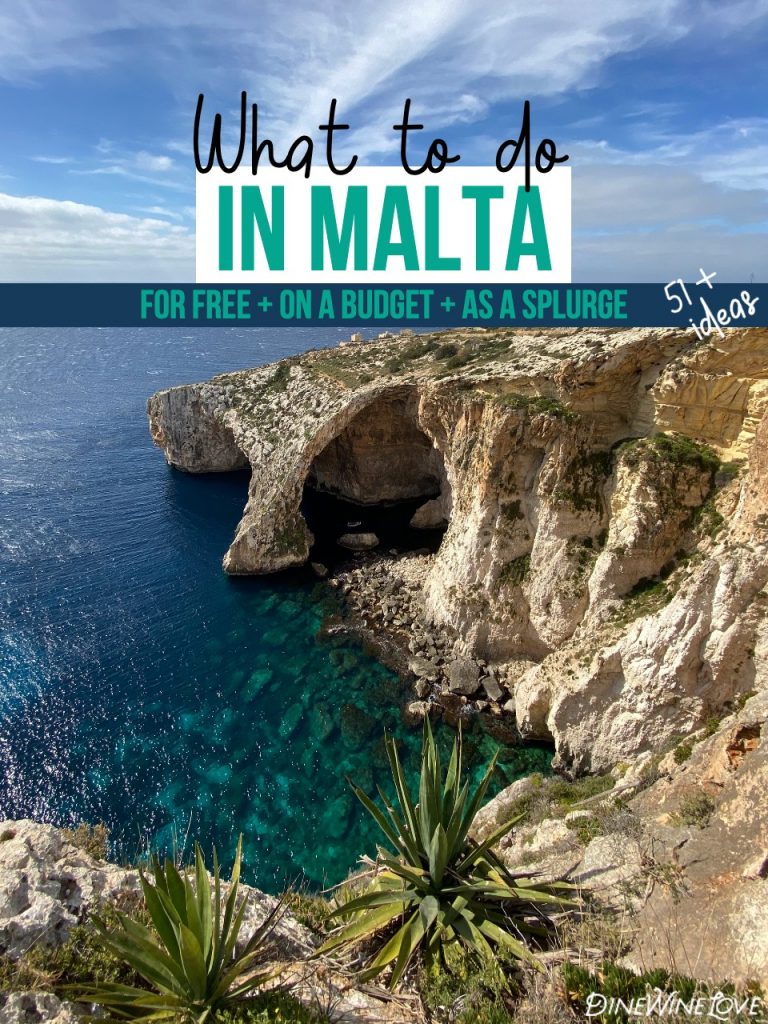 Malta might be both a small and young country, but it has lots to discover. There are historic sights to see, beaches to relax at, and food to indulge in. And even better, there is something for every budget! No matter if you live in Malta or are visiting, I hope that this guide can give you some fun and unique ideas of things to do in Malta – with a total of 51 places and activities!
PS: This guide only covers things to do on the island of Malta, not the full republic including Gozo and Comino. If you want some Gozo tips too, check out my full guide on how to spend 24 hours in Gozo.

51 things to do in Malta
Above you have the full list, where you can click on any point to jump to that section. Now let me break it down for you and explain each point in detail!
What to do in Malta for free?
The great thing about the island of Malta being so small is that you can cover a lot of ground within a short time period. This means that a cheap bus ticket can take you where you need, or that you might even be able to walk there. If you are looking for some ideas on what to see and do in Malta for free, I have 27 ideas lined up for you.
*The only cost that may apply is the bus ticket/cab fare to the destination, as well as any optional food/shopping.
Things to do in Malta for free
1. Explore the nooks and crannies of Valletta
Valletta is Malta's capital and a must-visit for anyone travelling to the island. The city is the smallest capital in the EU (0.8 km2) and one of three Malta properties inscribed on the UNESCO World Heritage List.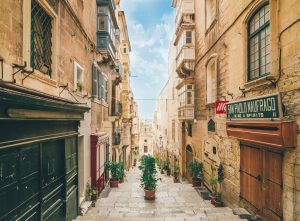 Exploring all the small cobblestone streets that go up and down the hills of the city is of course completely free, and it is also a great spot for some window shopping and people watching. All the houses in Valletta, with colourful doors and French balconies, are absolutely charming. And there are also some specific attractions worth a visit (point 2-7).
2. Take in the beauty of Upper Barrakka Gardens
The most beautiful spot in Valletta is, in my opinion, Upper Barrakka Gardens. The two public gardens (Upper and Lower Barrakka Gardens) are located on the St. Peter & Paul Bastion, offering a panoramic view of the Grand Harbour and the Three Cities. There are flowers in bloom all year-round and two daily salutes (12 pm and 4 pm) from the canons below the viewing point.
3. Enjoy the breathtaking view from Hastings Gardens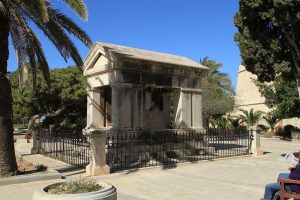 Another beautiful garden in Valletta is Hastings Gardens. This garden is located on the St. John's Bastion and St. Michael's Bastion, on the west side of the city gate. The garden's name refers to an old governor of Malta, Francis, Marquis of Hastings, who was buried in the garden in 1826.
From Hastings Gardens you'll get a beautiful view of the cities of Floriana, Msida and Sliema, as well as Manoel Island. In the summer, events such as the Marsovin Wine Festival are hosted in the garden. I recommend going there at sunset, the most beautiful time of day to enjoy the sunset.
4. Photograph the Auberge de Castille
While walking up to the Upper Barrakka Gardens, you will probably notice a grand building with dark green doors and windows. This is Auberge de Castille – the Office of the Prime Minister. It's a grand and historic limestone building from the 18th century that is worth photographing and admiring.
5. Learn the history of the Royal Opera House Site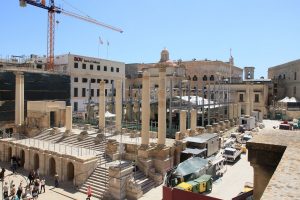 The Royal Opera House, or Royal Theatre, is another grand sight to see in Valletta. This used to be a beautiful opera house, erected back in 1866. But during the second world war, the theatre was directly hit by bombs and sadly destroyed. Today, the theatre is redesigned and again used as an arts venue, but with some of the original frame still intact.
6. Stroll along and admire the boats docked at the Valletta Grand Harbor
The Grand Harbor in Valletta is where grand cruise ships and yachts dock. Strolling along the harbour, you will get a good view of the Three Cities while admiring the boats lined up in front of you.
7. Cool down from the soft breeze from the Triton Fountain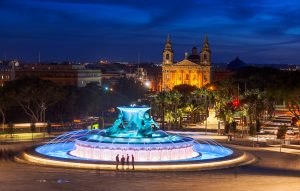 A final tourist attraction worth checking out in Valletta is the Triton Fountain. Located in front of the City Gate, you won't miss it on your way in our out of the city. The fountain was first completed in 1959 and when I first moved to Malta, it was closed down for renovations. Since 2018, the fountain and piazza have been open to the public again.
8. Explore Manoel Island and Fort Manoel
In Gzira, you can walk out to Manoel Island where you'll find the star Fort Manoel. The historic limestone fort is on Malta's tentative list of UNESCO World Heritage Sites. Manoel Island as a whole is worth exploring, with some nice walking routes and a yacht marina lined with beautiful boats to admire.
9. Visit the Sunday market in Marsaxlokk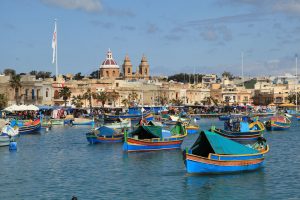 Marsaxlokk is a beautiful, little fishing village located south-east in Malta. While it is worth a visit any day of the week, there is something special about the Sunday market. What started as a traditional fish market is today a tourist attraction where you can buy (or just look at) souvenirs and local goods alike. Get there early though, as at least most of the fish will be sold out by 10 am!
10. Be on the Top of the world
Top of the World is a popular viewing point in Għargħur, on the east side of the island. From this top, you can get a beautiful view of the island and surrounding sea. There are also some really nice – and easy – walking routes good for a Sunday hike.
11. Look into a movie set from the Popeye Village Viewpoint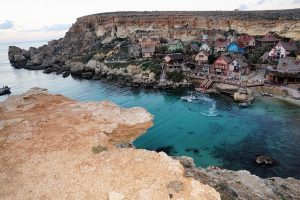 In Mellieħa, north in Malta, you can visit the movie set of the 1980s movie Popeye. While entering Popeye Village is not free, looking at and photographing it from the viewpoint is! Drive past the entrance and stop at the little cliff giving a direct look at the colourful houses and glistening, blue ocean.
12. Admire the unique, Red Tower
Saint Agatha's Tower in Mellieħa, more commonly known as the Red Tower, is a bright red/pink tower located on the top of a hill. You'll see it from far away and as you come up close, you will be able to truly admire its beauty. Head up to the tower, photograph it and take the stroll until the end of the road. There you'll find a radio tower, some old ruins, and a breathtaking view of the cliffs.
13. Face your fear of heights from Miġra l-Ferħa
Malta has a lot of viewpoints and a lesser-known one is Miġra l-Ferħa in Rabat. To get there you will need to drive down some steep hills and curvy roads, but it will be worth it. From Miġra l-Ferħa you can look straight down into the ocean, taking some great photos of the cliffs. Just ensure to keep a safe distance from the edge, especially if you are scared of heights!
14. Walk the silent streets of Mdina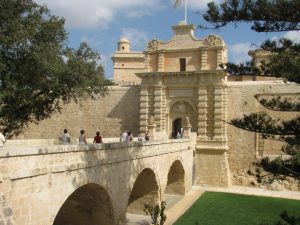 Mdina is Malta's old capital and a must-visit just like Valletta. The former capital is known as the Silent City, thanks to the very few residents and cars. Take a bus there or park your car outside (for free) and walk into the city gate. There are lots of narrow streets and grand houses to explore in the quiet.
15. Visit at least one church
Malta is a religious (Catholic) island that has an impressive amount of churches and chapels scattered around. In fact, there is a total of 365 churches across Malta, one for every day of the year. And while you might not be able to visit them all, I recommend checking out at least one of them. There are many breathtaking ones such as the Mosta Dome, St John's Co-Cathedral in Valletta, St Joseph's Church in Msida, and St. Paul's Cathedral in Mdina.
16. Say hi to the cats of the Cat Park (Independence Garden)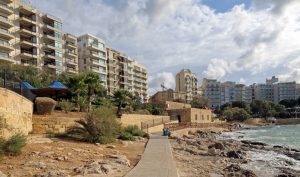 The Independence Garden in Sliema is a nice little garden where you can take a stroll or sit down at the cliffs. The garden is more commonly known as Cat Park, both due to the large cat statue on top of the public toilets and the many stray cats living there. Walk around in the garden, get a good view of St Julians, go for a swim if you like, or talk with the many cats hiding in the bushes.
17. Spend the day at a beach
While Malta might not be known for its beaches, there are several good ones to visit. This includes Golden Bay, Mellieha Bay, Pretty Bay, Paradise Bay (do you sense a theme?) and St Peter's Pool. Find the one closest to you or head out for a day trip. You will normally be able to take a bus out or park your car for free.
18. Stroll around in the Chinese Garden of Serenity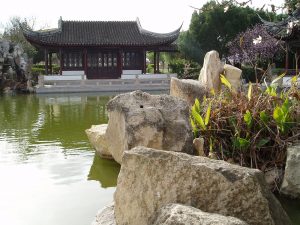 In the village of Santa Luċija, you will find the public garden called Chinese Garden of Serenity. This is a beautiful little garden that was actually a gift from the People's Republic of China to Malta back in 1996. Here you can walk around in peace and photograph the traditional symbols such as rocks and water to represent yin and yang.
19. Take part in a local festa
The Maltese festa is a village feast, celebrating the local saint. These festas are normally hosted by the local band clubs and offer up a night of drinks, food, entertainment and fireworks. Throughout the year there are close to 100 festas, most of them taking place during the summer months. Check out the feast dates from a calendar such as this one and visit your local one or one of the biggest ones.
20. Dress up for the Maltese Carnival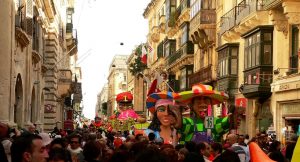 A yearly, cultural tradition that is quite big in Malta is the Maltese Carnival. It has been celebrated ever since 1535 and seems to grow in popularity for every year that goes by. The Carnival is especially big in Gozo, but on the island of Malta, you should yet to Valletta for the celebration. Dress up and see the grand floats that drive through the city. There is not one set date for the carnival, but it is normally celebrated sometime in February.
21. Admire the local fireworks
I love fireworks and when I first moved to Malta, I was happy to learn that it's a big thing there. In fact, there are several firework factories on the island. Especially at festas, but also during the summer in general, you'll see the sky light up by colourful explosions. There is even a yearly Fireworks Festival, with weekly events in different cities. It is of course all free to admire!
22. Gaze into the clear Blue Grotto viewpoint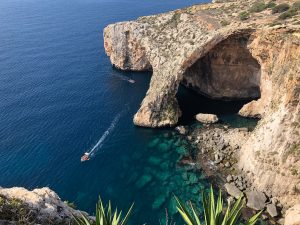 The Blue Grotto is a popular tourist attraction in Malta. You can see it from two points: from the Blue Wall and Grotto Viewpoint or arriving by boat. From the viewpoint you will get to gaze into the clear blue water and the beautiful grotto surrounding it. Drive or take a bus to Wied iż-Żurrieq and walk up to the viewpoint for some great photos.
23. Meet the end of the island at Dingli Cliffs
Malta is a small rock of an island with beautiful cliffs diving straight into the ocean along the coast. One of the most popular viewing points and tourist attractions to get a good view of the cliffs is at Dingli Cliffs. They are located north on the island and are actually the highest point of the island at 253 metres above the sea.
24. Walk around in the Ta' Qali National Park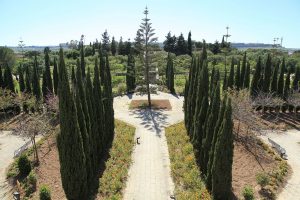 Ta' Qali is the national park of Malta and also where the national football stadium is located. This open space forms several parks, such as a small dog park and the hills where Earth Garden is hosted yearly. You can walk or drive around the area, and also explore the nearby Crafts Village, vegetable market and more.
25. Go for a walk in Buskett Gardens
To be honest, Malta doesn't have a lot of greenery or nature. But in the Buckett Gardens, you can have a nice walk in the woods in one of the few green areas around. Here there are different walking paths and some beautiful scenery. There are also lots of orange trees that make for a nice photo backdrop.
26. See a different side of Malta in the SmartCity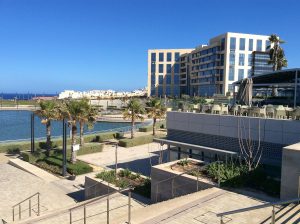 In Kalkara, on the east coast of Malta, you'll find the technology park called SmartCity. While it is mostly a business centre and residential area and not a tourist attraction, it is a nice place to visit if you want to see a completely different side of Malta. Walk around the modern area and look at the nightly water fountain show.
27. Party at Isle of MTV
To be such a small place, Malta has quite a good music and culture scene with various concerts and festivals. And a yearly festival that is completely free is the Isle of MTV in Valletta. Since 2007, big-name, international artists such as Lady Gaga, Snoop Dog, Steve Aoki and David Guetta have performed at this free music event.
Also check out my itinerary on how to spend 24 hours in Malta.
What to do in Malta on a budget?
If you want to explore the island while sticking to a budget, there are lots of cheap options available. In addition to the list above with free ideas (which might cost to get there), here are some of my favourite things to do and places to go on a budget.
Budget-friendly things to do in Malta
28. Take the ferry to Valletta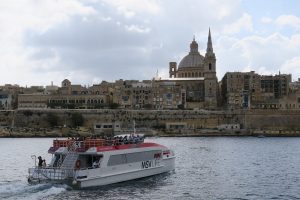 Valletta is definitely a must-visit and the most authentic way to get there is by taking the ferry from Sliema. This cheap and fast ferry-ride takes you across the water and gives you a beautiful view of the cities. Once you arrive, you can walk up the hills into the capital.
The ferries go every 30 minutes and take less than 15 minutes from one city to the other. You can see if the ferry is operating and find the schedules and full price list here.
29. Try Malta's best croissants from Frensh bakery
Frensh bakery was the first place that was recommended to me in Malta (by a local foodie) for "the best croissants on the island". And I have to admit, he was not wrong. At this bakery in Ballutta Bay, you can get some fresh and French croissants and other pastries to enjoy in the small park.
30. Eat some delicious pizza
Malta has a lot of great pizzerias where you can get a cheap and delicious meal. Located so close to Italy, you will find lots of Italian pizzerias and some more traditional Maltese ones. Grab a slice to-go or sit down for a nice dinner. For specific recommendations, check my favourite pizza restaurants here.
31. Listen to some live music
There are many bars and restaurants hosting live music nights around the island. Normally you won't have to pay anything for the entertainment itself but get it included in your drink/meal. I recommend checking out for example Skyroom or Yard 32, or any of my other 6 favourites for live music.
32. Eat a Michelin-worthy lunch at KuYa
There are many great restaurants to choose from in Malta, but if you are looking for a cheap yet great meal, you have to check out KuYa. The Asian street food-style restaurant puts modern twists to classic dishes using the freshest ingredients. The restaurant was mentioned in the 2020 Michelin Guide and I believe it will be a Michelin star restaurant in the future.
33. See what's on offer at a local a Pastizzeria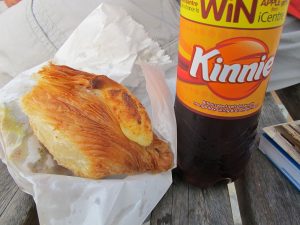 While in Malta, you have to try some local food. A quick and cheap must-try is pastizzi from a local pastizzeria. Pastizzerias are small kiosk-like shops where you can buy pastries and fast food on-the-go. The local pastizzi is simply a pastry-puff normally filled with ricotta cheese or peas. The pastizzerias are normally super cheap so just a euro or two will get you far. Also try a local drink (Kinnie)!
34. Test some local wine
While Malta may not be famous for its wine, you can actually find a lot of good (and cheap) local wine from the island. Of course, you can head to a winery for a wine tasting, but as a cheaper option, I recommend just buying some different wines at a shop and having a little tasting of your own. My go-to, cheap wine was always the La Valette from Marsovin – a nice bottle of wine for about €3.
35. Stroll along and have a drink in Spinola Bay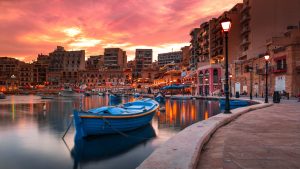 Spinola Bay in St Julians is a cute little bay filled with bars and restaurants along the seafront. It is a really great spot for an evening walk or drink as the sun sets. Stroll around and sit down at one of the many great spots such as Two Buoys for an Australian-Maltese meal or Happy Dayz Bar for a cheap beer.
36. Party at Earth Garden Festival
Since 2007, the Earth Garden Festival has been hosted yearly (apart from 2020) at the Ta' Qali National Park in Malta. This is an alternative music festival bringing in both local and international artists, within genres such as Hip Hop, Reggae and Techno. But it is not just a music festival, though: the festival also has lots of classes, yoga, healthy food and a market. The day tickets are cheap and you can also camp there.
37. Explore a local, grand palace in Casa Rocca Piccola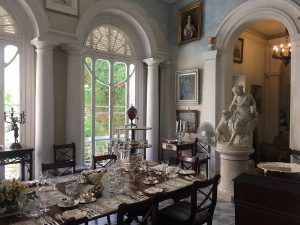 If you are looking for a cheap, cultural experience in Malta, Casa Rocca Piccola in Valletta is a good choice. This museum is a home turned into a living museum, where you can walk through and explore the 50 different rooms and learn more about Maltese traditions. The admission is €9 for adults and there are also private tours available.
38. Look at veteran cars at Malta Classic Car Collection Museum
Another museum worth checking out, especially if you are a fan of cars, is the Classic Car Collection Museum in St. Pauls Bay. At the museum, you will get to look at not only classic cars but also antiques and memorabilia from the 1940s, 1950s and 1960s. The admission is €10 for adults and the museum is open from Monday to Saturday.
What to do in Malta as a splurge?
If money is no problem, or you just want to splurge out for a day or date, Malta will gladly be at your service. While there are many cheap places to go and things to do, if you want real quality and good service or maybe just something different, you should check out my recommendations below.
Splurge-worthy things to do in Malta
39. Spend a day at a beach/pool club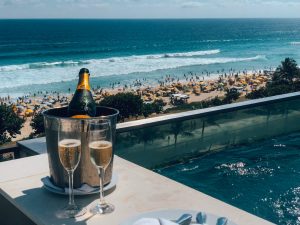 If you are looking for a full day of relaxation and the good things in life, head to a beach club (if the weather allows for it). Nothing is better than lying at a sunbed all day while being served cheeky cocktails and mouthwatering food and sometimes dipping into the pool. There are many great pool clubs in Malta, with some of my favourites being Hugo's Terrace, MedAsia Playa and Cafe del Mar.
40. Indulge in a scrumptious brunch
I love breakfast food. Add some booze and you have brunch, the best time of any weekend! Simply head to a restaurant serving brunch, order some dishes and some bottles of something bubbly and enjoy life. There are several places that offer a bottomless brunch for a set price. You can find my 8 brunch favourites here.
41. Try the best gins at Yard 32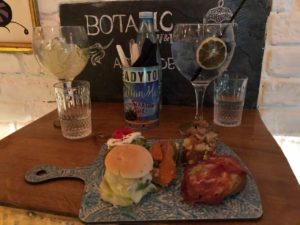 There are many great bars and restaurants to try in Malta, but if you are a gin-fan, there is one must-visit: Yard 32 in Valletta. This gin bar offers a selection of more than 180 gins from around the world, paired with some delicious, Spanish tapas. The very best of gins are of course not the cheapest, but you will not regret spending your money here.
42. Head out for a romantic meal
Malta has a lot of fine dining restaurants offering a grand meal. Check out my list of the 7 most romantic restaurants in Malta and book a table. Go all in and splurge on a fancy meal, complete with a proper date-night outfit and chivalry.
43. Take a day-trip or weekend in Gozo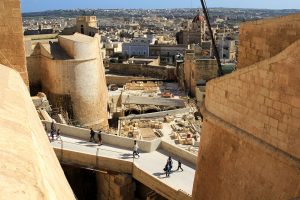 If you feel up for a little adventure, take your car (or a GoTo) and head to Gozo. It won't take you much longer than an hour to get there (depending on where you drive from and how long you have to wait for the ferry) and suddenly you'll be in a completely different atmosphere. Gozo feels quieter, calmer and more authentic than the busy cities of Malta. Rent a farmhouse and enjoy it!
44. All aboard on the boat trip!
If you want to spend a day out on the ocean, Malta is the perfect starting point. You will find many companies offering tours or private rentals for boat trips going around the island or to Gozo. Join an all-inclusive boat party or rent a private yacht for your company only.
45. Rent a donut boat
Looking for something more unique than a regular boat trip? Then rent a BBQ donut boat with your loved ones or close friends. From companies such as Eco Donut Boats and BBQ Time, you can rent a small, doughnut-shaped boat with a roof, BBQ and space for a group of friends.
46. Head for a hotel Staycation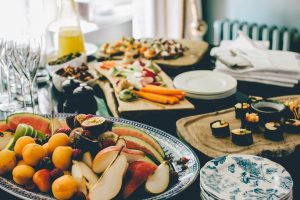 If you live in Malta or want a change of scenery on your vacation, opt for a staycation! There are many great hotels in Malta where you can rent a room for the night and wake up to the hotel breakfast. Choose a hotel with a good restaurant or enjoy some room service and be a tourist in Malta.
47. Geek out on a Game of Thrones tour
Are you a Game of Throne fan? Did you know that many scenes were filmed in Malta (and Gozo)? From the Mdina City Gate to the now-fallen Azur Window, you can spot quite a few Malta locations in the series. And now there are tours offering you a chance to drive around and visit those spots! The tours are a bit pricey but will be a perfect idea for any GoT fans out there.
What to do in Malta with kids?
Malta is very much an island with lots of shopping, sightseeing and eating out, which might not be the favourite activity for any child. But there are also some fun and unique places you can head with your kids to make the day a memorable one. Hopefully, you have already found some kid-friendly options above, but here are four ideas catered specifically towards kids and families.
Family-friendly things to do in Malta
48. Visit a movie set turned into an amusement park at Popeye Village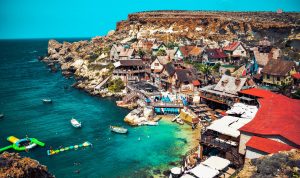 While your kids might not have seen the 1980s movie Popeye that was filmed in Popeye Village, they will surely enjoy the amusement park that is there today. Enjoy a day of fun in the sun-filled with costumes, colourful houses, shows and swimming. The maximum entrance fee is €15.00 for adults and €12.00 for children (3-12 years) in the summer.
49. Say hi to the residents of the Malta National Aquarium
At the Malta National Aquarium in Bugibba, you can enjoy a day of exploring the underwater life. Across 20,000 square metres you'll get to meet everything from small fishes to scary sharks and also reptiles. The aquarium is divided into five zones as well as a Reptiles and Amphibian area. The entrance fee is €14 for adults and €7 for kids, but you can get cheaper tickets online.
50. Swim like a fish at the Splash and Fun Waterpark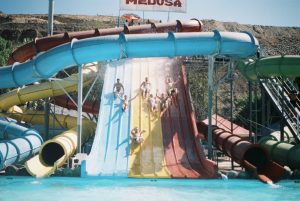 There are a few different water parks in Malta but I would recommend checking out the Splash and Fun waterpark in Bahar Ic Caghaq. Here you'll get a water park and theme park in one, with lots of different pools and slides. You can buy single admissions or family packs, the latter starting from €55 in low seasons.
51. Meet the animals of Duck Village (free)
Lastly, I would recommend taking a walk by Duck Village on Manoel Island. This little volunteer-run village is a sanctuary for ducks, geese, hamsters, turkeys and more animals. Say hi to all of the different animals living here in their colourful houses and continue with a walk around Manoel Island – all for free.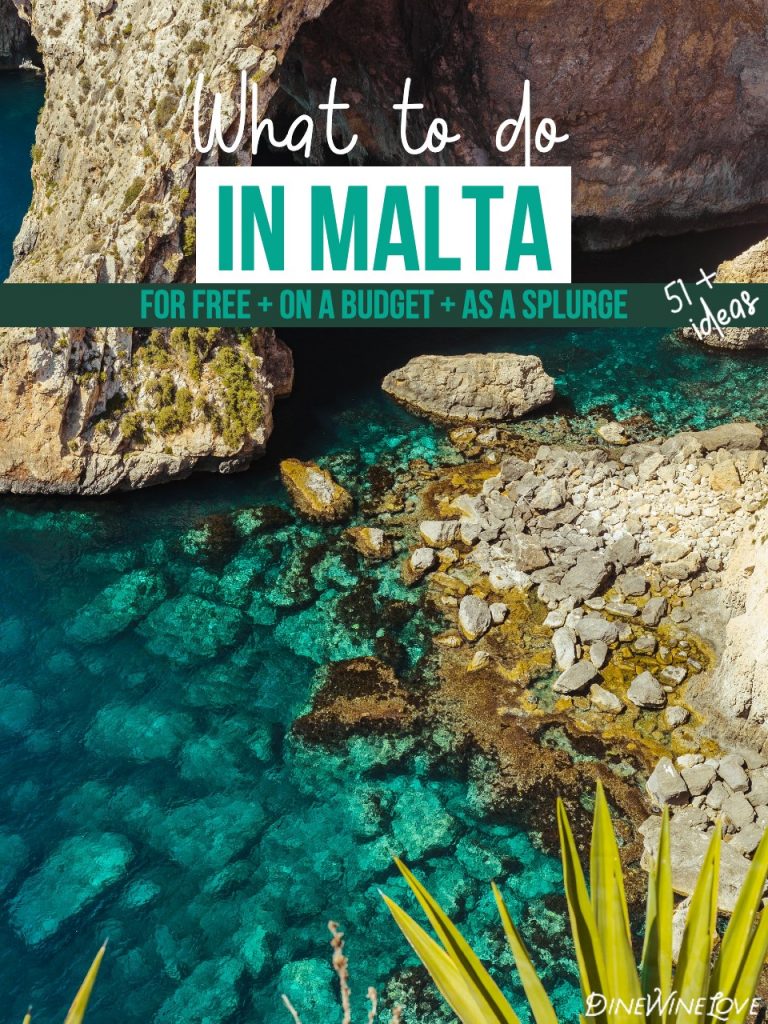 Want more Malta guides?
Check out the Malta destination section at DineWineLove.