Interested in wedding events and wedding fairs in Malta? Check out my review of the 2019 MFCC Weddings & Events Expo and prepare for upcoming editions!
♥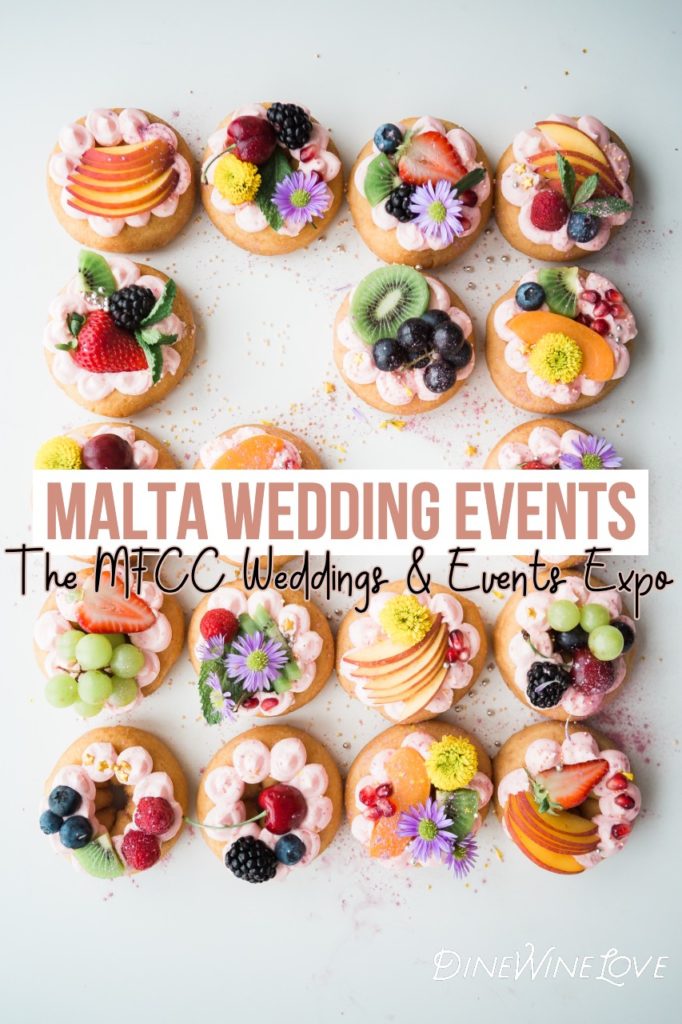 One of the first things I did when I got engaged, was to search for Malta wedding events. Even though sites like Pinterest can give great wedding inspiration, I loved the idea of visiting an event where we could check out vendors in real life.
Luckily, I quickly found the yearly MFCC Weddings & Events Expo, which was set for November 2019. And on the 7th of November 2019, my fiancé and I went to check it out. We were planning to stay for an hour or so but actually ended up spending our entire Saturday evening there. There were a lot of great things to see and try, and we definitely left with a lot of impressions.
Here is a round-up of my experience at and some of my favourite vendors from The MFCC Weddings & Events Expo – Malta 2019.
What is the MFCC Weddings & Events Expo?
This Malta wedding event is a long-time running favourite, hosted at the MFCC in Ta 'Qali. The 2022 event (postponed from 2020 and 2021) will actually be the 25th edition – hosted in June/July 2022. It's a free entry event that had more than 170 exhibitors for the 2019 edition. There were vendors within catering, drinks, attire, gifts and more – not only relevant for weddings, but also other events and gatherings.
With close to 200 vendors at the wedding fair, I can't say I remember nor visited all, but some definitely made a great impression on us. Here are my top three favourites from the 2019 Malta Wedding Event.
Favourite vendors from MFCC Weddings & Events Expo 2019
1. Mr. Gin
My fiancé and I first met Mr. Gin at a summer Festa. We were instantly drawn to the cute and decorative horse trailer transformed into a chic bar. My opening line "I don't really like the taste of gin" might not be the best at a mobile gin bar, but somehow this very bar has made me into a gin-drinker. Counter to the poor G&Ts I have tried and dispised earlier in my life, Mr. Gin served up a fresh, Boë violet gin with a premium tonic.
After falling in love with its taste, I have since ordered that very gin at every bar I have found it. (Malta bars where I have found Boë violet gin so far includes Hammett's Gastro Bar, Oia, Thirsty Barber and Yard 32). Luckily, Mr Gin also offers alcohol delivery in Malta.
There were a lot of bars on display at the wedding fair, but none of them as quality-ensured as this. Mr. Gin serves up only the best gins and tonics, and is also able to sort great Spanish wine! If you are planning your wedding in Malta, I would highly recommend hiring Mr. Gin to take care of the alcohol – and a unique talking point.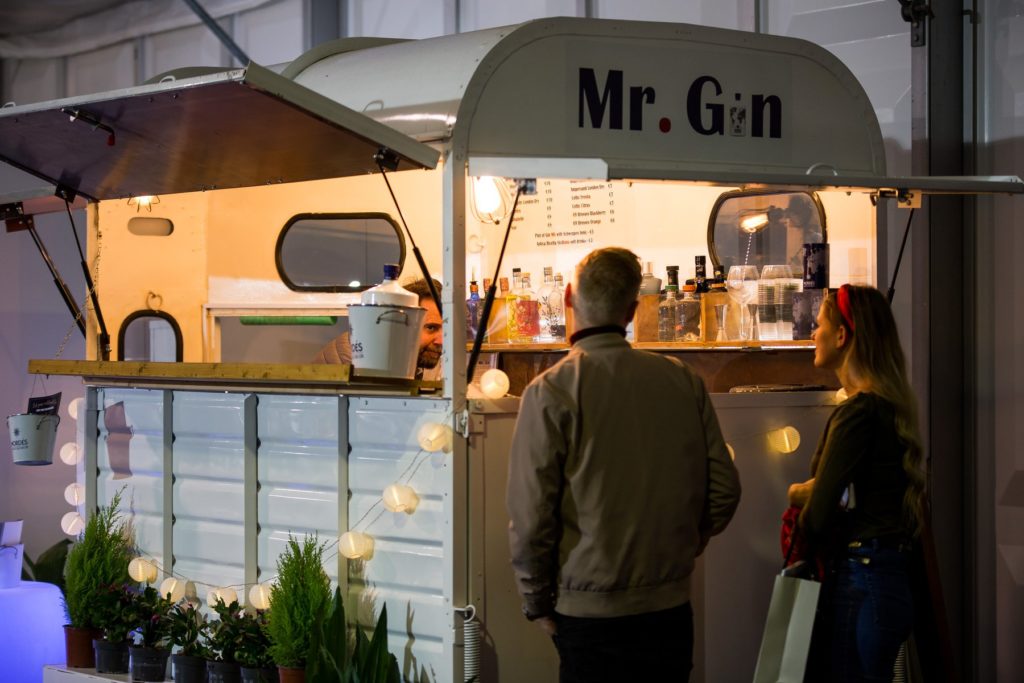 2. Corinthia Caterers
Just as there are many bar services at the event, there are a high number of catering services eager to plan the meal(s) for your special day. While we visited and tested several, Corinthia Caterers was definitvely the most exquisite.
I quickly noticed the cute and delicate mini-canapes Corinthia Caterers had on display. While enjoying some nibbles and a delicious drink, we got information about the venues and packages Corinthia have on offer. Not only was everything tasty and classy, but the sales representative did a great job of finding something that would be perfect for us.
One of my favourite details from Corinthia was that when leaving, we got a lovely gift. We got a small box with a wedding cake taster in it, decorated with our initials on it. To say the least, Corinthia Caterers Malta definitely made an impression on us.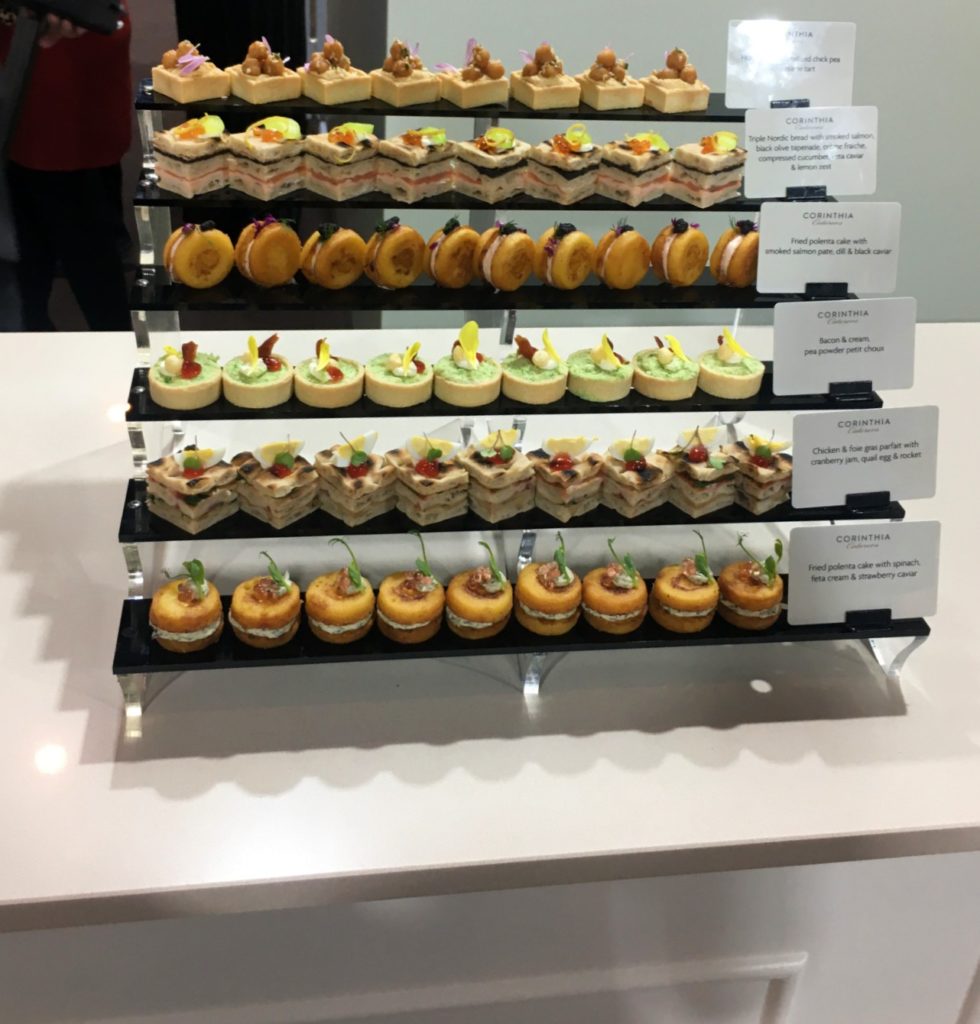 3. Get Hitched
Planning a wedding can be a tedious task, especially if you have to contact all vendors and ask for quotes and availability. I like anything that can make planning easier, which is why I was fascinated with the idea of Get Hitched. They offer a free wedding service where couples can contact multiple suppliers all from one place.
I had already looked at and 'liked' Get Hitched on Facebook before this event, so it was one of the vendors I was excited to see and learn more of. Their team was very friendly and great at explaining the benefits and success rates of their service.
I think Get Hitched is an especially great idea to check out for anyone planning a destination wedding in Malta. The service makes it easier to find good vendors all from one place (for free).
Is the MFCC Weddings & Events Expo worth visiting?
The three companies listed above are my true favourites from this event that I will actually make use of and book if we get married in Malta. But in addition to this, we got to check out a lot of amazing companies and also get lots of inspiration for our wedding. All in all, it was the perfect event to attend with your fiancé or maid of honour to get inspired and ready to get planning.
I would definitely recommend visiting this Malta Wedding Event if you are getting married – or hosting any other big event!
The next wedding fair in Malta will be hosted in 2022. PS: The wedding fair Malta at MFCC is only one of many MFCC events!
Practical information
What: The MFCC Weddings & Events Expo
Where: Malta Fairs & Conventions Centre, Ta 'Qali, Malta
When: June/July, 2022
Price: Free!
---
Do you want more Malta recommendations?
Check out the Malta section at DineWineLove.