If you're looking for a unique gift for your dog-loving friend, parent or partner, I've got you covered. These six gift ideas for dog lovers combine unique products for both two- and four-legged family members!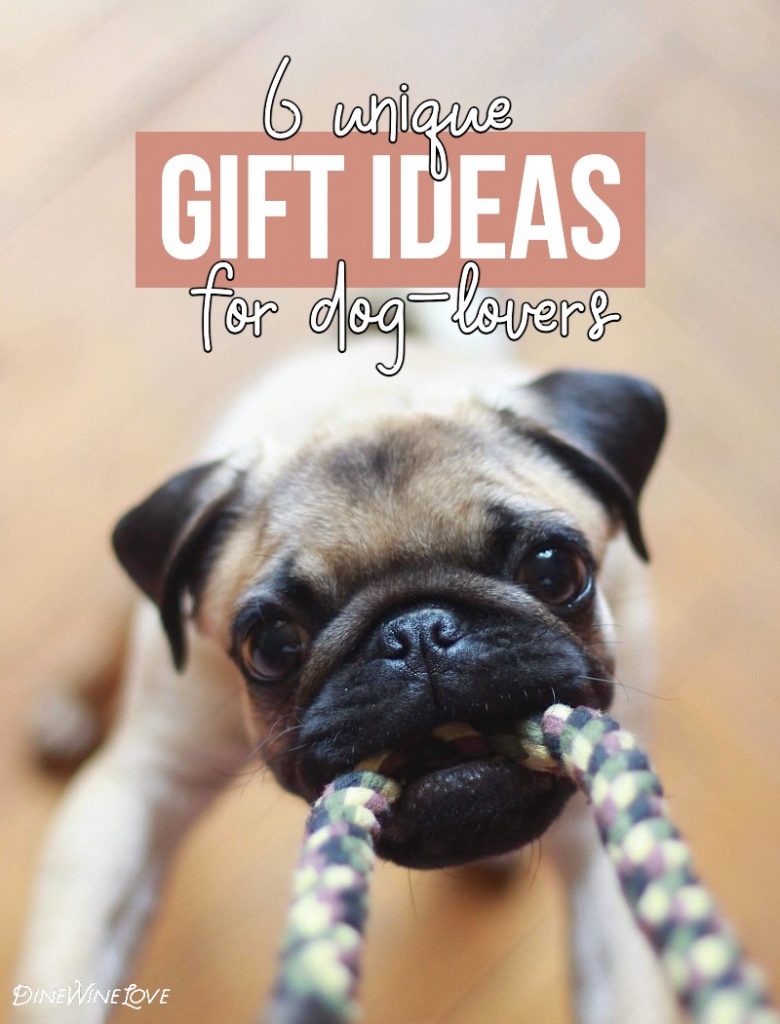 Ad note: This post includes affiliate links. Any purchases made through the affiliate links will help support DineWineLove at no extra cost for you.
Do you have someone in your life who is just obsessed with dogs? I get it. I've always loved animals but ever since my fiancé and I adopted our dog (and then a cat too), I also love anything pet-related. I enjoy it when we get gifts for our pets – or gifts that have a pet theme. Therefore, I wanted to share some of my favourite products and brands to check out when looking for gifts for dog owners.
No matter if it is for a birthday, Christmas, Mother's day or maybe National Pet Day, the following six gift ideas for dog lovers are fun and unique products worth exploring.
1. Dog Subscription Box
A subscription box is a gift that keeps on giving. There is something extra fun about getting a package in the mail filled with different goodies to unbox. And while there are subscription boxes within lots of different categories and niches, not everyone knows about the many dog boxes out there.
Popular dog subscription boxes include BarkBox, PupJoy, BoxDog, PupBox (are you sensing a theme?) and more. The gift boxes are parcels full of tasty dog treats and fun toys. This gives the chance for the four-legged one(s) to enjoy some new treats, while the hooman(s) can explore new brands to shop in the future. No matter if you go for a one-off box, a short subscription period, or a full year, the gift will surely be a big hit.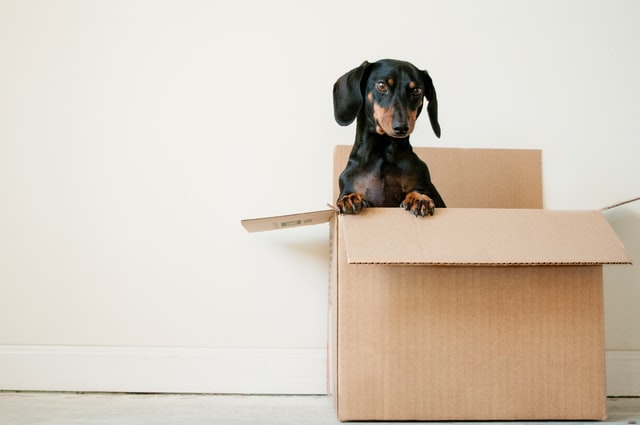 2. Dog DNA Kit
If you know someone who has decided to adopt a dog or maybe has a senior dog they would like to learn more about, a dog DNA kit is a fun idea. In the kit, there will be a small cheek swab that is sent off to a lab once swabbed. The kit result can give information about a dogs breed mix, family tree, health and more.
While a DNA kit is a great gift idea for anyone with rescue dogs or mixed breeds, it can be used for all dogs. There are lots of different kits available, normally costing around €100.
3. Dog Camera
Another unique and modern gift idea is a dog camera. It's not a camera specifically invented for dogs to take cute selfies (I wish!) but rather a camera that lets owners check on their dogs via their mobile phone while out and about. It can be a great tool in training separation anxiety – especially for anxious dogs or puppies.
One of the most popular brands is Furbo, which is available on Amazon. With Furbo, by connecting to Alexa, the owner can talk to the dog and dispense treats if they are behaving. There are also other brands that have come up with their versions of dog cameras and/or treat dispensers.
4. Anxiety Dog Bed
A more budget-friendly gift idea for dogs and their owners is a new dog bed. There are many different styles to choose from, but I recommend a so-called donut anxiety bed. The round shape with a "hole in the middle" and the fluffy fabric is meant to make the dog feel safe, warm and relaxed.
We got our dog, Bo, a donut bed for Christmas and he loves it. He sleeps like a baby in the middle, surrounded by a safe edge. The bed is also really cute and therefore fits in nicely as "decor" in our bedroom or living room.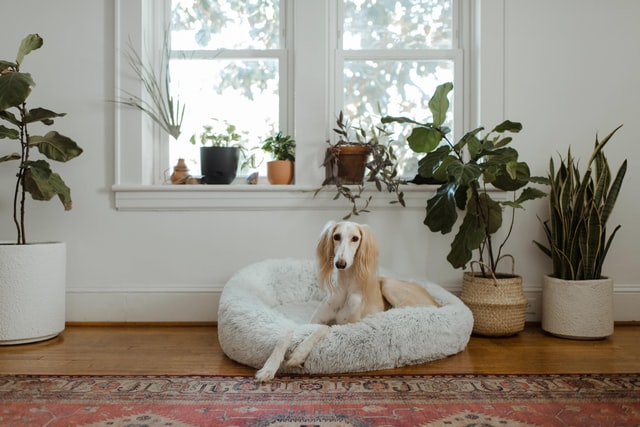 ---
For the final two gift ideas for dog lovers, I want to focus more on the owner than the dog itself. While all of the gift ideas above will be sure to make both the human and dog(s) happy, you can also get creative with dog-themed presents for humans.
5. Personalised Canvas
Anyone obsessed with dogs should have some cool art showcasing their love. You can find cute dog posters or paintings of "random animals", but anything personalised is of course even better. To go the extra step, I recommend getting a customised pet canvas from Iconic Paw.
From this company, you can get personalised pet portraits in different styles. Go for a clean and modern look or "dress up" the pet in costumes. No matter which style you choose, the unique thing will be that the dog(s) in the photo will be the owner's actual dog(s).
All you need to do is to upload your photo and place your order – Iconic Paw will sort the rest. Then you can get a cute canvas like this one I am currently waiting on: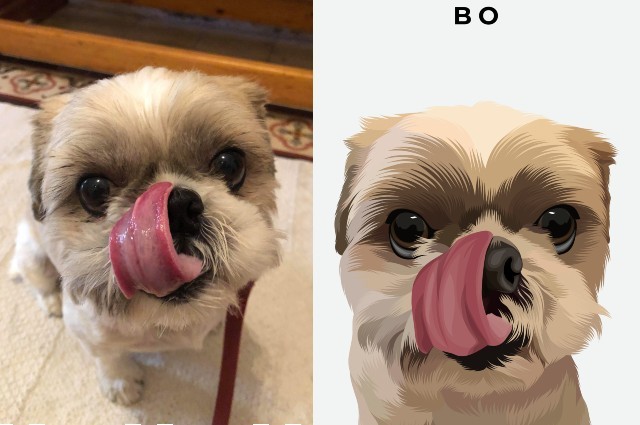 PS: If you want to order a personalised canvas from Iconic Paw, you can use this link and the Iconic Paw discount code "DINEWINELOVE" for 10% off your order.
6. Face Mask with Dog Design
The final gift idea is a topical and covid-friendly one. With the use of face masks at the moment, there are a lot of companies creating unique designs and styles. So if you are looking for some budget-friendly gift ideas for dog lovers, why not go with a face mask with a dog design? Find one with the design of an exact breed, or a subtle and classic mask with a small dog logo on it.
---
There you have my six gift ideas for dog lovers. All brands and products mentioned are either personally tried and tested or currently on the top of my wishlist. Do you have any other unique gift ideas to share?
Want more dog posts?
Check out the Dogs section at DineWineLove