Looking for some nice treats or a proper meal to enjoy this Easter? Find the best 2021 Easter delivery offers in Malta from local businesses right here!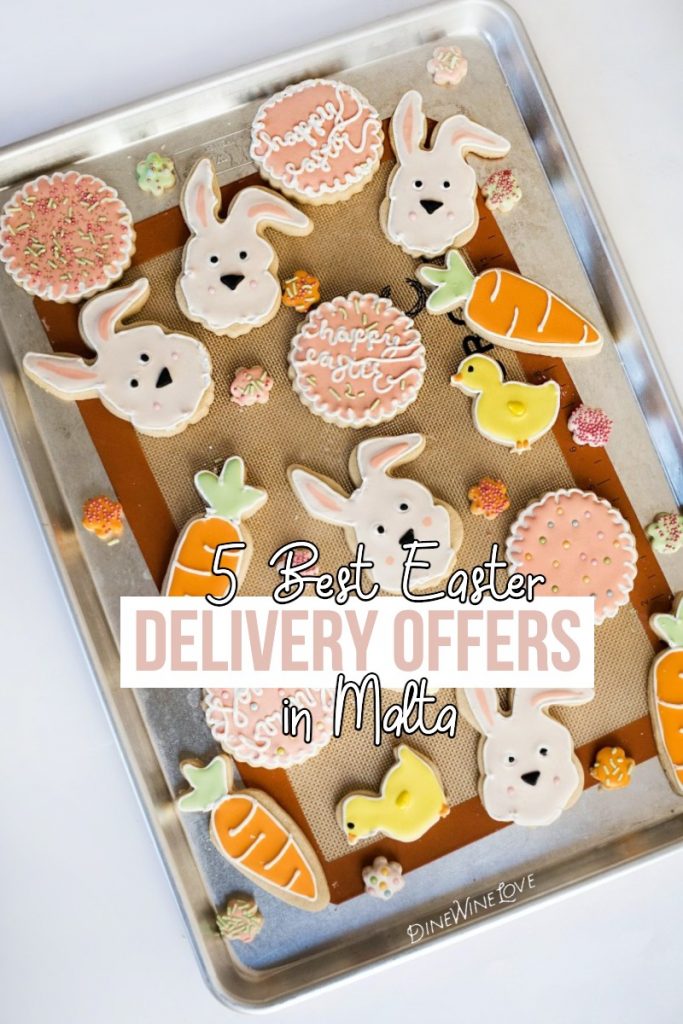 Easter is a time to be surrounded by friends and family to enjoy good food and sweets. While celebrations might look a bit different this year, it's easy to adapt. Even though restaurants are currently closed in Malta, many local businesses are offering take-away and delivery. And I have found some special treats ready for Easter!
Top Five Delivery Deals to Enjoy this Easter
Thanks to the many delivery apps and websites currently offering services in Malta, you can order right about anything you wish straight to your home. But if you are looking for something extra unique and tasty to indulge in this Easter, these are the local businesses to check out:
1. Sweet Treats from Manouche Bakery
Manouche is a craft bakery and bistro that really knows how to make mouthwatering (edible) creations. Even though their physical locations (in St Julians and Valletta) are currently closed, you can still get your orders in. That's because you can order take away and delivery through their website or the Wolt app.
What to order? The Sunday roast Buttermilk Fried Chicken sure looks tasty, but I would not make an Easter order without some homemade Figolla and chocolate easter eggs.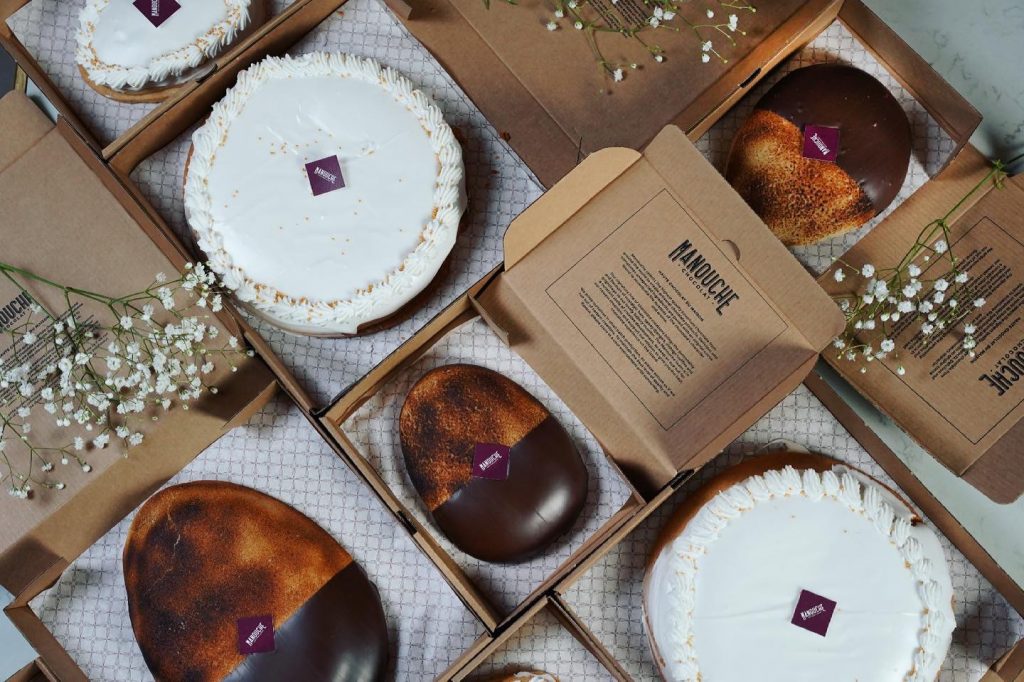 2. Easter Box from Crust
Crust is a triple-threat bakery, bar, and bistro that knows how to serve delicious treats all day long. From Wolt you can order delivery of everything from their brunch dishes to full dinners. But for Easter, Crust has decided to offer up something special. Are you ready to treat yourself?
What to order: The Easter Box from Crust is a luxury three-course meal. The starter (Cannelloni), main (lamb shank) and dessert (Figolla doughnuts) will surely leave you both filled and satisfied. Order a box for two (€70) or four (€125) people.
3. Easter Box from HiMú
HiMú is an absolute winner of a restaurant and franchise, serving proper Italian pizza made from the freshest ingredients. While waiting for restaurants to open again, you can order in. Get HiMú delivered straight to your doorstep from their very own website and app, or the delivery apps Bolt Food and TimeToEat.
Last Easter my fiancé and I ordered an amazing hamper of food for Easter. And if I was still in Malta, I would easily order it again this year!
What to order: A HiMú pizza is good any day of the week, but for a proper Easter lunch, go for the Easter Box. Choose a Gathering or Social Distancing box for the discounted prices of €60 and €40 respectively. You'll get wine, homemade bread, Italian Pancetta and more. Everything you need for a (covid-friendly) feast.
PS: HiMú also has a Food Box not limited to Easter. For €40 you get fresh buffalo mozzarella, burrata, salami, homemade bread, a nice bottle of wine and more – ready to unpack and devour!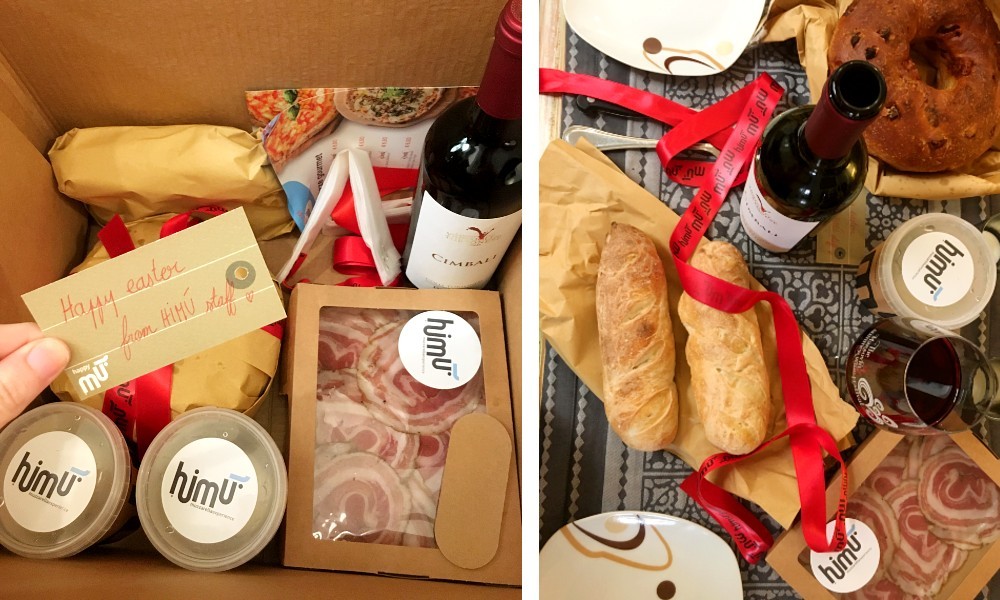 4. Easter Menu at Home from Palazzo Parisio
As you can't dine in at a romantic restaurant in Malta this Easter, a lot of restaurants are offering easter menus to enjoy from home. After scouring the web and Facebook pages for the best deals, I found the Easter menu from Palazzo Parisio to be a clear favourite.
What to order: The Easter Menu from Palazzo Parisio is a decadent three-course meal with a few different options to choose from, priced at €65 per person. Finish your meal with traditional homemade Figolla to get that true Easter meal (at home).
PS! Lots of restaurants offer "Easter Menu at Home" deals. Here are some more alternatives worth checking out: Grain, Noni, L'Agape, Fifty Nine Republic…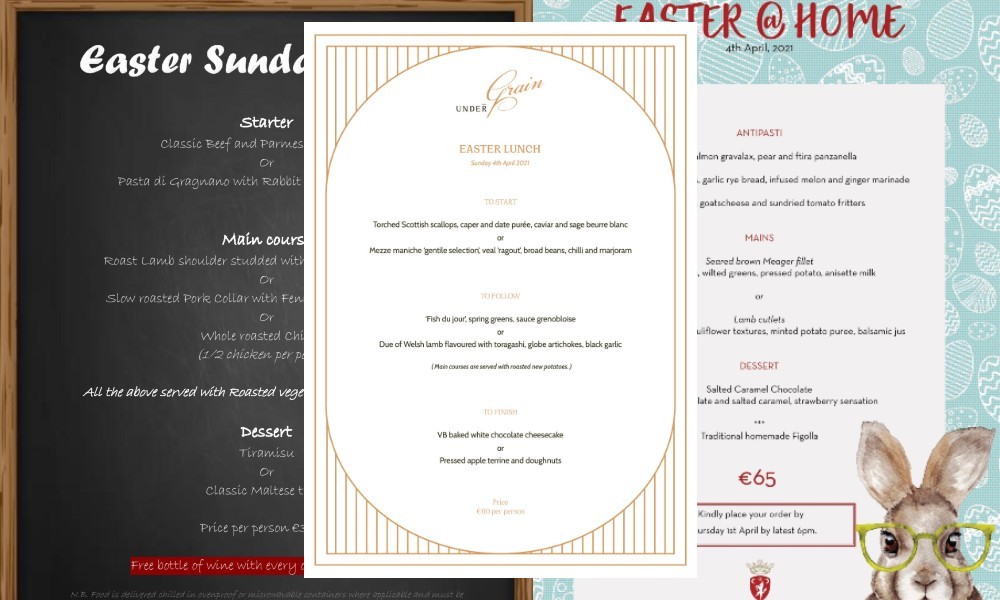 5. A Unique Meal with Street Food from Hammett's
To finish off, if you are looking for something outside of the box (while still in a delivery box), you should check out the newly launched Street Food by Hammett's. While they don't offer any unique Easter deals as of now, the restaurant has a lot of dishes worth a try.
This new concept combines the flavours of Hammett's Mestizo, (Michelin mentioned) Hammett's Macina, and (DWL favourite) Hammett's Gastro Bar in one street-food delivery business.
What to order: Try a mix of dips, small bites, salads and mains to share. It will definitely result in a unique Easter meal this year!
Malta Easter Delivery Deals 2021
With these Easter delivery deals, you can have a fabolous Easter meal from the comfort of your home in Malta. And even better, you'll be supporting some local businesses!
Disclaimer: None of the recommendations above are paid for – they are all 100% honest recommendations based on my personal favourites and research done on the topic. As we no longer live in Malta, I won't even be able to enjoy these deals myself.
Hopefully from my recommendations, you can support some of these local businesses – while appreciating a great meal or treat. Happy Easter!
Want more Malta recommendations?
Check out the Malta section at DineWineLove.