Are you in the process of planning your destination wedding, but not sure who to invite? Read my top tips on how to narrow down and perfect your destination wedding guest list!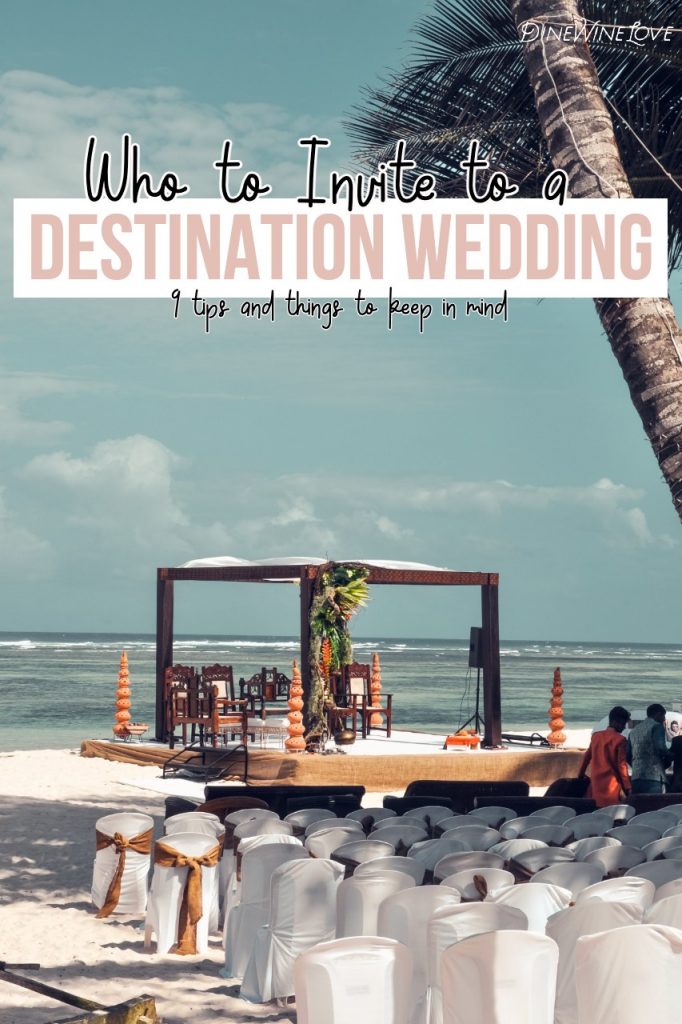 Narrowing down the guest list is never an easy task and especially so with destination weddings. You are asking your guests to travel to another country to celebrate your special day. This often comes with additional costs for the guests as well as a smaller wedding party. Therefore, you want to make sure you've thoroughly thought about who to invite to your destination wedding.
I've briefly mentioned a few of these tips in my how to start planning a wedding guide already. This post will focus on the guest list only – specifically for destination weddings.
How do You Decide Who to Invite to a Destination Wedding?
Below I have listed my top 9 tips and things to keep in mind when selecting your destination wedding guest list.
---
First of all, you need to think about the size of the venue and your budget.
1. What's the size of the venue?
One of the first things you need to decide when planning your destination wedding is the venue. Not only do your guests need to know where the wedding will be held. You also need to know how many you are actually allowed to invite.
Depending on the type of venue you have chosen (for example a villa, a hotel, the beach or a restaurant), there will be a maximum limit of how many you are allowed to invite. If the space is large and the number is high (100+), it shouldn't be something you need to worry too much about. But if the venue for example has a maximum cap of 40 guests, you need to ensure that you don't invite more than what you are allowed to.
2. What's your budget?
Of course, it is not only how many the venue allows you to invite that matters. It is also really important to set and stick to a budget. More guests will result in higher costs. So if you are looking to plan a budget-friendly wedding, the first thing you will need to do is to decide on a smaller guest list.
There is no set price per guest. This will depend on the country, venue, food, alcohol arrangement (open bar or not) and much much more. But at least for catering, it is common to get a quote per guest. This can then help you see how much you will spend depending on the size of your guest list.
Especially for destination weddings, it is also important to think about which costs you will cover and what the guests will pay themselves. Though it is not common, some couples chose to pay for the travel and accommodation of their guests. If you are planning to do so, you will again have a rough estimate of how much it will cost per guest – and how much you can save by not inviting or paying for everyone.
---
Once you know how many you are allowed to invite according to the venue limitations and rough price calculations, it is time to write down your wishes. The following questions can help narrow down who to invite to a destination wedding.
3. Who would be on your initial wish list?
Start by writing down your initial wish list, your "must-have" guests. This can be your close family and friends, best man and maid of honour, bridesmaids etc. This list should be as short as possible, only covering the absolute must-haves. These should be the first guests you invite to ensure there will be space for them.
Second and third phases (and more if needed)
Once you have your initial guest list, it is time to continue with the rest. Write down more friends and family members you would like to invite. This can be done by planning different "phases" or "batches" of guests.
Make an overview of different phases and place your guests in a batch depending on how close you are with them or how important it is for you that they attend the wedding. What sounds like an impossible task will make sense as you start doing it, especially together with your partner.
Especially if you can only invite 50 people or less, this is a good way to send invites to "the most important" guests first. It might sound a bit harsh, but you can then continue to invite the next phases only if there is room for them at the wedding.
4. Are they a part of your past, present or future?
When deciding who to write down for your guest list and which guests are "most important", it is vital to not only think about the past or present moment but also your future. You want the guests of your wedding to be people you will still spend time with and love in the future. You don't want to look back at your wedding photos 10 years from now and wonder why you invited someone from the distant past.
Of course, there is no way to ensure that the friends you have now will still be close friends 10 years from now. And you will also make new relationships after your wedding. But what is important to remember is to not invite people due to obligations or past experiences. This is your wedding and you should only have guests that you will genuinely enjoy having there.
An easy way to decide this is to simply only invite people you have been in contact with the last year or month. If you were best friends in high school but haven't really kept in contact for the past year, why should it be any different in the future? People grow and friendships end. If you have a limited guest list, only invite those that are truly part of your present and will be part of your future.
5. Do you both know them?
Another way to narrow down your destination wedding guest list is to only allow guests both you and your partner have met. This again might sound harsh (especially if you live abroad and don't see friends and family back home a lot). But it is an easy rule to follow that will make the guest list 100% fair and shorter.
6. Plus ones or not?
This is a common wedding etiquette question: should your guests be allowed to bring a plus one or not? There are a few thoughts here. An old-school rule is "no ring, no bring" stating that only married and engaged couples will be able to bring a plus one. But of course, in this day and age, relationships are not as straightforward and not everyone in a dedicated relationship is married.
If your wedding guest list is very limited, the easiest is to not allow any plus ones. You could then for example only invite the partners of your friends/family where you know the partner and exclude all others. Or stick to the rule of thumb of inviting married and engaged couples, but not those "just dating".
7. Kids or no kids?
It might not be as easy to have a kid-free destination abroad as it is if you celebrate in your hometown where parents can simply get a baby sitter for the day. But it is still worth thinking about. Some couples wish to have a kid-free wedding and in the end, it is your decision.
If you decide to have a kid-free destination wedding, it is just important that it is clearly stated from the start. This is because it might be cause for some guests to reject the invitation.
---
Finally, two important things to remember.
8. Don't make exceptions to your rules
It might be tempting to give a few exceptions, but in the case of wedding guest lists, rules are not made to be broken. The rule should be the same for all; either you allow kids/plus-ones or you don't. It is important that this information is clear for your guests from the very start.
If someone asks you to make an exception for them only, you simply have to be firm and stand your ground. You've made the "rule" for a reason and it wouldn't be fair to other guests in a similar situation if some were allowed while others weren't.
9. Have different invites for rehearsal dinner, ceremony and reception
A wedding is no longer just a wedding. Many couples choose to have a rehearsal dinner before the big day. In addition, many weddings have different venues for the ceremony and the reception. You can also have an after-party or a second celebration at a later time. This means that, technically, you could have different guest lists for the different events.
With a destination wedding though, this is easier said than done. You can't really ask someone to travel to another country for a rehearsal dinner but then not invite them to the actual wedding. But you can get creative and have a small ceremony followed by a larger reception, or the other way around. Some couples also do one celebration abroad and then another one "back home".
If you live abroad you can also invite local friends to parts of the wedding only, while guests travelling from abroad join the full day(s).
---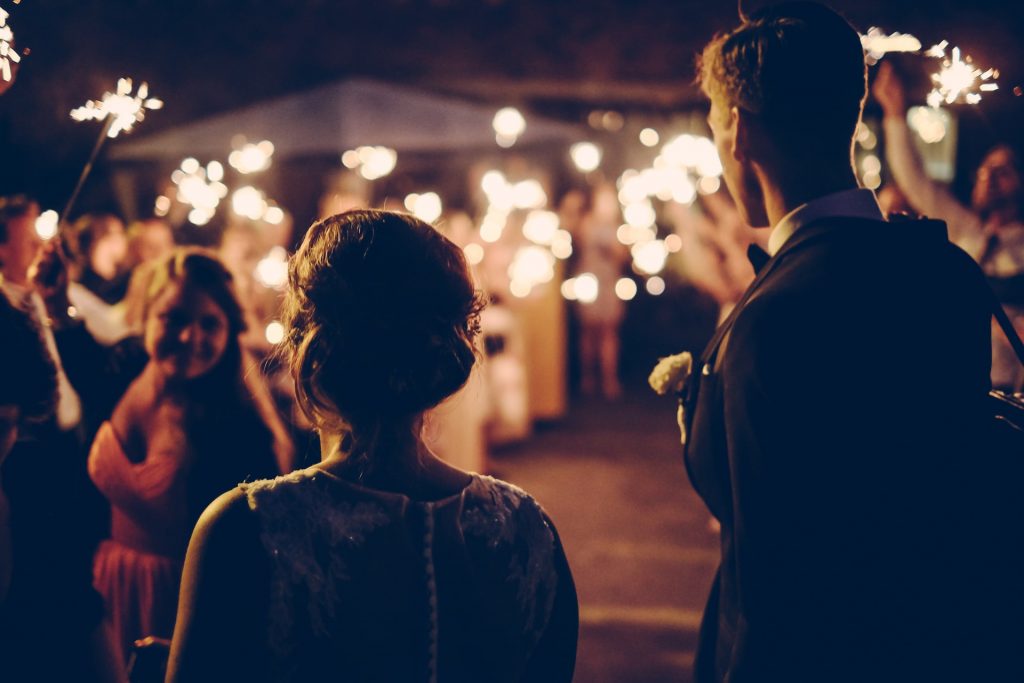 Who to Invite to a Destination Wedding: It's up to You!
In the end, it is fully up to you and your partner who you would like at your wedding. You can invite as many people as you would like (in accordance with point 1 and 2 above). But for destination weddings specifically, it is important that you only invite people you would genuinely like to be there.
Remember to Send Invitations Well in Advance
No matter if you want to invite everyone in one go or in different batches based on your guest list, it is important to invite people well in advance. Local weddings won't require that much planning for the guests, but destination weddings do. Your guests will probably have to book time off work and book flights and accommodation. Therefore I would recommend sending out your invites (or at least an RSVP) one year before the wedding date.
Want more wedding-related content?
Check out the Love and Wedding sections at DineWineLove.