Looking for a great (and covid-friendly) lunch in Marbella? Check out my three favourites of local restaurants that are open for lunch in Costa del Sol!
Click on the restaurant names below to jump to that section or keep scrolling for the full guide!
What's the best lunch in Marbella?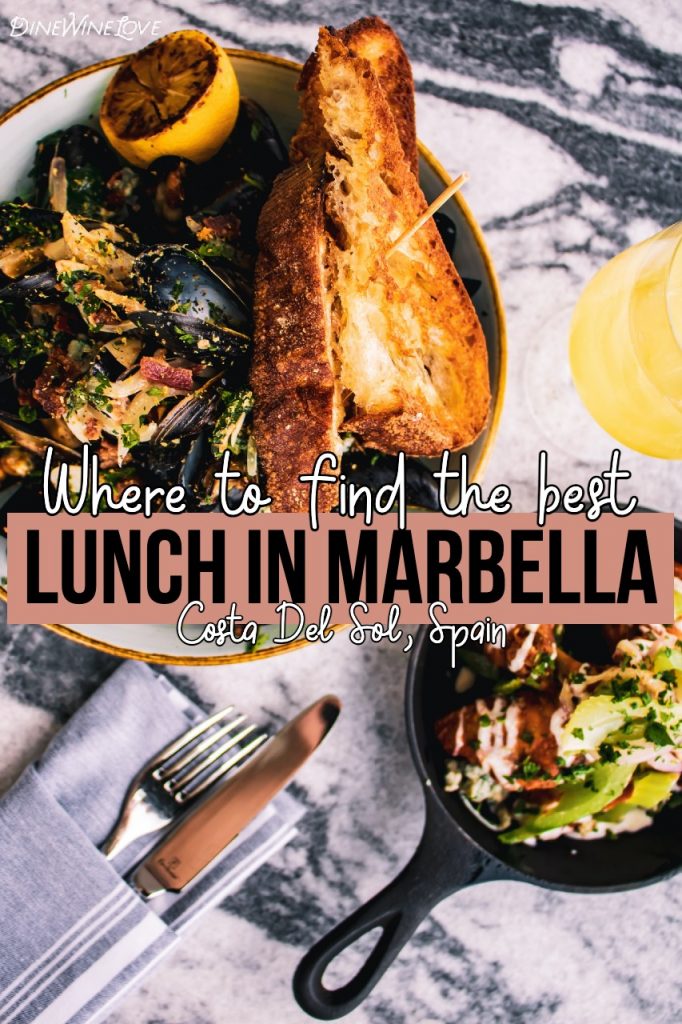 Living in Mijas, very close to the Marbella border, I have been lucky to try some great restaurants in Marbella (when it has been possible to leave the municipality). There is still much more to explore, but I want to highlight some local businesses that have all left me craving for more.
Though it is not an extensive list yet, I have noted down my top three favourites for lunch so far. These are the best of out the best I have tried to date. As I come across other restaurants at the same level, I will add to the list, but I don't want to include any spot that is not absolutely amazing.
Also check out my list of the 6 best lunch restaurants in Mijas, Spain.
Top 3 Restaurants for Lunch in Marbella
Marbella is a big city and municipality in Costa Del Sol, Spain. You will of course find some amazing restaurants in the city centre and old town, but there are also many hidden gems further outside of the city. The following three lunch favourites in Marbella are all such outskirt locations.
Without further ado, here are my top three favourites for lunch in Marbella!
1. The Playwright
Location: C / manzana, local 8 – 11 pueblo los arcos km 191, 29604 Marbella, Málaga
Opening hours: Wednesday to Sunday, 1 pm to 6 pm (but currently closed)
Website: http://theplaywrightmarbella.com/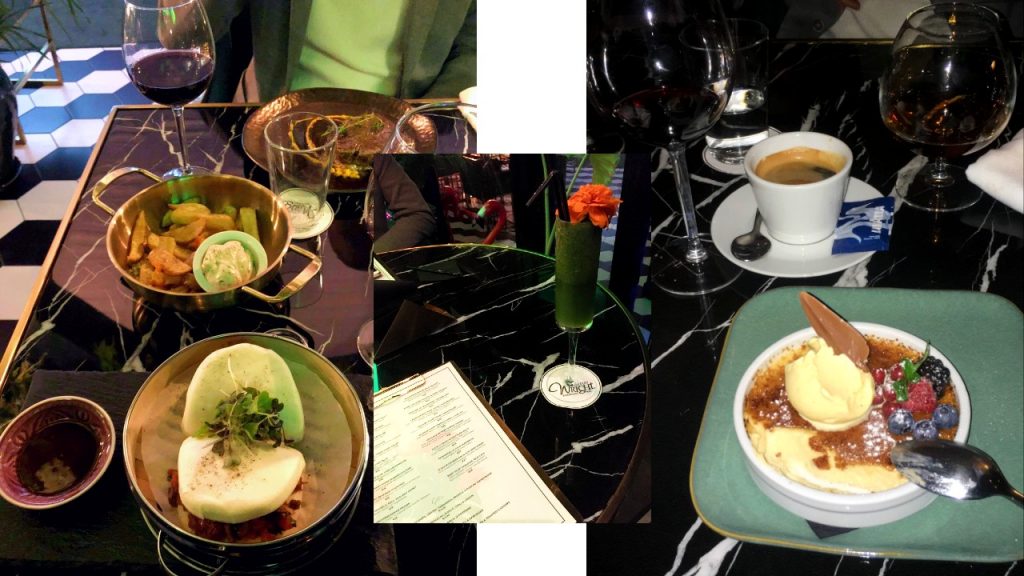 The Playwright is a wonderful restaurant perfect for a romantic date night or high-quality lunch. At The Playwright, you will step into a jungle of a restaurant, with great service, exquisite quality and live music.
The location was fully refurbished in 2020 and is now a very insta-friendly and chic spot. You'll be busy looking at all the amazing details of the restaurant, with neon lights, kitsch decor and luxurious furniture.
What is normally an evening restaurant is now open for lunch every day – from 1 to 6 pm, Wednesday to Sunday. The new lunch menu gives you the option to choose two courses for €20 or three courses for €25. While everything sounds delicious, I would recommend everyone to try the Chargrilled Galician Fillet Steak for the main course.
Want to learn more about the restaurant?
Read my full review of The Playwright.
2. Simbad Beach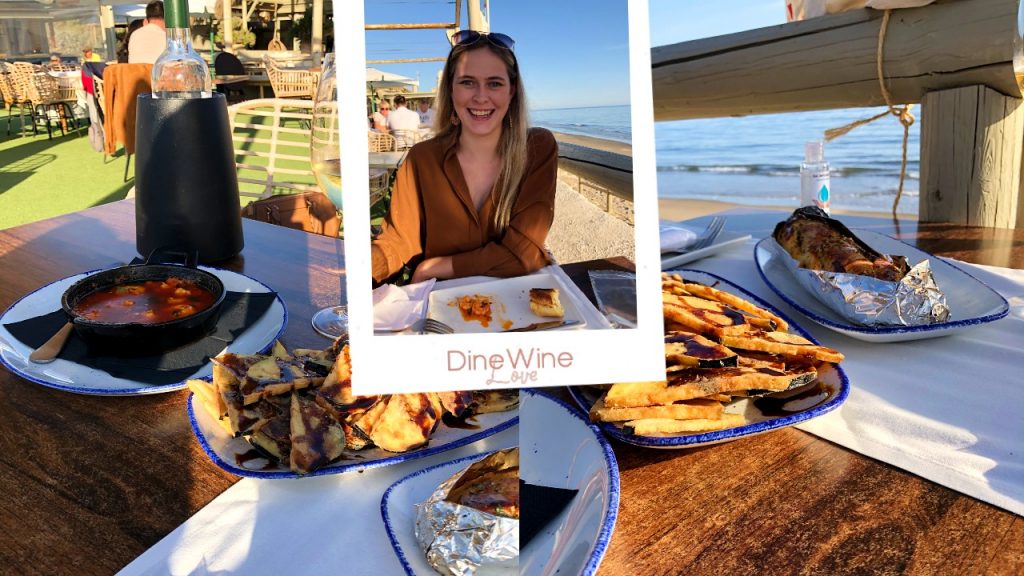 Simbad Restaurant is a classy chiringuito located right next to the beach. With a beautiful view of the ocean, nice decor and a varied menu, everyone will find something they like here. There's live music on the weekends and fun times to be had every single day!
While the kitchen normally opens in the evening, the restaurant is now open for breakfast and lunch! Try the Full English breakfast or a refreshing smoothie from 10 am. If you go in the afternoon, I recommend a seafood lunch or some tapas to share. The restaurant is currently open from 10 am to 6 pm every day.
Full review coming soon!
3. La Scala
Location: Urb. Real de Zaragoza, 62, 29604 Marbella, Málaga
Opening hours: Tuesday to Sunday, 1 pm to 6 pm
Website: https://lascalamarbella.com/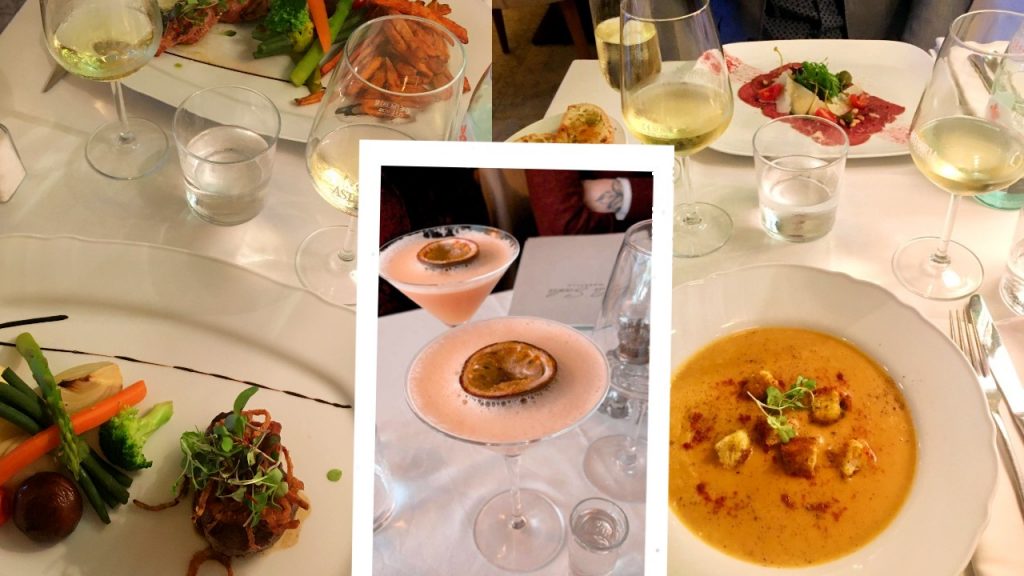 La Scala is a Saturday must-visit. Why? Because they have an absolutely amazing brunch offer. Not only do you get three courses, one cocktail and two hours of unlimited prosecco for €29, but there is also live music tributes.
Every Saturday from 1 to 5.30 pm you can listen to Michael Buble or Sinatra tributes (alternating weeks) while sipping down on prosecco. Or if you want to visit another day, there's a prosecco Leisure Lunch from 1 to 6 pm every Tuesday to Friday as well as Ladies Lunch on Tuesday's.
At La Scala, you can expect live music, delicious Italian food and something bubbly to drink.
Want to learn more about the restaurant?
Read my full review of La Scala.
Have Lunch in Marbella and Support Local!
Above you have my current top three favourites for a memorable lunch in Marbella. With high-quality food and great locations, they are all worth a visit. Local businesses need our support more than ever to stay afloat, so head out for a nice meal or some drinks in your local area.
How are these Favourites Selected?
While these three favourites are a bit different, they all have some similarities that I look at when reviewing (and falling in love with) restaurants. This includes high quality (on both food and service), a good location, and good value for money.
Want more Spain-related content?
Check out the Spain tag at DineWineLove.