Second (and final) round-up of the 2019 covers the best restaurants I have visited this year, from Malta and places I have travelled. Keep reading for the Dine Wine Love best restaurants of 2019!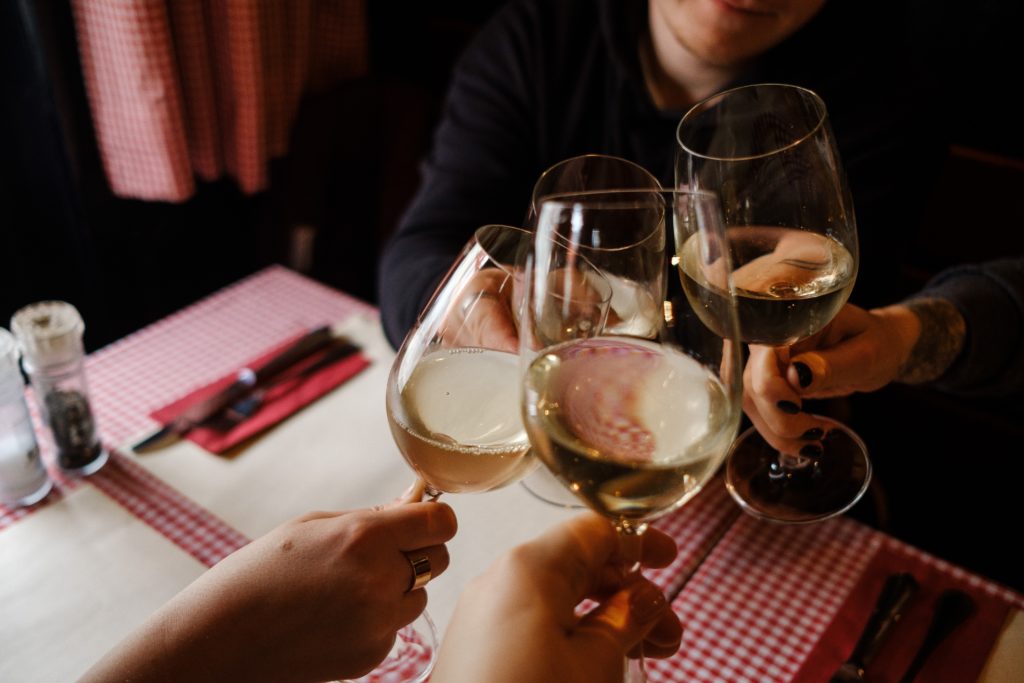 In 2019, my fiancé and I had one "resolution": To visit 10 countries in a year. Adopting a dog at the beginning of the year changed our course a bit. But all in all, I ended up visiting 9 countries in total.
As my favourite thing when travelling is to eat and drink out, I have come across some good restaurants along the way. Browsing through my camera roll and Google Maps reviews, these are my best restaurants of 2019 (in the order I visited them).
Best restaurants of 2019
Machina Eats&Beats, Gdansk (Poland)
Starting off with some pasta! When we visited Gdansk in January 2019, this was one of the highest-rated restaurants on TripAdvisor, so we gave it a go. Although we failed with that same tactic the following day (ending up at an overpriced, empty restaurant) this was luckily a big hit.
At Machina Eats&Beats they serve fresh pasta and you choose the toppings. On a paper menu, you cross off the type of pasta, sauce and ingredients you want. You see the (cheap) prices for each item you choose and there are also some recommendations available for those who have no clue what to get.
The food was delicious, and they also had some great wine to pair it with.
Monte Christo, Baden-Baden (Germany)
Baden-Baden was a random destination where the restaurants were all amazing. For an authentic, home-cooked German meal, I would recommend Schneider`s Restaurant und Weinstube. But my favourite was the tapas bar Monte Christo.
Inside what seems like a small hidden door, the smell of tapas instantly hit us. We ordered a variety of hot and cold tapas dishes, as well as some good drinks. Everything was tasty, but my absolute favourite was the homemade aioli. The decor and atmosphere made it all perfect.
Note that the restaurant is not open on Sundays and Mondays (a big disappointment for me who wanted to go back for a second meal).
Sciacca Grill, Valletta (Malta)
I've already written about Sciacca several times but wanted to quickly mention it again. Alongside KuYa, it is one of my favourite restaurants on the island of Malta. The restaurant is not only dog-friendly but also quite affordable for the quality served.
Dinner at Sciacca is not just a good meal, but an experience. Go up to the meat counter and choose what you want and how you want it grilled. It's almost like dinner and a show – a romantic Malta restaurant perfect for a date night.
Enjoy a full night of wining and dining with great meat, sides, wine, liquors and desserts. If you have a sweet tooth, you have to try the Créme Brûlée.
Mad & Kaffe, Copenhagen (Denmark)
Copenhagen has a lot of great restaurants, but my favourite has to be Mad & Kaffe. It's my go-to for a delicious breakfast in Denmark.
This is a great option for breakfast, lunch, and dinner. All the food I have tried is really fresh and delicious – at quite an affordable price. For breakfast, you can choose a "tapas" selection of different dishes. This includes delicious, homemade cream cheese and fresh bread. For dinner, I tried their falafel burger served with scrumptious fries. Overall you'll get homemade, Scandinavian dishes and flavours with something for everyone.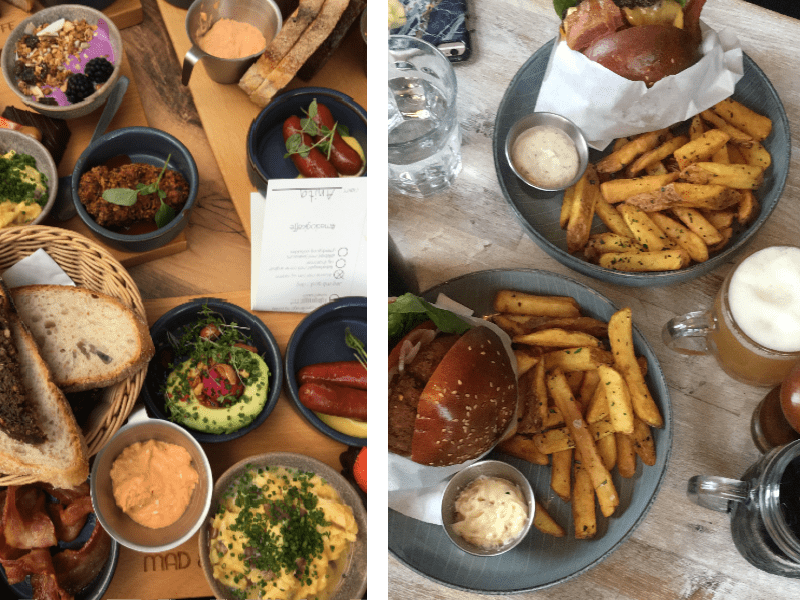 Viva Mexico by Mr taco, Doha (Qatar)
New restaurants open up in Doha all the time. In October 2019, I tried a Mexican restaurant I hadn't seen before and fell in love. Located at The Pearl, in the middle of the colourful houses, is a quirky little restaurant. The decor is at a whole new level (with skulls and colours everywhere) and the atmosphere is festive.
I love Fajitas but I am also quite picky about how I like them. Viva Mexico made them exactly how I love them and even better (with a homemade, sizzling sauce). Everything we had was delicious, and I hope to go back soon!
Fireroom, Istanbul (Turkey)
At the beginning of December 2019, I spent a week in Istanbul for work. I had never been before, so luckily we got a lot of local recommendations from a colleague. My favourite meal from the week was a (green!) falafel burger at Fireroom.
Fireroom is located on the Asian side of Istanbul. They serve up burgers, fries, wings and other cheat-day meals. But you will also find a lot of green options including salads and falafel. The french fries were extremely delicious and there are more than 10 different burgers to choose from. Try a glass of homemade lemonade to drink!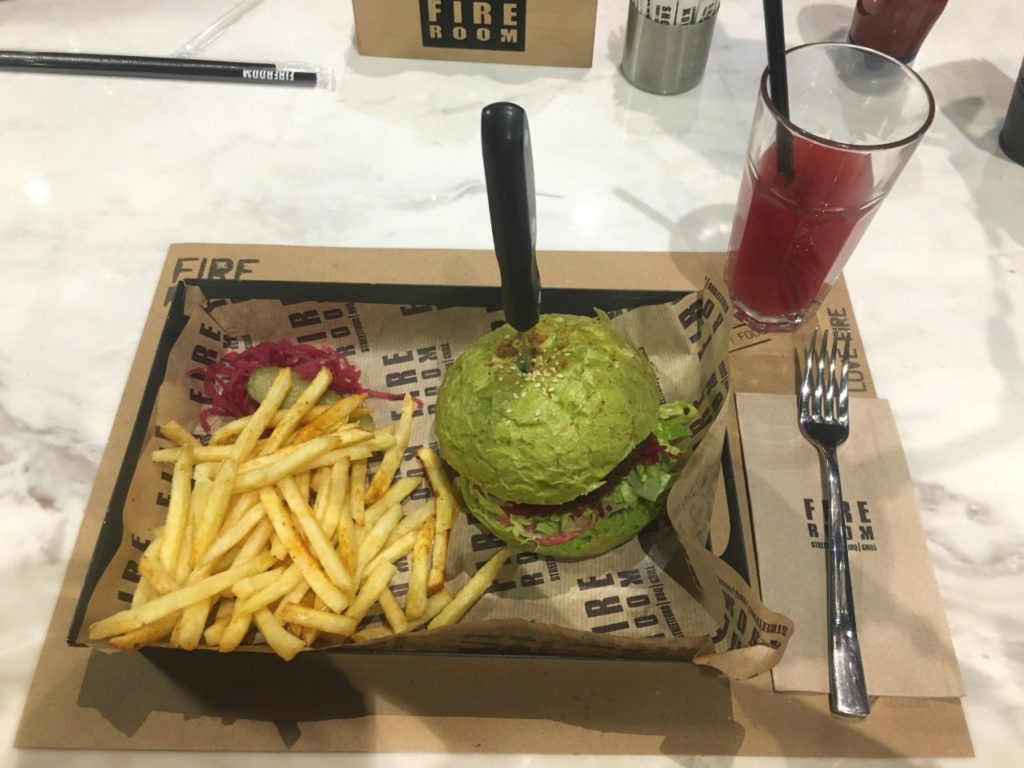 ---
All in all, these are the favourite restaurants I tried out in 2019; the DineWineLove best restaurants of 2019. For more recommendations, check out My Forever Favourite London Restaurants or Malta from A to Z post.
Want more food-related content?
Check out the Dine section at DineWineLove.