After living in Malta for three years, I have accumulated a lot of Malta favourites that I will miss when leaving the island. In this post, I share my Malta favourites from A to Z. Call it the DineWineLove awards, if you will!
The favourites below are a random mix of everything from cities to specific restaurants, shops, and more. They all hold a special place in my heart and are worth visiting and supporting. DineWineLove approved Malta favourites!
DineWineLove Malta Favourites 2020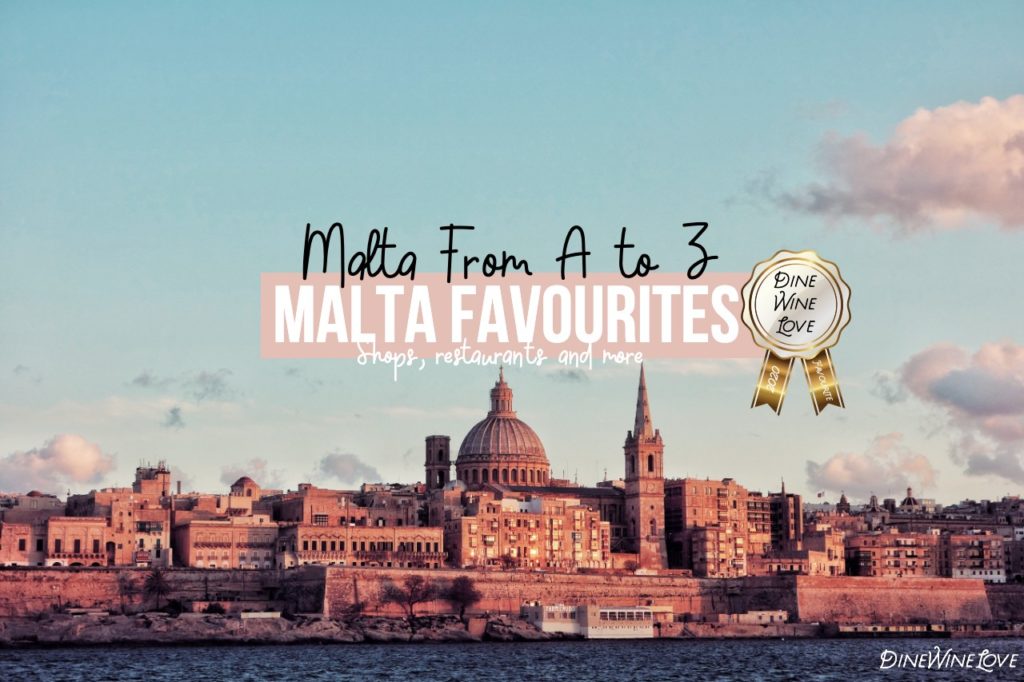 ---
A APH Veterinary Hospital might be a strange start to this list, but it's a valid Malta recommendation for anyone with animals. The vet clinic located in Ta' Qali is the only one the island offering 24/7 availability. The vets here are amazingly helpful with anything and everything.
B Blue Elephant is one of the most romantic restaurants in Malta I know of. The Thai restaurant located at the Hilton hotel in Porto Maso is one of seven award-winning Blue Elephant restaurants worldwide.
C Caseys is a quirky little bar located on the busy street of Rue D'Argens in Gzira. With a pink exterior and cosy interior, it is a bar that feels like home. The atmosphere is unique, drinks cheap, and there are many fun events hosted such as live music, stand-up comedy and quizzes.
D Dixie's kiosk might just be a small shop in Independence Garden, but it's a summer favourite. Laying on the rocks by the ocean there is a free and perfect spot, and with Dixies just a few meters away, drinks can be bought cold and snacks fresh.
E Earth Garden was one of my first experiences in Malta. The festival is unlike any other I have ever visited. In addition to some great music acts (both local and international) you get to experience markets, vegan and healthy food and a sustainable environment – all for an affordable sum.
F Fuzzy Tails is another favourite related to our dog. This local pet & flower shop in Gzira has a great selection of proper dog and cat food and treats. Not only is the quality always amazing, but the service is always extraordinary from the friendliest couple running the shop.
G is for GoTo. Not owning a car in Malta gets you a long way on the small island, but sometimes, it is nice to drive around yourself. If you want to go for a drive every now and then, carsharing via the electric cars from GoTo is a perfect and environmentally-friendly option.
H HiMú is one of my absolute favourite restaurants in Malta. The 'chain' has two locations in Malta (St Julians and Gzira). Their pizza is delicious, but the main attraction is their home-made mozzarella. See my full HiMú review for more.
I There are many pool clubs in Malta, but my absolute favourite must be Infinity by Hugo's. Located on the rooftop of Hugo's hotels and with a view of St George's Bay and beyond, it's the chicest beach club around. The service is always beyond great, making you feel relaxed and at peace.
J Malta has many great local shops, and J&M Butcher is a favourite I was quickly introduced to. I can be quite picky with meat quality, but at J&M everything is always great. You can get the finest steaks, German sausages, fresh mince and delicious sides to pair it all with.
K KuYa is one of my top Malta favourites. The food truck-turned-restaurant has been mentioned in the 2020 Michelin guide for good reason. Serving up delicious food in a casual atmosphere and with affordable prices, KuYa is perfect for dining in and out. Read more in my full KuYa review.
L Little Sweden should be on the Malta favourites list of any Scandinavian living in Malta. When I miss home or feel like a special treat, walking to Little Sweden is always a good idea. Here you'll find Scandinavian food and candy, at treat-yourself prices.
M Manouche is another great bakery located in St Julians. In contrast to Frensh bakery, here you can both get French assortments for take-away and enjoy a meal in. With an amazing bistro atmosphere, this is the perfect spot for a date night – or to pick up delicious macarons.
N NAAR is my favourite dog-friendly restaurant in Malta. The location is beautiful overlooking Ballutta Bay. The menu has a lot of delicious options that cater to everyone – including a unique dog menu! Perfect for an after-work or weekend brunch.
O O'Clock is one of those bars I always long to and wish I visited more. This amazing little bar located in Sliema serves up some amazing cocktails, with talented bartenders ready to mix whatever you want. You'll be greeted with delicious nibbles and an amazing atmosphere.
P Prosciutteria is a restaurant that I walked past countless times before trying it, but after ordering some pizzas for delivery, I quickly got hooked. The pizzas at Prosciutteria are unique, flavourful and delicious. The menu is quite slim but perfected.
Q The Queen Victoria City Pub in Valletta is my favourite Malta pub. There are many British-inspired pubs on the island, but none are as authentic and classy as Queen Victoria. This pub is pretty massive but always crowded – the music is perfect and drink selection enormous.
R This favourite might be more of an inside joke, but there is something special about the Russian Karaoke Bar in St Julians. Paceville can get quite tiring pretty fast, but a bit further down towards Porto Maso, there's a karaoke bar unlike any other.
S is for Sciacca. My favourite steak-house and romantic restaurant on the island. With two locations (Valletta and St Julians), an amazing meat selection and a dog-friendly atmosphere, this is one of my all-time Malta favourites. Read my full Sciacca review for more.
T Thirsty Barber has got to be the coolest bar in Malta. Inspired by the speakeasies of the prohibition period, this bar serves up quality drinks paired with a unique atmosphere and good times. My favourite nights are when there is live music playing to a full bar.
U Upper Barrakka Gardens is where I fell in love with Malta and got engaged to the love of my life. There is something unique about the atmosphere of the little garden on the edge of Valletta – especially if the flowers are in full bloom or fireworks shoot across the sky.
V Valletta tops my list of cities of Malta favourites. The tiny capital has so much to offer in culture, architecture, food and experiences. A perfect Saturday in Malta is spent exploring the streets, bars and restaurants of Valletta.
W Wolt and Bolt Food are both great food-delivery apps, but only Wolt offers alcohol delivery from the restaurants available. The restaurants are mostly the same, but the app has some perks such as coupon codes and quicker deliveries (from my experience).
X I love Gozo and Xlendi is my favourite spot on the island. This beautiful town is perfect for a romantic getaway or fun day trip. Try the great restaurants by the sea, see the breathtaking scenery of the beach and mountain, and enjoy the colourful sunset.
Y Although Yard 32 is a gin bar, it is not just for gin-lovers. This quirky little bar in Valletta with the blue door and seats on the alleyway street offers drinks and food to everyone. Try some of their delicious tapas, get a drink recommendation, and enjoy the live music when available. Read more in my full Yard 32 review.
Z Zen Japanese Sushi Bar & Teppanyaki is a special-occasion restaurant. Zen also offers take-away sushi, but if you want to go all-in, this is the restaurant to try. Located in Portomaso, St Julians, it is one of the most romantic restaurants in Malta.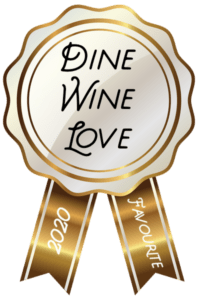 Want more Malta recommendations?
Check out the Malta section at DineWineLove.