Are you travelling to Gozo for a day or weekend? Get my very best insider tips and tricks on how to spend 24 hours in Gozo!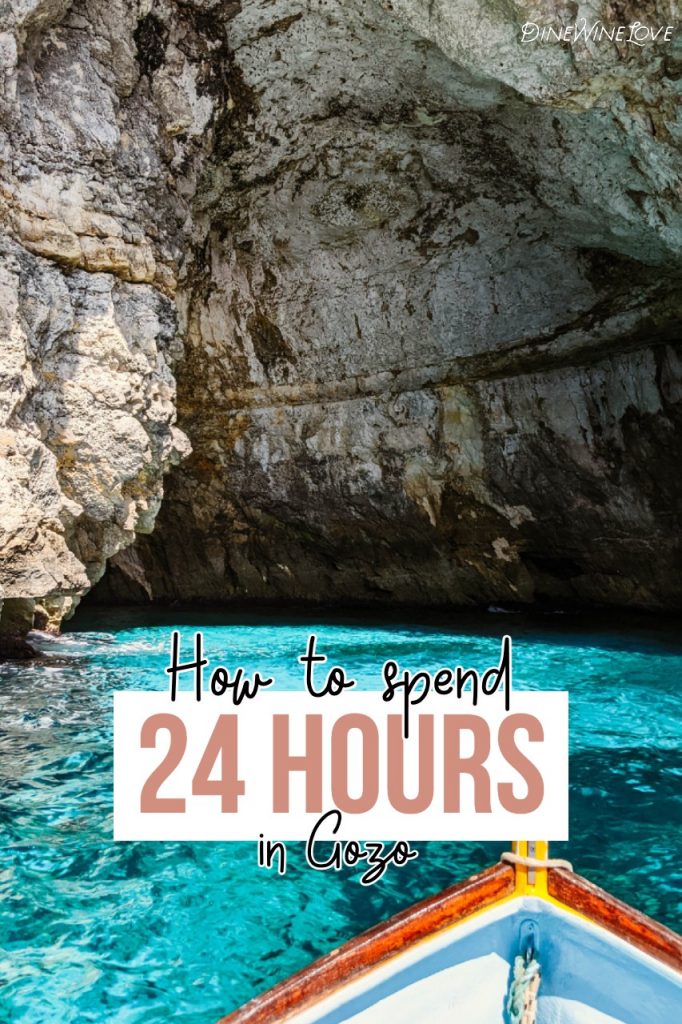 About Gozo
Gozo is the second-largest island of the Maltese archipelago in the Mediterranian Sea. The island has a population of less than 50 000 Gozitans, compared to Malta's almost 500 000. It is also very different than what Malta is known for – instead of big cities and booming businesses, you'll find a more at-peace atmosphere with rural character and beautiful scenery.
In the middle of the island, the capital of Victoria is located. This is the heart and centre of Gozo, the largest city and settlement. There are also several other big towns known for its tourism and attractions, such as Marsalforn and Xlendi. For Game of Thrones fans especially, Gozo will probably always be known for the Azure Window (from the Dothraki wedding scene) although it collapsed in 2017.
All in all, Gozo is a small island with lots to offer. It is the perfect place to slow down and enjoy a more tranquil lifestyle, surrounded by the sea and nature.
Interested in learning more about Malta?
Read my ultimate Malta guide full of facts about the island(s).
How to get to Gozo
There is currently only one way to get to this tiny island in the middle of the Mediterranean sea, and that is by boat. There have been talks of a tunnel from Malta to Gozo, but that is still a long way to go. If you are arriving from abroad, there is no airport on the island, only the one on Malta (in Luqa).
From the island of Malta, you can take a bus or drive to Cirkewwa. This is where the ferry goes to Mgarr, Gozo. The ferry takes around 30 minutes and normally departs every 45 minutes.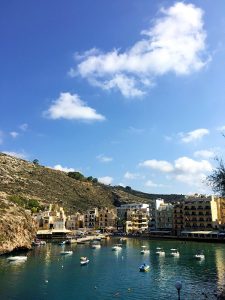 Depending on where in Malta you start your journey, it will take up to 1 hour to drive to the ferry. If you have your own car (or a rental car), it is easy to drive whenever you want. You can also rent a GoTo car – either to park before boarding the ferry or as a roundtrip deal. Lastly, you have the option of taking a bus – either to the ferry or as a tourist bus all the way to Gozo.
A fun fact about the Gozo ferry is that you won't pay anything on your way to Gozo. You'll only need to buy a ticket on Gozo before boarding the ferry "back to Malta". The fares are then up to €15 for car + driver and up to €5 per passenger. For more information, see the Gozo Channel website.
Want to explore the island of Malta too?
Read my what to do in Malta guide full of 51 ideas of things to do in Malta.
---
How to spend a full day in Gozo
Even though Gozo is a tiny island, you will have a full day in front of you if you are planning to cover it all in one day. But if you have 24 hours in Gozo, you can get a lot done from morning till evening.
Below I have shared my 10 recommended steps to cover in a perfect Gozo itinerary. Hopefully, you'll be able to squeeze it all in. But if not, you'll have a good excuse to come back again!
PS: This itinerary works best if you have your own (/rental) car.
Itinerary for a jam-packed 24 hours in Gozo
1. Have Breakfast in Victoria
I believe that the perfect place to start your 24 hours in Gozo is in Victoria. This is the capital of Gozo, also known as Rabat. Here you can find a lot of cute shops, restaurants and cafés along the main street and tucked in the side streets. Head to a cafe such as Capitan Spriss or Cafe Jubilee for a coffee and some breakfast to fuel up for the big day.
2. Take a Stroll in Villa Rundle Gardens
Starting slow, I also believe you have to stop by the Villa Rundle Gardens while in Victoria. This beautiful little park is perfect for a stroll and snapping some insta-worthy photos. You can seek some shade from the palm trees while exploring the many flowers and different themes the garden holds.
3. Explore the Cittadella (and its view)
Onto the showstopper: The fortified citadel, known as the Cittadella or Castello. This historic castle has gone through a lot of purposes and constructions through its lifetime and is today a most popular tourist attraction. It's also included on Malta's tentative list of UNESCO World Heritage Sites.
There's a Cittadella Visitors' Centre and some museums/exhibitions around, but you won't have to pay anything to enjoy this magnificent architecture. Simply walk in to first admire the Cathedral of the Assumption and then climb the stairs of the castle to get a breathtaking view of Gozo.
4. Sneak into the Tal Mixta Cave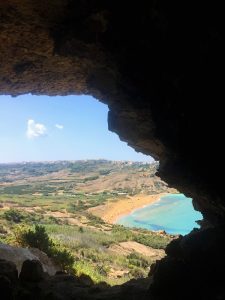 Once you've seen a good bit of Victoria, it is time to drive around and explore the rest of the island. Start with a local treasure that is not known to most tourists – the Tal Mixta cave (and its view of Rambla Bay).
This is a hidden gem in Nadur, Gozo. You will find it on Google Maps (see my map above) but you can't drive all the way there. Park at the side of the road and walk down to the cave, where you'll get a beautiful view and photo op from a viewing point in the cave.
5. See the Xwejni Salt Pans
Another tourist attraction not to be missed is the Xwejni salt pans. It might not sound like much (and it doesn't smell great) but it's actually a unique sight. There are more than 300 salt pans – liquid panes mirroring the sky above – that creates a beautiful backdrop.
If you visit early in the morning, you can watch as the salt is being collected by the local families owning the salt pans. This is a long tradition for many of the families, as they now sell the salt to local shops and tourists. It's a fascinating part of the local culture and also something that has resulted in a lot of cool photographs.
6. Try the Catch of the Day in Marsalforn
After driving around and exploring some tourist attractions, I think it is time to start thinking about lunch. While there are many great restaurants all over the island, there is one that I absolutely love for lunch: Il Gabbiano in Marsalforn.
Il Gabbiano is a local and dog-friendly restaurant located right next to the cliffs and sea. Here you can try lots of local dishes with a focus on fresh, local seafood. Sit down for lunch and rest your legs while the sea breeze gently brushes your hair.
7. Photograph – or take a dip in – Wied il-Għasri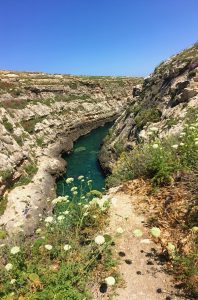 Time for some more sightseeing with another hidden gem. Wied il-Għasri is a narrow bay with clear blue waters. It's a popular spot for divers looking to explore the underwater caves, but it is also worth a visit even if you don't want to dip in the water.
The reason why I believe everyone should take a trip here is simply because of how beautiful the view is. You can park your car close by and walk up to the stairs leading down to the little swimming bay. From the stairs, you can look straight down into the turquoise water surrounded by cliffs cutting into the water and blossoming into the sky.
8. Visit the Fallen Azure Window
While the Azure Window collapsed in 2017, it is still very common to head there to watch its ruins. And especially for GoT fans, it can be worth heading there to see the location of the Dothraki wedding in real life. You can watch what is left of the collapsed natural arch and admire the waves crashing into the cliffs.
9. Go For a Swim
If the time – and weather – allows for it, it might be tempting to cool down with a swim before dinner. Then you can head to a beach or lagoon somewhere along the coast. In the Google Maps further up you can find some of my recommendations, including the popular Ramla Bay in Nadur.
10. Have Dinner with a View in Xlendi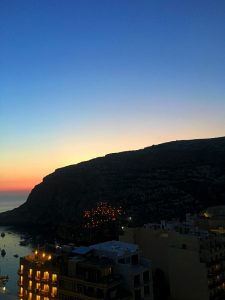 If you have the option to, I would always recommend ending a day or 24 hours in Gozo in Xlendi. Xlendi is a quaint and romantic village located southwest on Gozo.
There are lots of good restaurants to try for dinner, with my favourites being the three seaside restaurants Ta' Karolina, The Stone Crab, and The Boathouse. Try some local food while admiring the stunning view and listening to the waves crashing on the beach. A reservation is recommended!
Want to explore the island of Malta too?
Check out my guide on how to spend 24 hours in Malta.
How to spend a weekend in Gozo
As you can see from the itinerary above, there is a lot to do and explore on the small island of Gozo. While it works well for a day trip, a full weekend is even better.
When you have a full weekend in Gozo, you can relax more in the daytime and enjoy some wine in the evening. There are many great hotels and AirBnBs around the island. I recommend to either find a hotel in Xlendi (my absolute favourite!) or a farmhouse outside of the cities somewhere.
Enjoy your 24 hours in Gozo!
Gozo is perfect for a romantic getaway or a staycation with friends – enjoy!
Want more Malta guides?
Check out the Malta tag at DineWineLove.