Are you seeking a cold pint paired with a fresh, mouthwatering pizza? You're in luck, as that (and much more!) is exactly what the bar Mike and Julie at Steve's Bar has on offer. Read all about this Mijas bar in my review – or rather recommendation!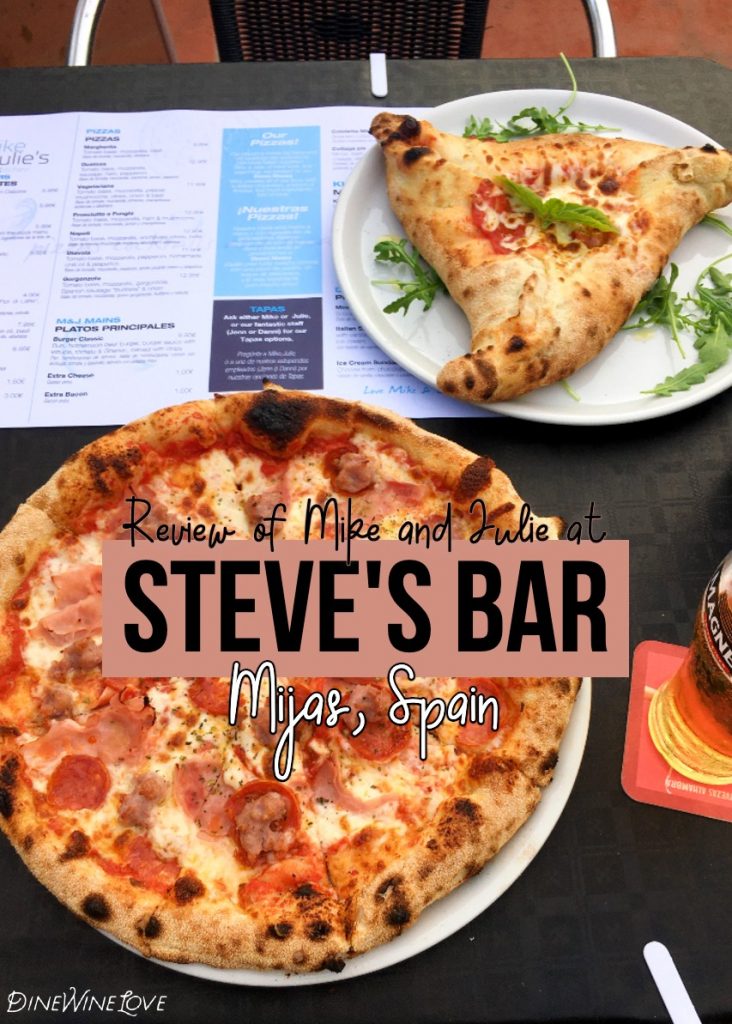 I spent three years looking for the best pizza in Malta, so when I moved to Spain, I had to start the search again. While Spain might not be known as a pizza haven, there's been a few good ones so far. But nothing can compete with the Italian pizza being served at Mike and Julie at Steve's Bar…
What is Mike and Julie at Steve's Bar?
Other than a mouthful? The bar, which I normally just refer to as "Steve's Bar" is a cosy hangout located in Torrenueva, Mijas. It's owned and run by the lovely, British couple Mike and Julie who serve up good drinks, good food, and good times all around.
With a beer garden and lots of outside seating, this is the perfect spot to spend a sunny afternoon. And for colder nights or rainy days, you can head inside where you'll find a pool table, live sports, and an overall casual atmosphere.
In many ways, Mike and Julie at Steve's Bar feels like more than just a bar. It's a local favourite that brings people together – often over some scrumptious food. It won't take long until the owners recognise you and remember your go-to order. And no matter if you've been before or not, you'll always be greeted with a friendly smile and great service.
This is a family-friendly, pet-friendly spot for everyone to enjoy!
The menu, food and drinks at Steve's Bar
Steve's Bar is like a British pub meets an Italian restaurant. You can keep it super casual with a pint while watching football on the telly, or have a full dining experience with wine, pizza, Sunday Roast and desserts available.
No matter what you order, you can be sure it is homemade. And in addition to all the delicious food, you can try out some signature cocktails!
What to order
First thing first: You need to try the homemade, Italian pizza. Go for the Pepperoni if you like a bit of a kick, or choose your preferred toppings. You could also try something from their mini menu (tapas) as a starter or nibbles to share.
New: Gourmet Burgers
In March 2021, Mike and Julie at Steve's Bar has launched a new menu of gourmet burgers. With brioche buns, homemade patties and different variations, there's a tasty burger for everyone. During the soft launch all burgers are 50% off and definitely worth checking out!
PS: The bar often offers deals where you can get a meal (or more) plus a drink for a set price, so keep an eye out for that!
---
Verdict
Mike and Julie at Steve's Bar is a local favourite that we keep coming back to. The pizza is just as Italian and fresh as the menu says, and the atmosphere is so warm and friendly. Head down for a pint, try one of their special cocktails, or grab a pizza to-go.
Mike and Julie at Steve's Bar, Details

Where: Av. de Rota, 6L, 29649 Torrenueva, Málaga
Opening hours: Monday and Wednesday-Friday, 2 pm to 6 pm. Saturday and Sunday, 1 pm to 6 pm*

*Opening hours are currently limited and subject to change due to Covid-19 restrictions

Contact: +34 662608423
Want more Spain recommendations?
Check out the Spain section at DineWineLove.