Looking for a great (and covid-friendly) lunch in Mijas and surrounding areas? Then check out some of my favourites that are currently offering a new set of opening hours and events!
I haven't lived in Spain for too long yet, but I have already enjoyed some great meals around the area of Mijas, Marbella and Málaga. With the new restrictions introduced to Andalucía, I have to stay put in the municipality of Mijas for now, and bars and restaurants close at 6 pm. But that does not mean I have to stay inside all day!
While it is still allowed, I think it is important to head out whenever possible, to support the local businesses. My social media has been filled with updated opening hours of the bars and restaurants I follow, so I wanted to compile a list of some of my favourites.
At the following bars and restaurants, you can enjoy lunch in Mijas or the surrounding areas. All while helping support some local businesses that are struggling to stay open!
The Best Lunch Spots in (La Cala de) Mijas
Mijas has a lot of restaurants and shops and I have especially found La Cala de Mijas to be a great place for a meal or drink out. The following restaurants are all around La Cala de Mijas, well within the Mijas border.
PS: If you find it difficult to understand where the border of Mijas goes, I recommend checking this map.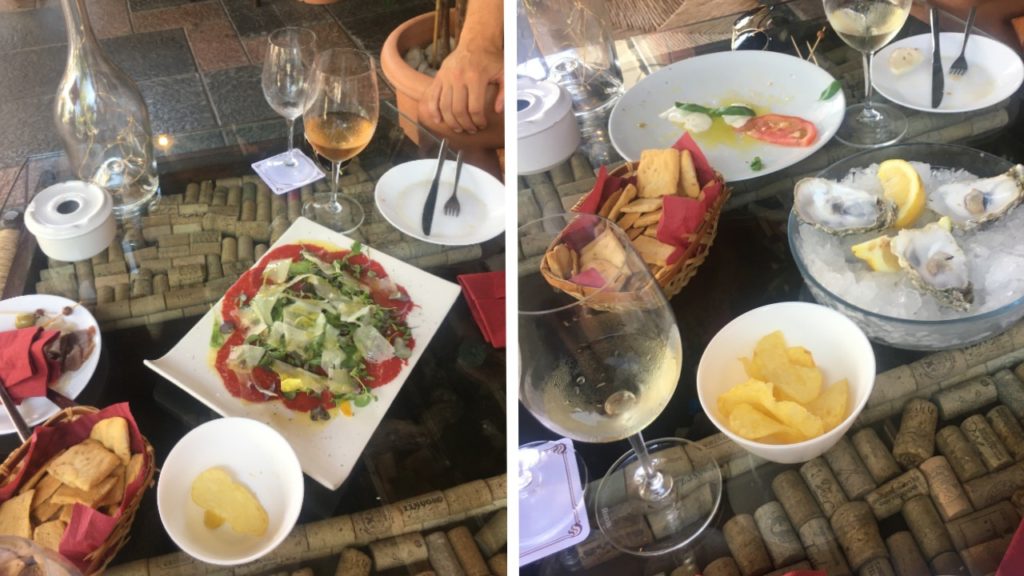 1. Vinoteca Pura Cepa
Boulevard de la Cala, 49, 29649 La Cala de Mijas, Málaga
I don't remember how I stumbled across Vinoteca Pura Cepa, but I am so glad that I did. It has quickly become one of my favourite places in the area, either for a quick drink or full Sunday brunch. The staff is so friendly and helpful and we have discovered so many great local wines from their recommendations.
While you might think that a Vinoteca is best enjoyed at night, it is actually the perfect daytime-spot. With the current opening hours from 11 am to 6 pm, Pura Cepa offers daily offerings including wine tastings and brunch on both Saturday and Sunday.
If you can't or don't want to sit down for a drink, head into the shop and bring home some local wine. Though you will probably want to stay for at least one glass…
Read my full review of Vinoteca Pura Cepa.
2. Olivia's La Cala
Calle Torreón, 13, 29649 La Cala de Mijas, Málaga
Olivia's is definitely a local favourite around here. And this restaurant serves up a great lunch offer from 12 to 5 pm. For only €14.95 you will be served a delicious three-course lunch in Mijas.
The restaurant is set on a large terrace, overlooking the ocean, where you can enjoy the sunshine and light breeze. They also offer live music events on weekends and a grand cocktail menu.
Read my full review of Olivia's.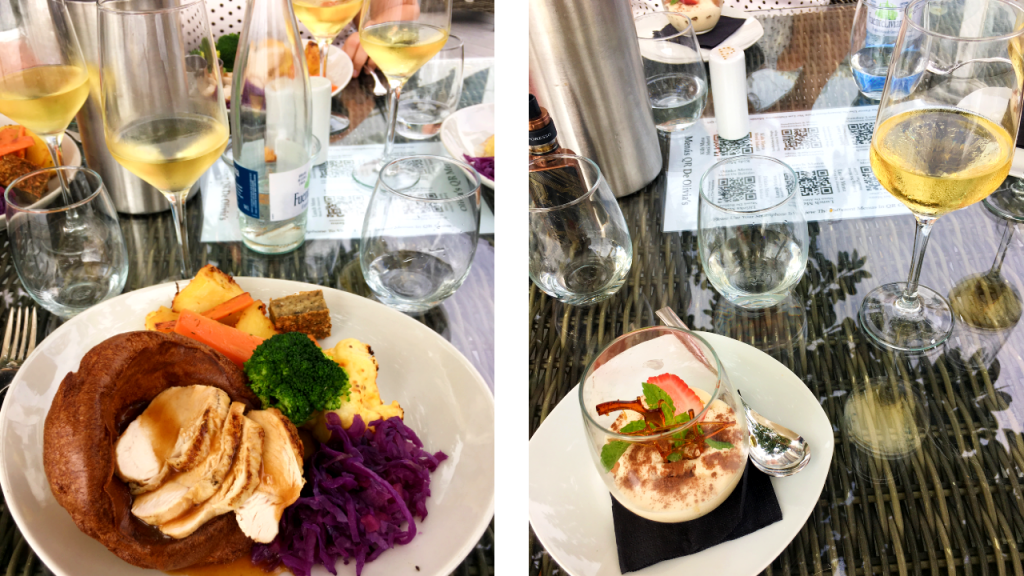 3. Mike and Julie at Steve's Bar
Av. de Jerez, 29649 Las Lagunas de Mijas, Málaga
Not too far from the La Cala de Mijas city centre, you will find Steve's Bar – or what is now known as Mike and Julie at Steve's Bar. Owned and run by the lovely couple Mike and Julie, and with a proper Italian chef on the team, this is yet another local favourite.
At this bar, there's a sunny beer garden, a pool table, football on the telly, good music playing and good vibes all over. Both two-legged and four-legged guests are welcome!
Due to the current restrictions, the bar is currently open from 1 pm to 6 pm every day (and serving food all day). Head there for lunch or a quick pint – though I don't recommend you leaving without trying their pizza. It might just be the best pizza I have tried in Spain!
Full review coming soon!
4. The Times
Calle Cartama, 47, 29649 Las Lagunas de Mijas, Málaga
The Times Sports Bar & Grill is a wonderful bar and restaurant with a lot of deliciousness on the menu. The bar actually has two food menus: some traditional lunch and dinner dishes (international/British) and a Mexican menu. All I can say is, you'll find it difficult to choose what to order!
Even though I have only visited The Times once so far, it in many ways reminds me of Steve's Bar. The staff is so friendly and attentive, there's a lovely beer garden where you can soak some sun and a pool table inside.
Colin and Lisa who run The Times are doing what they can to keep up with the times (get it?) and currently offer some different opening hours. The bar is closed on Tuesday, but every other day you can visit from 9 am to 6 pm. Go for breakfast, lunch, a drink or dinner!
5. Scandals
Av de España, 22, 29649 Calahonda, Málaga
Scandals Bar Lounge & Restaurant is the only restaurant on this list I have not have the pleasure to visit yet, but I still wanted to mention it. With live music on Wednesdays and Sundays and a grand tapas menu, it seems like the perfect spot.
Sit inside or on the sunny terrace, and enjoy freshly cooked food from the Michelin award-winning chef. Check out this season's specials and share some dishes. The bar is located in Calahonda. I will have to visit soon, and hopefully, you'll do the same!
Marbella
These restaurants are both situated right across the Mijas border. This means that if you live in the Marbella municipality, you can go there without a problem. And if you live in Mijas, you can look forward to going there once the borders open again!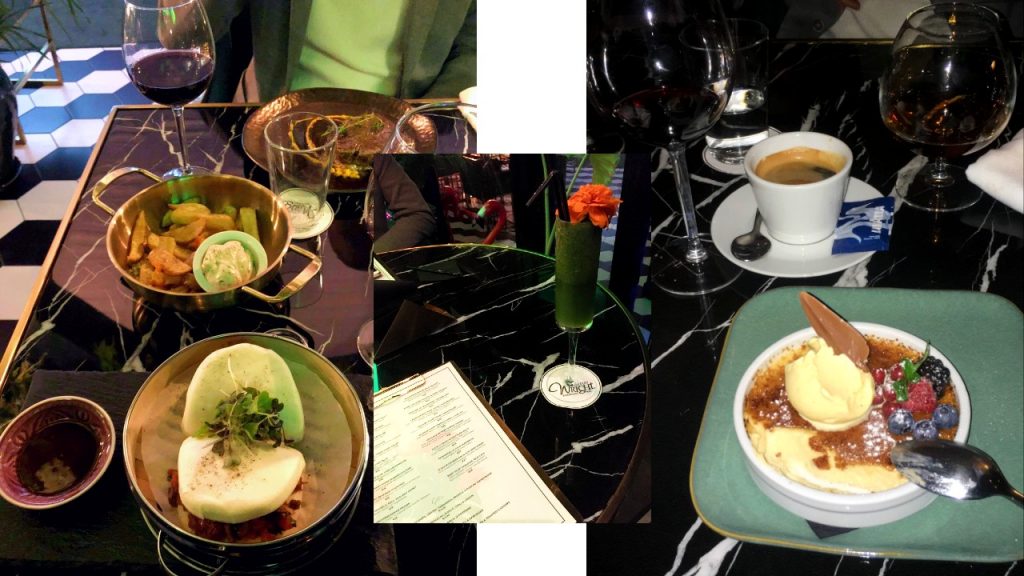 1. The Playwright
C / manzana, local 8 – 11 pueblo los arcos km 191, 29604 Marbella, Málaga
The Playwright is a wonderful restaurant that popped up on my Facebook feed one day. And now that I have been once (and can't go back due to the current restrictions) I envy everyone who lives in Marbella. At The Playwright, you can step into a jungle of a restaurant, with great service, exquisite quality and live music.
What is normally an evening restaurant is now open for lunch every day – from 1 to 6 pm, Wednesday to Sunday. The new lunch menu gives you the option to choose two courses for €20 or three courses for €25. While everything sounds delicious, I would recommend everyone to try the Chargrilled Galician Fillet Steak for the main course.
Read my full review of The Playwright.
2. Simbad Beach
Urb. Marbesa, s/n, 29604 Marbella, Málaga
Simbad Restaurant is a classy chiringuito located right next to the beach. With a beautiful view of the ocean, nice decor and a varied menu, everyone will find something they like here. There's live music on the weekends and fun times to be had every single day!
While the kitchen normally opens in the evening, the restaurant is now open for breakfast and lunch! Try the Full English breakfast or a refreshing smoothie from 9 am or head there in the afternoon. The restaurant is currently open from 9 am to 6 pm every day.
Full review coming soon!
3. La Scala
Urb. Real de Zaragoza, 62, 29604 Marbella, Málaga
If it wasn't for the current restrictions, I would spend this Saturday at La Scala. Why? Because they have an absolutely amazing brunch offer. Not only do you get three courses, one cocktail and two hours of unlimited prosecco for €29, but there is also live music tributes.
Every Saturday from 1 to 5.30 pm you can listen to Michael Buble or Sinatra tributes (alternating weeks) while sipping down on prosecco. Or if you want to visit another day, there's a prosecco lunch from 1 to 6 pm on Tuesday to Friday.
At La Scala you can expect live music, delicious Italian food and something bubbly to drink.
Read my full review of La Scala.
Enjoy a Lunch in Mijas or Marbella and Support Local!
And there you have my list of 5 restaurants in Mijas and 3 restaurants in Marbella waiting for your support. Depending on which of the two municipalities you live in, try out one of my favourites or another local business this week. Enjoy a great lunch and stay safe!
Want more Spain-related content?
Check out the Spain tag at DineWineLove.