Looking for some recommendations of cafés and restaurants in Berlin? Then check out these top five favourites, getting you through a great weekend filled with delicious lunch, dinners, and coffee breaks.
What are the Best Cafés and Restaurants in Berlin?
Click on any of the names above to jump to that section, or keep scrolling for a short review of all the restaurants!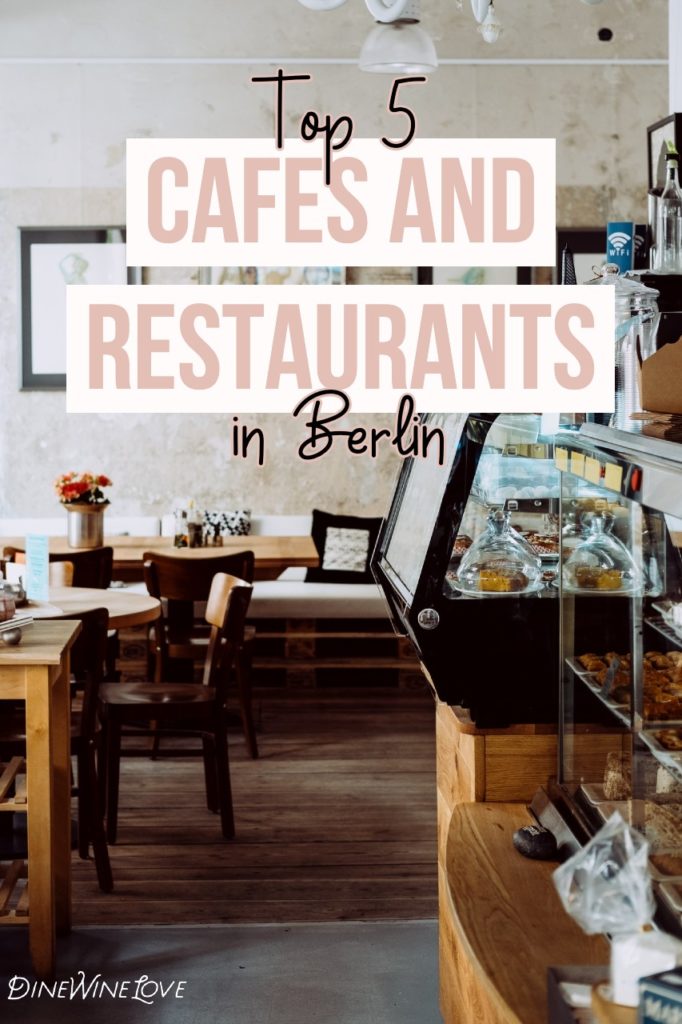 Berlin was the last place I travelled to before the COVID-19 pandemic broke out. I had never been before and was originally going for a concert that got cancelled. Instead, I prepared a list of restaurants to check out and had so many great culinary experiences.
A friend and I enjoyed a long weekend from Friday to Tuesday, mostly just exploring museums, coffee shops, bars, and restaurants. We stayed by the Berlin East Side Gallery but travelled to several parts of the city.
Here are the favourite restaurants and cafés I tried:
Three amazing restaurants in Berlin
1. Scheers Schnitzel
Scheers Schnitzel Details
On our first night in Berlin, we had a proper dinner at Scheers Schnitzel: Wiener Snitzel and Berliner Pilsner. Here you'll find homemade German food, served on a paper plate and with your choice of sauces on the side.
Scheers Schnitzel is as far from fancy as you get, but there is something so cool about the laidback vibe. The menu is simple but with many choices, serving up different types of homemade schnitzel with various sides.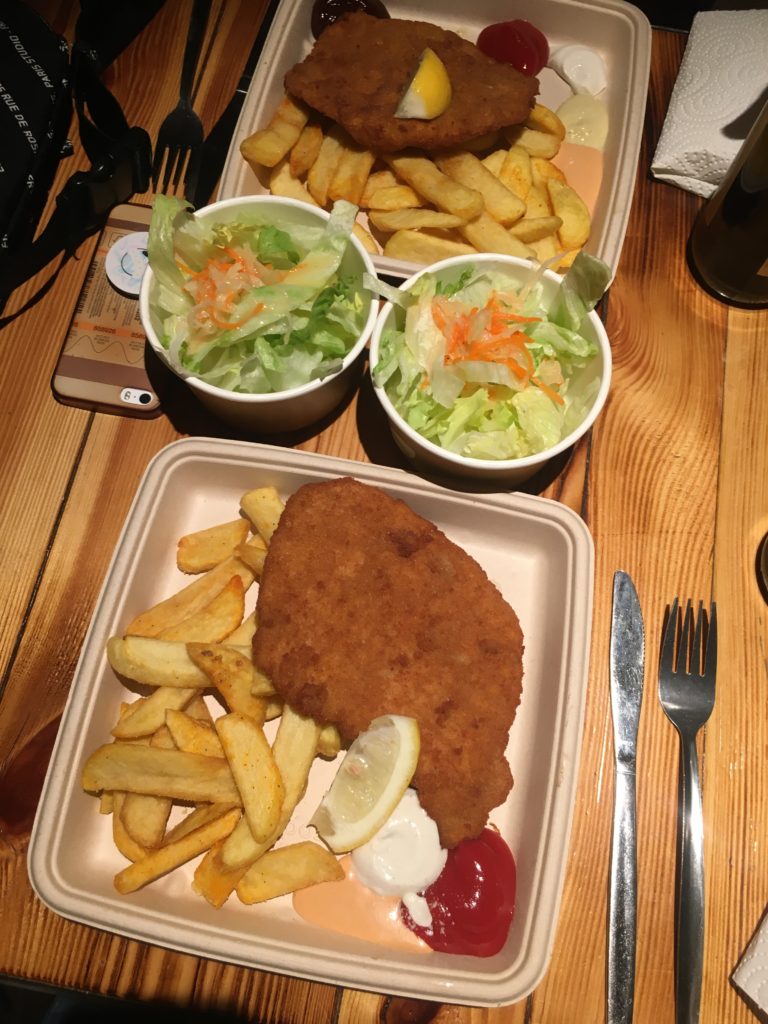 Scheers Schnitzel
There is lots to choose from, the atmosphere is casual and drinks good, and best of all, it is very affordable. If you want a proper German meal, I recommend starting here.
2. Transit
Transit Details

Where: Sonntagstraße 28, 10245 Berlin and Rosenthaler Str. 68, 10119 Berlin
Opening hours: Monday to Sunday, 12 am to 12 pm
Website: https://www.transit-restaurants.com/
Contact: +49 30 26948415 and +49 30 24781645
From casual to fancy, Transit was the top recommendation from a friend when I shared I was going to Berlin. The restaurant is basically an Asian tapas place, serving up Southeast-Asian cuisine in small bowls.
The experience at Transit is great. Once you're seated at a table, you simply fill out a notepad menu, crossing out which dishes you would like to try. It is all very affordable and everything is of high quality.
We ordered a mix of vegetarian, fish and meat dishes to share, and everything was absolutely delicious. Paired with a nice bottle of wine, we thought the bill would be on the pricier end. But it actually ended up surprising us both with how affordable the full meal ended up.
I can't wait to go back!
3. Lawrence
Lawrence Details

Where: Oranienburger Str. 69, 10117 Berlin
Opening hours: Monday to Sunday, 10 am to 10 pm
Website: https://lawrence.berlin/
Contact: +49 30 55104526
Lawrence is an Arabic restaurant located in the heart of the former Jewish Quarter in Berlin. This beautiful restaurant serves up some delicious dishes and also has an amazing story and passion.
This is a restaurant that I had not researched in advance, but that we stumbled upon and were intrigued to visit. The restaurant is absolutely amazing, not only because it serves up great dishes, but because it tells a story.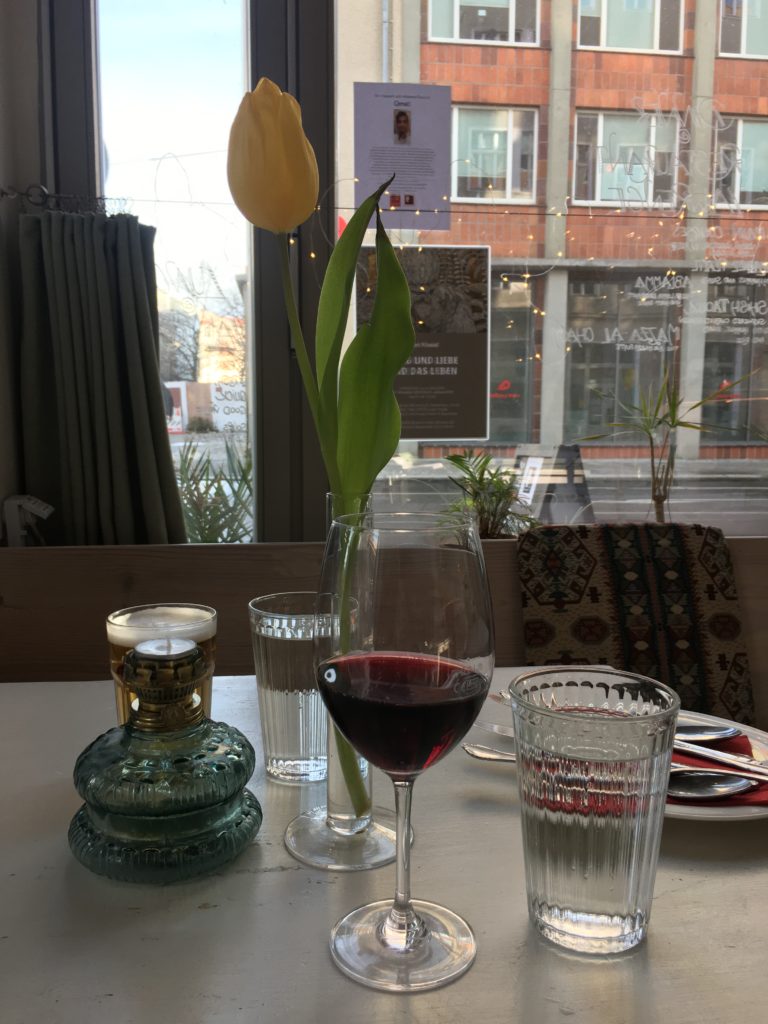 Lebanese wine, mezze platter and one of the best lentil soups I've had (not pictured) – Lawrence served up a perfect lunch!
In the restaurant and in the back, there is beautiful art hanging on the walls. In addition, they host events and have catering services. But the most beautiful thing is the history of Lawrence, which is an extension of the FREEARTUS artists + refugees united non-profit.
Two of the best cafés in Berlin
4. Zeit für Brot
Zeit für Brot Details

Where: 4 locations across Berlin
Opening hours: Monday to Friday, 7 am to 8 pm (weekends 8 am to 8 pm)
Website: https://zeitfuerbrot.com/
Both a local and tourist favourite, Zeit für Brot serves up some serious instagrammable and delicious buns. This was on the top of my list from my Berlin restaurant research and I was happy to discover that the café/bakery had several locations across Berlin.
It wasn't until my last day in Berlin I would get there though, as 1) the bakery closes quite early in the late afternoon and 2) we were met with a massive queue. Definitely a popular spot, this is not somewhere to go if you are in a rush.
The price point is not the most affordable but with a delicious cinnamon bun in your mouth, it will all be worth it. The coffee is good too, and if you are looking for fresh bread in Berlin, this should be your go-to.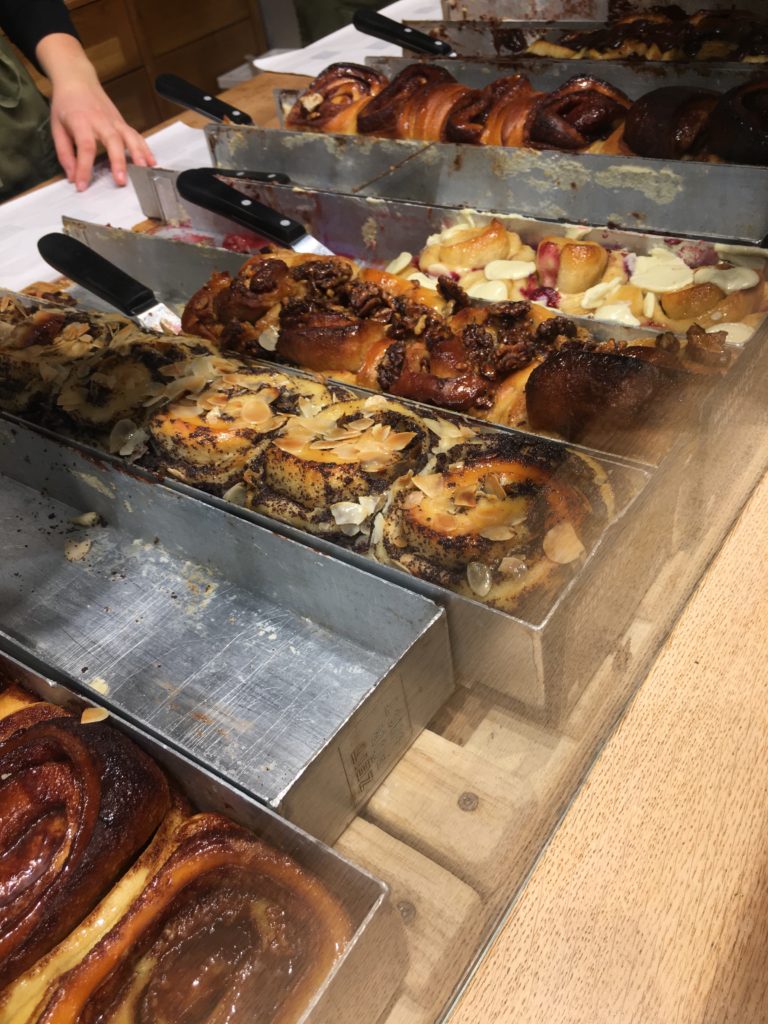 5. Café im Jüdischen Museum Berlin
Café im Jüdischen Museum Berlin Details

Where: Jüdisches Museum: Lindenstraße 9-14, 10969 Berlin
Opening hours: Monday to Sunday, 10 am to 8 pm
Website: https://www.esskultur-berlin.de/
Contact: +49 30 948592982
Most of what we did in the daytime was visiting museums. There are so many important pieces of history in this city, as well as beautiful art and religious masterpieces.
One of my favourite museums we visited was Jüdischen Museum Berlin (the Jewish Museum). This museum also had a beautiful café and gallery space where you can enjoy a coffee, lunch, or dinner.
When we were in need of a break and some sugar, I was expecting coffee and hoping for a slice of cake on the menu. I was pleasantly surprised when I saw the selection of drinks and sweets on offer, in addition to hot dishes such as the daily special (lasagne) and soup.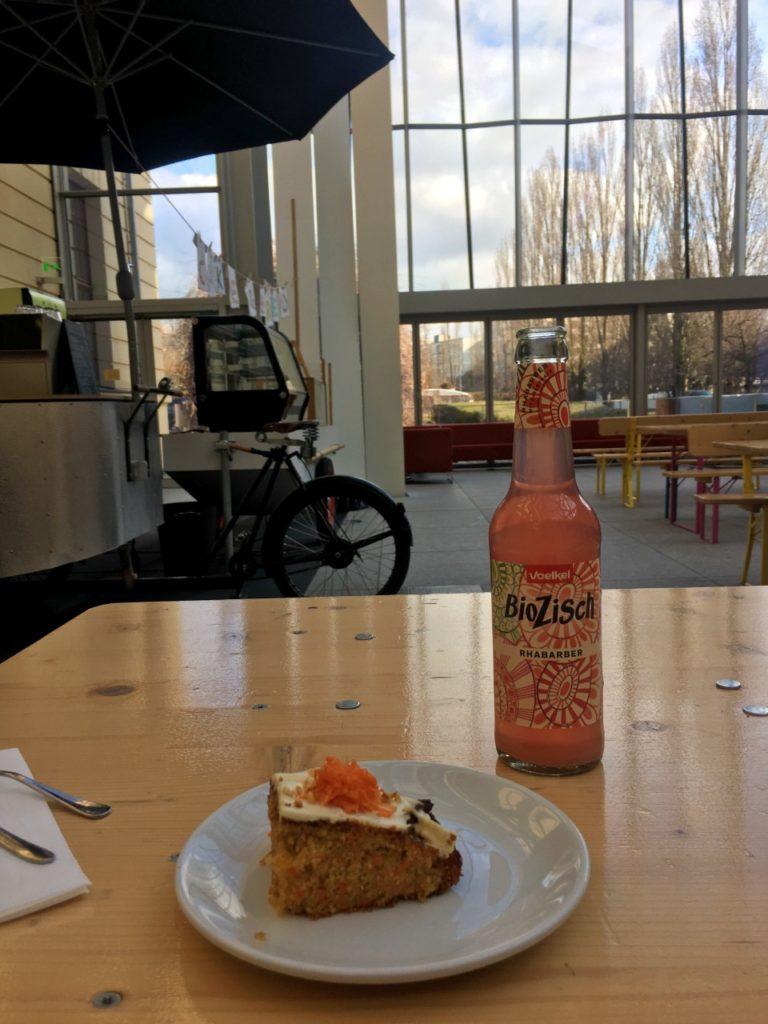 Café im Jüdischen Museum Berlin
I ordered a carrot cake and rhubarb drink and enjoyed the peaceful environment of the gallery of the musem.
---
There you have some of my favourite cafés and restaurants in Berlin. These were some of the eateries I tried during my first visit to this lively city, and places I would love to go back to in the future.
Enjoy!
Want more food-related content?
Check out the Dine section at DineWineLove.