Do you want to enjoy some nice drinks and nibbles in the party hub of Malta? Then check out my top 7 list of recommended bars in St. Julian's and head on a pub crawl!
Click on the bar names below to jump to that section or keep scrolling for the full guide!
What are the best bars in St. Julian's?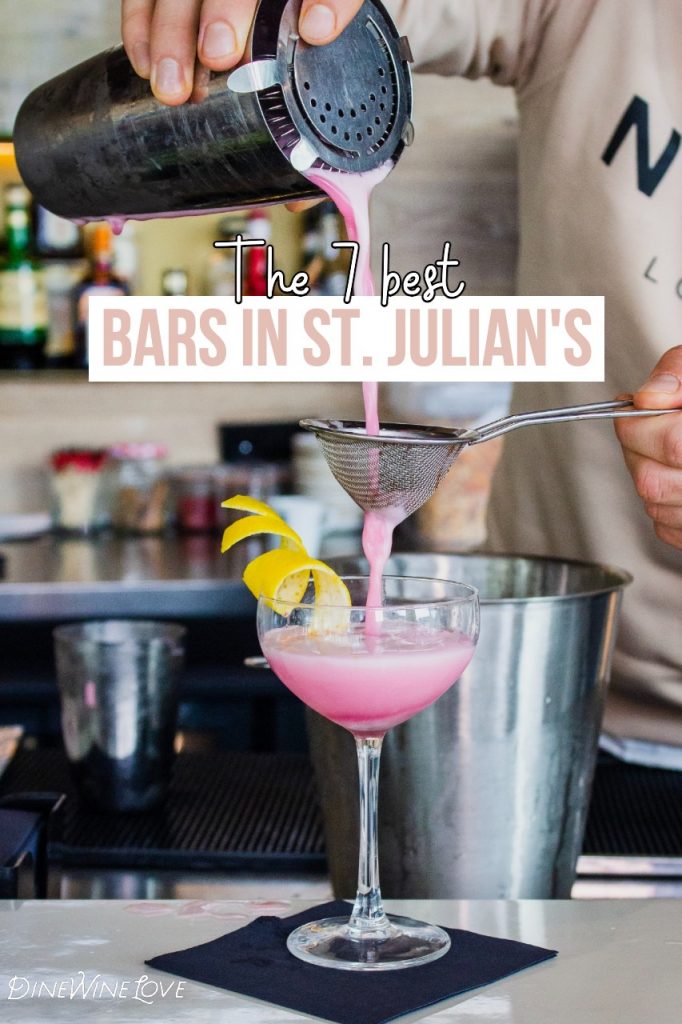 St. Julian's – Saint Julian's in full or San Ġiljan in Maltese – is a hub when it comes to partying in Malta. And while it might be known for its party area of Paceville with its streets full of cheap clubs and drunk teenagers, there are so many great and classy bars in St. Julian's too.
In this list, I have gathered the very best of bars and pubs in St. Julian's, perfect for a date or a night out. With different themes, drinks, and prices, there should be something for everyone. Of course, I recommend you to check them all out!
1. The Thirsty Barber
– Hand-Made Cocktails and Live Music
The Thirsty Barber is one of my absolute Malta favourites for a night out. Don't expect to get your hair cut here; it is just a cover-up! Once you enter the London phone booth that is the entrance of Thirsty Barber, you will be transformed back in time to a 1920's prohibition-style bar.
There are many reasons to love the Thirsty Barber. Firstly, the concept and design is nothing but on point. You will feel like you are drinking at an actual American speakeasy, with vintage decor and old-fashioned drinks. The major difference is, this is not an exclusive club only open to those that have the sought-after password!
If I were to describe this bar with just one word, it would be "quality". In addition to the high-quality theme and venue, the drinks are crafted from the most skilled mixologists. And in addition to a bar shelf stacked with the best of the best when it comes to gin and other spirits, the bar even has some homemade infusions and lots of recommended cocktails.
As a final cherry on the cake, the venue often has live music playing. Book in advance to secure your table – it will be worth it!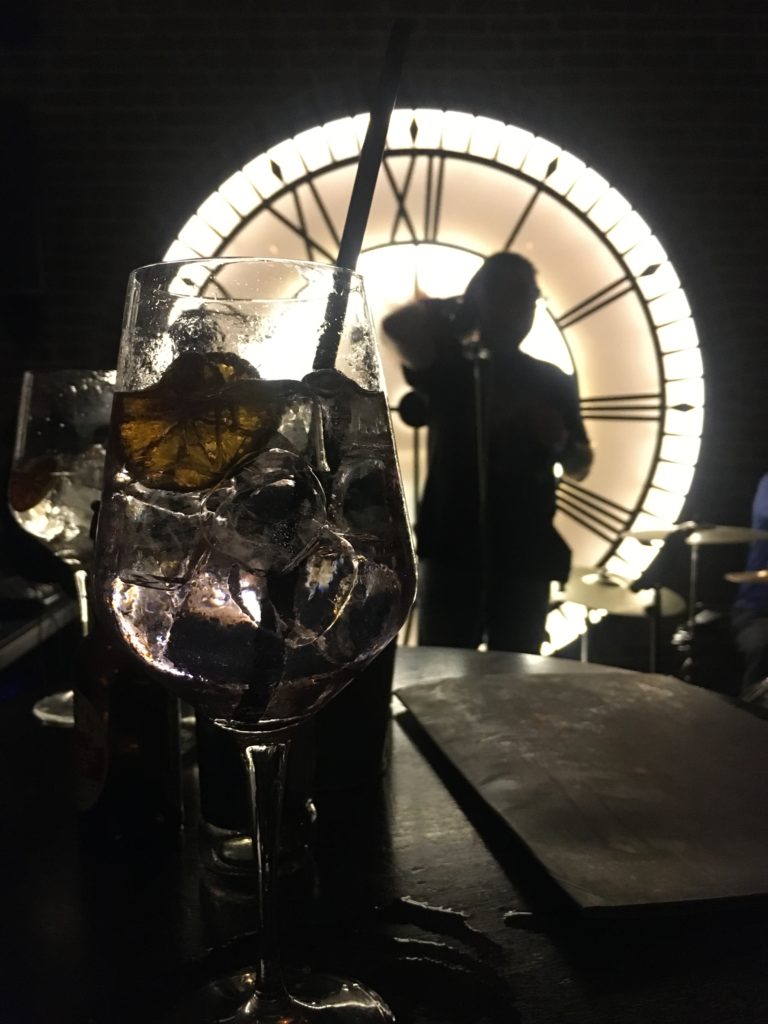 Drinks and Entertainment at the Thirsty Barber
The Thirsty Barber Details
2. Chalice Bar & Lounge
– Exclusive Drinks in a High-End Venue
A newer bar in St. Julian's that is well worth the visit is Chalice Bar and Lounge. This is a modern lounge that serves signature cocktails and artisan cold cuts. The venue has a very sleek look with a masculine, minimalistic decor.
First thing first; this is not a cheap bar. The bar shelves are stocked with exclusive wines and premium spirits, and the house cocktails are a mixologist's masterpiece.
Of course, there is a good selection of brands and cocktails on the menu, so there should be something for every taste and budget. But the lounge is created for the more mature crowd – and can't be compared with its neighbouring bars of Paceville.
Chalice Details

Where: No 2, Dobbie Street, St. Julian's
Opening hours: Tuesday to Sunday, 5 pm to 1 am
Website: http://www.chalicebar.com.mt/
Contact: +356 2137 5020
3. The Network
– Networking Events and Good Vibes
If you are looking for some good networking events in Malta, The Network in St. Julian's should be the first place you check. This bar was opened with a mission to connect people and has in just a few years hosted a lot of different events and parties.
Even though the bar is located in the heart of Paceville, you might not notice it if you're not looking for it. The venue looks quite anonymous from the outside and is also not that big. But once you enter – especially when attending an event – you'll instantly fall in love.
Under normal circumstances, The Network has a lot of events lined up with a mix of networking events, live music or stand up, and parties. And even if there are no events scheduled, you can head down for a nice meal and some drinks.
Enjoy the open atmosphere and mingle!
The Network Details

Where: The Axis complex Triq San Gorg St. Julians, Paceville, STJ 3201
Opening hours: Currently closed
Website: https://thenetwork.mt/
Contact: +356 9975 4036
4. TRUTH Malta
– Mouth-Watering Meals and Energetic Parties
TRUTH Malta is a lounge located in Paceville, St. Julian's. It is the perfect venue to enjoy either at daytime or at night, as the bar converts from a modern bar/restaurant to an energetic club and party.
At Truth you can experience different events and atmospheres depending on the day – and time of day – you visit. In addition to crazy parties with DJs and live artists, there are also unplugged live sessions. On the menu, you'll find lots of handcrafted cocktails and American-style food with ribs, burgers, and lobster.
Truth has been hosting great night outs since 2016. It's a beautiful venue with modern interior and lots of tables available. At night the tables quickly fill up as the dance floor gets populated, so be sure to book in advance.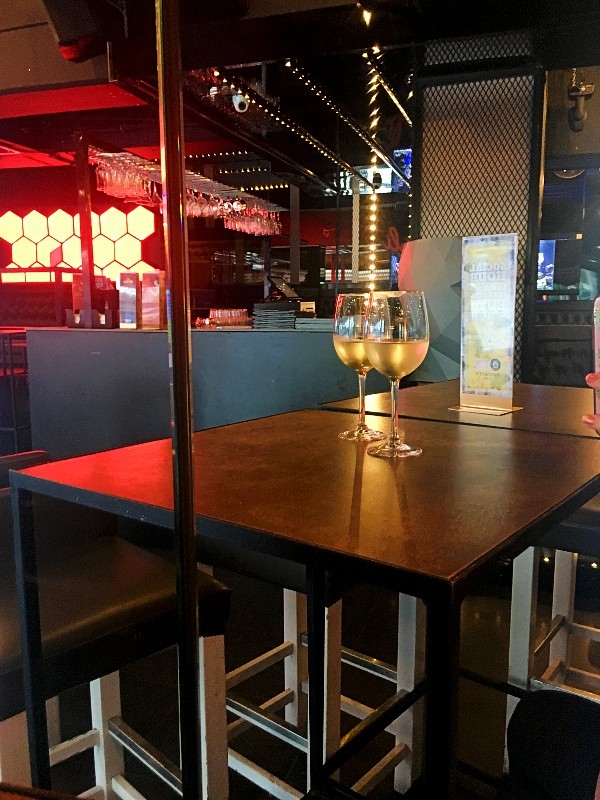 ---
The first four venues are more modern lounge bars – that sometimes come with some steep prices. Now let me move on to some cheaper and more casual alternatives, where you can enjoy a quick pint and meal.
Also check out the best bars in Sliema.
5. The Long Hall Irish Pub
– A Proper Irish Pub in St. Julian's
For anyone thinking that Paceville is all about rowdy clubs and strong cocktails, let me introduce to you The Long Hall Irish Pub. There are several pubs to check out in St. Julian's, but none other feel as authentic (and with such a great location) as The Long Hall Irish Pub.
After opening its doors in 2018, this pub has quickly become a local favourite. Here you can sit down for a pint while watching a football match or listening to some classic rock music. There are lots of tables and booths available, as well as outdoor seating.
The Long Hall Irish Pub has everything a proper Irish pub should: Several beers on tab, classic pub food on the menu, and sports on the telly. And with a classic yet grand interior reminding of The Queen Victoria City Pub in Valletta, it's a no-brainer for me!
The Long Hall Irish Pub Details

Where: St George's Road, St. Julian's
Opening hours: Monday to Sunday, 10 am to 3 am
Contact: +356 2131 6304
6. Juuls
– Mojitos and Reggae
Do you want to taste the best mojitos in Malta (and possibly all of the world)? Then make your way down to Juuls, located in Spinola Bay, St. Julian's. This is a proper reggae bar all about quality, good service, and fun times.
This is a bar that can be enjoyed from early day through the whole night, with good music playing and drinks being made from scratch. The menu has a list of signature cocktails as well as some signature dishes if you are feeling peckish.
Also check out the best bars in Valletta.
What makes the mojitos at Juuls the best you'll ever taste, you might ask? While they are all good, it is the Strawberry Mojito that is the true showstopper. At Juuls, this drink is created using fresh strawberry pulp and a good dollop of rum (and some more ingredients). It is simply a must-try in Malta, preferably enjoyed seated at the cobble-stone steps outside of Juuls bar.
It's a colourful, inclusive, and casual venue that can result in a perfect summer night!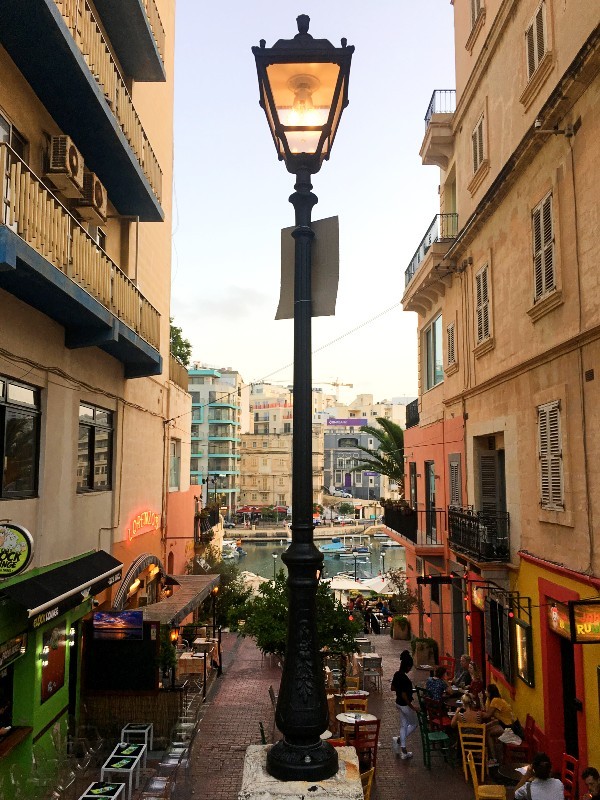 The view from the stairs of Juuls
Juuls Details

Where: St Joseph Street 8 STJ08, St. Julian's
Opening hours: Tuesday to Sunday, 6 pm to 4 am
Website: https://www.juuls.mt/
Contact: +356 7710 5686
7. Happy Dayz Shack
– Cheap Drinks with a Sea-View
If you are looking for the most laid-back bar in St. Julian's, Happy Dayz will surely fit your bill. This seaside snack bar and shack is a casual venue where you can sit and soak the sun while enjoying a cheap drink or meal.
Watch the swimmers jumping in the ocean and boats driving by as you sit and sunbathe in place. Bring your colleagues for an after-work or your dog for a fun outing.
This bar is anything but fancy, but has a unique friendly atmosphere that you won't find many other places. And the food menu is actually quite extensice, with breakfast and lunch for a few euros.
Happy Dayz Details

Where: Xatt ta Spinola, St. Julian's
Opening hours: Monday to Sunday, 10 am to 1 am
Contact: +356 9951 8244
---
Enjoy these 7 bars in St. Julian's!
There you have my seven favourites that are all located within walking distance. Do you want to grab a bite to eat too? While some of these bars serve nibbles and food, you will also find some great restaurants including KuYa and HiMú in the area.
Want more Malta and bar recommendations?
Check out the Malta tag and Wine section at DineWineLove.